A Doll's House, Young Vic, London Dandy Dick, Richmond Theatre, London St John's Night, Jermyn Street Theatre, London
Ibsen's marital drama still feels palpably radical in an imaginatively staged production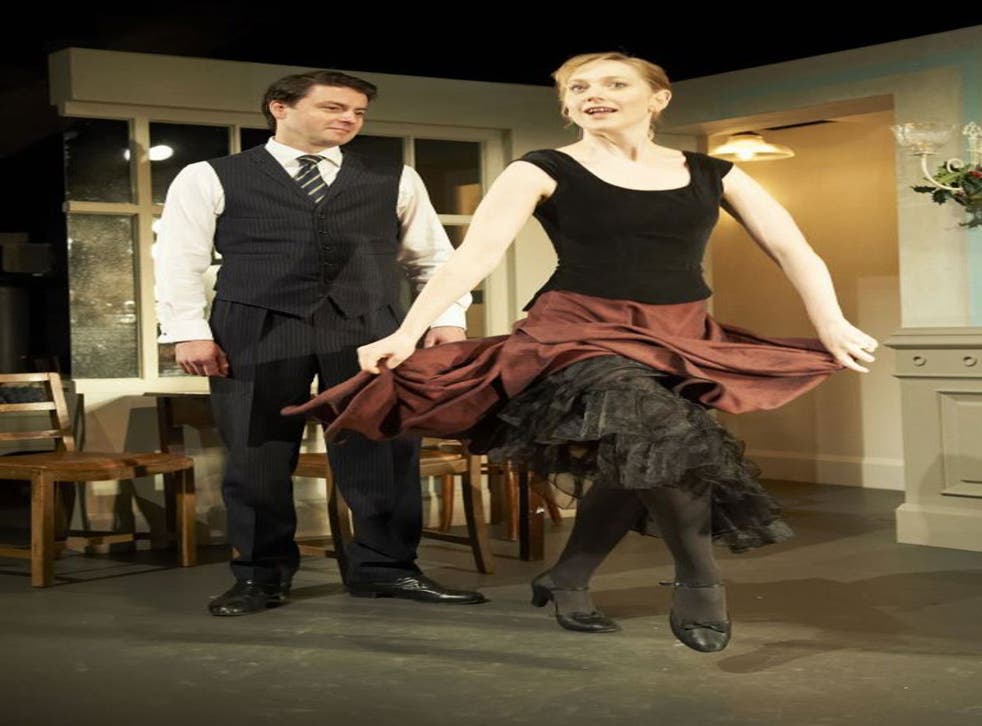 Hattie Morahan's Nora is playing hide-and-seek. Her little boys have scampered away down the corridor in Ibsen's domestic drama A Doll's House, as staged by Carrie Cracknell. Morahan is pretending she's a big bad wolf, and the audience is tracking her from room to room.
How so? Courtesy of designer Ian MacNeil, the Helmers' family home is a full-scale apartment spinning on a revolve – with decor and costumes (by Gabrielle Dalton) subtly blurring Ibsen's 19th-century Norway and 1950s Britain.
The games that Nora plays, both maternal and marital, will eventually come to a heart-rending halt. Her husband, Dominic Rowan's Torvald – a newly appointed bank manager – likes to think there's no dishonesty under his roof. He sees his wife as an innocent sweetheart, so cossetted she need never fully grow up. However, without his knowledge, she has forged a signature to secure a vital loan. She's acting breezy, yet blackmail lurks round the corner.
Morahan is a great actress in the making, if not of that rank already. She's instantly enthralling, whisking around the house with flighty charm and rising panic, while Rowan's Torvald combines conservative stolidity with hands-on amorousness, often comically frustrated.
The final act is ferociously raw and still palpably radical, when he learns the truth, furiously condemns his wife then tries to retract that, only for her to leave him, damning the patriarchal system that keeps women as naïve dependants. The trouble is that Cracknell has cracked only certain scenes. Others are rushed through and, while Nick Fletcher is riveting as the bitter clerk Krogstad, there is no sexual chemistry between Nora and Torvald's friend, Dr Rank.
In Dandy Dick, written by Arthur Wing Pinero in 1887, the Very Rev Augustin Jedd also runs a virtuous household. A silver-haired dean, Nicholas Le Prevost's widowed Jedd has kept his two daughters on a tight rein. They are expected to marry vicars. Unbeknown to him, though, they're sneaking out to a fancy-dress ball with two army officers and have racked up shocking debts for their outfits. At the same time, Jedd's sister, Patricia Hodge's Georgiana, arrives to stay. She is, at last, repenting her outrageous past as a racecourse gambler and horse breeder. Or so her brother thinks.
What's rather delightful is that po-faced Victorian mores go to hell in a handcart in this irreverent romp, with no dire consequences, suggesting that everyone should have their bit of fun. Le Prevost can't resist a flutter; the cathedral restoration requires cash; Georgiana's high-stakes favourite ends up stashed in his stable; and Jedd escapes jail, aided by racecourse scalliwags. His daughters declare they have to be removed from his influence, but that's merely a teasing way of announcing they're engaged.
Dandy Dick is presented by Theatre Royal Brighton Productions, a new enterprise set up by producer Howard Panter and director Christopher Luscombe to tour the UK with quality revivals of classics. This production still needs fine-tuning, and the deanery – with its gilt-framed paintings and velvet – looks too luxurious for Jedd's ascetic creed. Still, Hodge's Georgiana is full of gusto, merrily trading under a male pseudonym. Le Prevost's flustered cleric is adorably droll. The dialogue is scattered with fine one-liners and with parodies of melodrama that just need to go a bit more wild, notably as the churchman concocts performance-enhancing boluses for the steed, accompanied by mock-Gothic lighting, as if he's Dr Frankenstein.
Meanwhile, there's more Ibsen at Jermyn Street, a fringe venue acclaimed for unearthing forgotten gems. St John's Night (or St John's Eve) dates from early in Ibsen's career, first performed in Bergen in 1853 and, allegedly, only now enjoying its UK premiere. Some seeds of the playwright's later epic, Peer Gynt, lie in this folk-influenced curiosity. Sara Crowe's bustling Mrs Berg is the financially dishonest stepmother of an innocent peasant-girl, Anne (Louise Calf). Crowe only needs to destroy a legal document to ensure the enriching of her coffers.
She thinks Anne simple-minded, imbued with tales of elves and goblins told by her grandfather (endearingly doddery Roddy Maude-Roxby). Anne's stepsister, Julianne, agrees with her mama. With more than a nod to Shakespeare, the young ladies and two beaux then spend a midsummer night on a nearby hill. Their drink spiked with magic juice, they swap partners, and glimpse troll festivities in the hall of the mountain king. Julianne's previously spineless fiancé (Ed Birch) finds the courage to break free and ditch her, which makes pretty much everyone happy.
Jermyn Street's find, unfortunately, has peaks and troughs. Some of Anthony Biggs's supporting cast make St John's Night look like village-hall panto. The low-budget set, stuck with plastic grocer's grass, doesn't help. Nor do the cheesy musical arrangements for Anne's traditional ballads. Another production might make St John's Night seem like a bold mash-up or intriguingly ambivalent, veering as it does between romantic nationalism and satire. However, Ibsen himself disowned this play.
'A Doll's House': (020-7922 2922) to 28 Jul; 'Dandy Dick': Waterside Theatre, Aylesbury (0844 871 7607) 16 to 21 Jul, and touring to 1 Sep; 'St John's Night': (020-7287 2875) to 4 Aug
Critic's Choice
The RSC's superb new Julius Caesar, re-located to modern-day Africa by director Gregory Doran, is now touring and at Newcastle Theatre Royal (to 28 Jul); Meanwhile, at Shakespeare's Globe in London (to 13 Oct), Samantha Spiro is setting the house on a roar as a ferocious, quick-witted Kate in The Taming of the Shrew (to 13 Oct).
Join our new commenting forum
Join thought-provoking conversations, follow other Independent readers and see their replies