Don Juan in Soho, Wyndham's Theatre, London, review: David Tennant is every bit as magnificent in the title role here as he was as Hamlet
David Tennant stars in Patrick Marber's version of Molière's story about a serial seducer of women which transports the action to contemporary London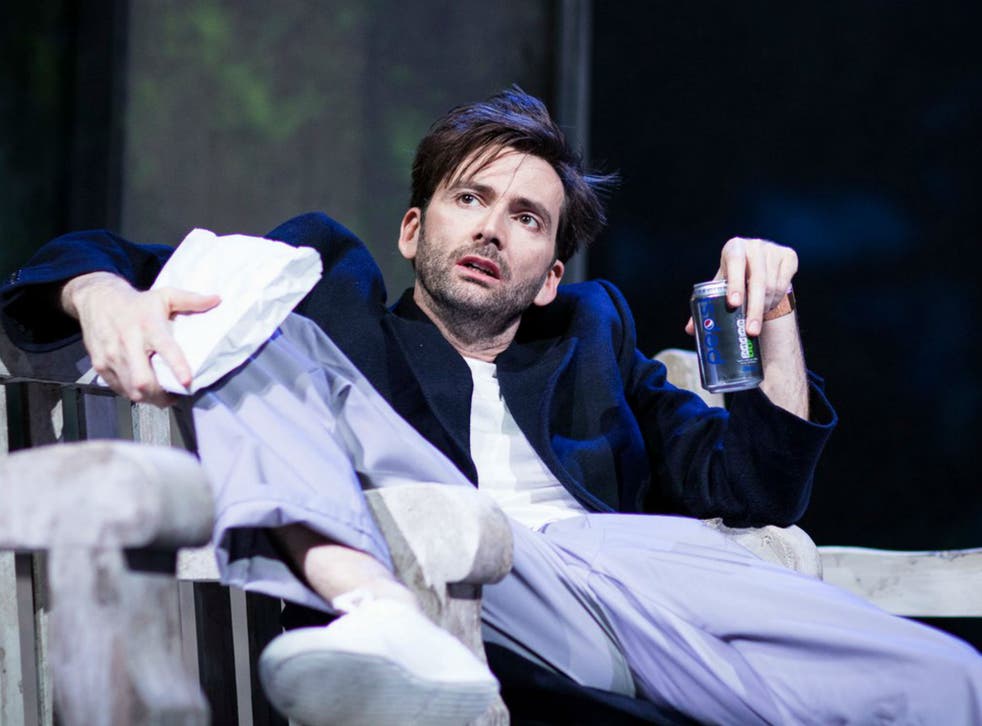 Patrick Marber's revival of his 2006 play can make you almost vomit with laughter – and anxiety – as it updates this archetypal erotomane; the Don who stalks European art (from Mozart's incomparable opera to the Booker Prize-winning novel G by the late, great John Berger) made over into a terminally bored quasi-toff and louche laird of a property in Mear Street, the classy tucked-away row of Georgian houses that stands in the midst of the unsleeping sleaze and gummy hedonism of contemporary Soho.
David Tennant is every bit as magnificent in the title role here as he was as Hamlet in Gregory Doran's celebrated RSC production. As brilliantly reconceived by Marber, the Don who gets his end away endlessly becomes one of this playwright's personal pantheon of men who have used themselves up and are now running on empty – dangerously funny, frantic and, in their own way, fearless.
Tennant's Don is so lounging, rangy, keeling over with a cleverness that seeks to outsmart any attempt to pin him down as potentially the prime victim of all his diabolically involuted ironies and pranks. He lives to have sex because everything else is a busted flush – and he's not fussy about orifices either. "He'd do it with anything – a hole in the ozone layer," reports his chubby little factotum Stan (excellent Adrian Scarborough) with whom he shares a condescendingly chummy spliff but nothing by way of wages. This Don is in the great tradition of supposing his sexual indulgence is a cudgel against hypocrisy and Marber gets a dig in at the 45th President: "I'm not a rapist – I don't grab pussy". But what comes across with a blast of rancid air here is that the numerous women he tups his way through are like so many pages torn from a calendar by the denizen of a condemned cell.
There's a strong streak in this hyper-sophisticated show that is healthily reliant on filthily adapted musical hall comic routines. Tottering around with a provoking air of essence-of-wastrel in his pink and grey three-piece suit, Tennant calls up memories of the prototypical eldest scapegrace son in Edwardian comedy who returns from the races having lost the family silver or Ian Carmichael's Bertie Wooster with an added overkill of designer stubble. It's as if these figures have just spent a few productive weeks in a boot camp for maximising one's natural air of fey contempt run with a rod of iron by Anthony Blanche from Brideshead Revisited.
The humour ranges from hysterical slapstick – Tennant hitting the heights as he tries to control the pleasure wrought under the blanket by expert fellatio from one woman, while his upper half engages in conversation with – and oozes fake concern towards --the wife of a male rival whom he has considerately put in a coma.
For me, the obviously critical moment – when he taunts a homeless man by dangling a £1,000 watch if he agrees to blaspheme against Allah – doesn't really work because neither built up nor worked through adequately. It feels vital and token at the same time. But Tennant matchlessly conveys the mounting suffocation of a man for whom having no criterion of sincerity becomes a curse rather than a blessing. He becomes the kind of Lost Boy in an eschatological Peter Pan whom even Wendy can't bring herself to adopt.
As footage of nocturnal Soho tatooes every part of the set, this Don is eventually borne aloft in lightbulb-fringed rickshaw that lunges out over the stalls courtesy of a mechanism that we haven't seen in the West End since Dame Edna assured us of her shyness in a similar finale/apotheosis 30 years ago at Drury Lane. In every way, a prodigious evening.
Join our new commenting forum
Join thought-provoking conversations, follow other Independent readers and see their replies