Edinburgh 2013: Squally Showers - Like a low-budget Eighties soap opera, but more vacuous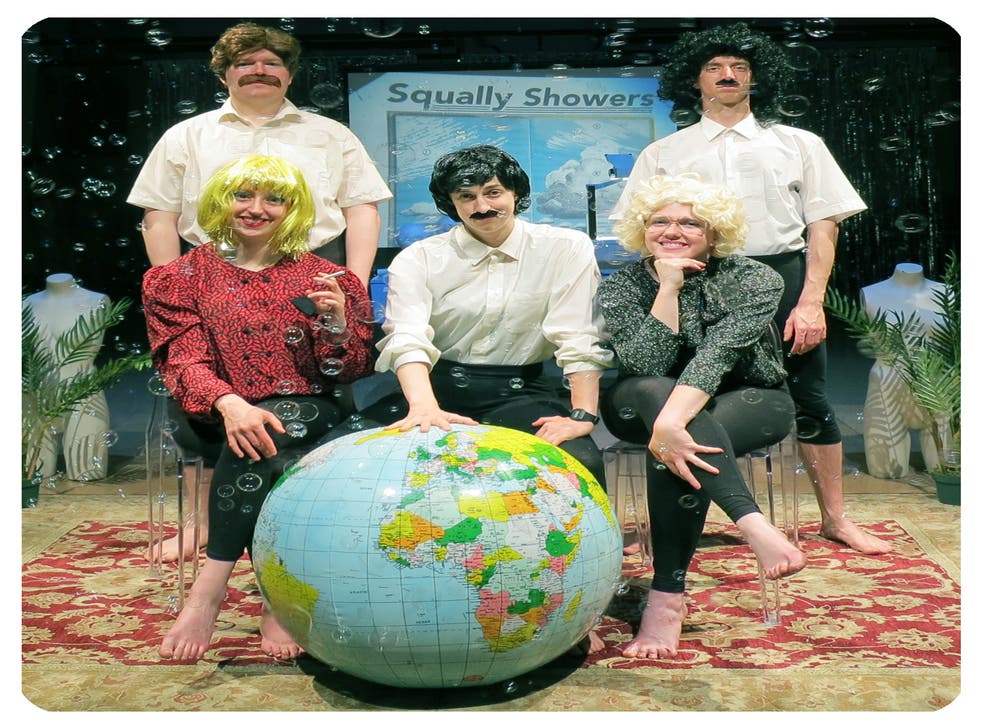 There are glitter curtains and mullet wigs, an overhead projector and exercise video workouts. Welcome to the Eighties! Little Bulb, a young company of five actors, take us back the decade of greed and into the offices of a booming television company.
Highly stylised, they recreate the declamatory, melodramatic acting of a dodgy, low-budget Eighties soap opera, with exaggerated but precise diction, idiom and gesture. Performed to a soundtrack of schlocky muzak, it's high camp and highly ridiculous. Corporate argo is neatly skewered; there's much talk of markets and protocol and negative energy. Little Bulb themselves have a wild, positive energy, though their work is clearly carefully choreographed. They evidently have natural funny bones too; it's just a shame there only seems to be one real joke here, which is: "the Eighties, eh? Cray-zee."
Squally Showers goes to some wackily surreal places, with balletic dance sequences for weather reports, and a staff party where someone dons a Maggie Thatcher mask, unrolls a map of the UK and busts out body-popping moves as a fan blows paper money around. You think: "aha - here comes the satire". But that's as far as it goes, and overall Squally Showers doesn't really have much to say. As a well-executed sketch, it's top quality; as an hour-long show, it wears thin. Squally Showers is pure pastiche, gloriously realised, but ultimately as hollow as the stuff its sending up.
Till 24 August; box office 0131 662 6892
Join our new commenting forum
Join thought-provoking conversations, follow other Independent readers and see their replies