The Elephant Man theatre review: Bradley Cooper plays part of childhood dreams to perfection
His Elephant Man is so alert and alive that you never feel you're witnessing a celebrity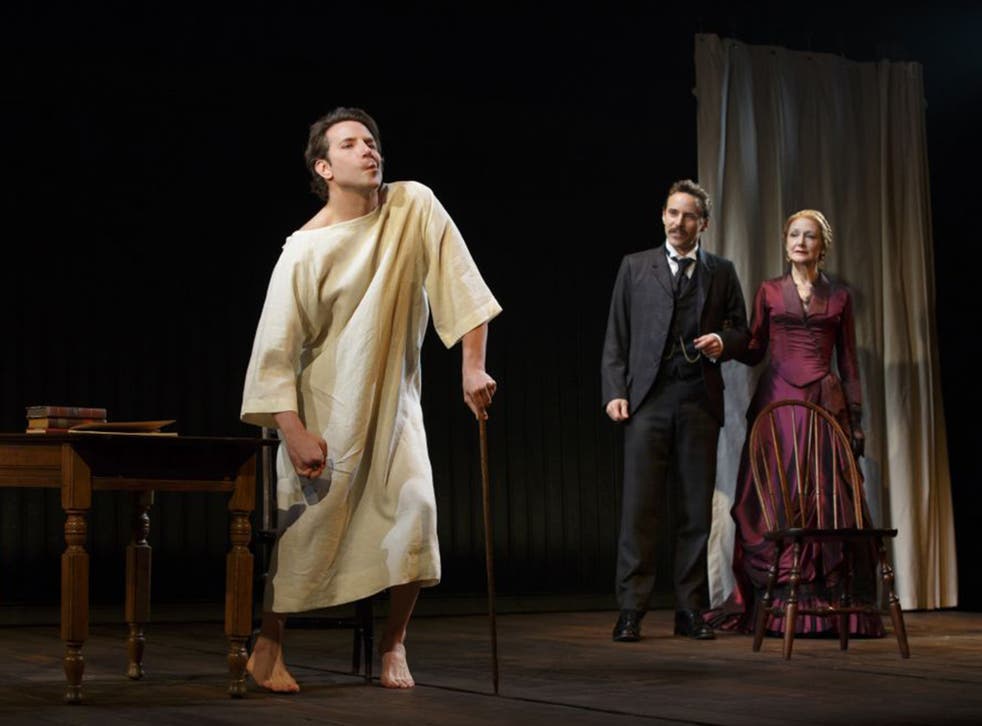 "Sometimes I think my head is so big because it is so full of dreams," pronounces young John Merrick, the Elephant Man of Victorian Britain, played by Bradley Cooper.
The Hollywood actor is living his own dream by appearing in the Broadway revival of Bernard Pomerance's biographical drama, which first opened at Hampstead Theatre in 1977.
Cooper has recalled that watching David Lynch's 1980 film about Merrick – a different creative animal to the play – as a 12-year-old first inspired him to want to act. He subsequently performed the role for his master's thesis while studying at New York Actors Studio, after which his father told his son he should pursue his thespian ambitions. Headlining this tale of English hypocrisy at the Booth Theatre, where The Elephant Man originally played in New York, is therefore an occasion suffused with sentiment for the American Hustle star. Yet his powerful performance avoids excessive emotion and exhibitionism.
Unlike John Hurt in Lynch's film, Merrick on stage is not overloaded with make-up or prosthetics. Deploying impressive physical dexterity, Cooper contorts his face and body to convey his character's disfigurement. Merrick is rescued from being a touring freak show object in Belgium by Sir Frederick Treves, a surgeon at the London Hospital, who makes it his mission to understand him. Alessandro Nivola brilliantly portrays Treves as a creature of the establishment, ultimately more insecure than his impaired pupil.
Treves introduces the "Half-a-Man, Half-an-Elephant" to actress Madge Kendal (a sprightly Patricia Clarkson) who helps Merrick advance in Victorian society before his ailments defeat him. He shines as Merrick, never overplaying his grotesqueness. He is a victim blazing with curiosity and humour and while Cooper's voice sounds like a cross between Edward Heath and Lady Bracknell, his Elephant Man is so alert and alive that you never feel you're witnessing a caricature or a celebrity. Timothy Mackabee's stylishly sombre set amplifies the disparity between Victorian mores and Merrick's doomed quest for normality.
Director Scott Ellis, together with Cooper, Nivola and Clarkson, first staged the play at the Williamstown Theatre Festival and this helps account for why The Elephant Man is never less than a masterfully assured production. Ellis coaxes fine performances all from his company.
Yet while The Elephant Man's message of the perils of conformity and societal illusion remains relevant, Pomerance's play is essentially a collection of short observational scenes bursting with acute aphorisms ("Real charm is always planned"). The narrative force at the beginning of the play, when Merrick is rescued from the freak show circuit, is sacrificed as it settles into being an examination of a physical outcast's effect on those around him.
Ellis's exquisite direction masks the play's flaws. He vividly brings to life a Hollywood star's creative fantasy, a concept that can so often backfire but which here proves inspired. Together with a knockout performance in the forthcoming film American Sniper, The Elephant Man confirms Cooper's acting ascendancy is merited. It also begs the question: What else has he dreamed of doing?
Join our new commenting forum
Join thought-provoking conversations, follow other Independent readers and see their replies