Gypsy, Chichester Festival Theatre, review: Imelda Staunton puts the 'ow' in 'wow-factor'
The actress is magnificent as the showbiz mother from hell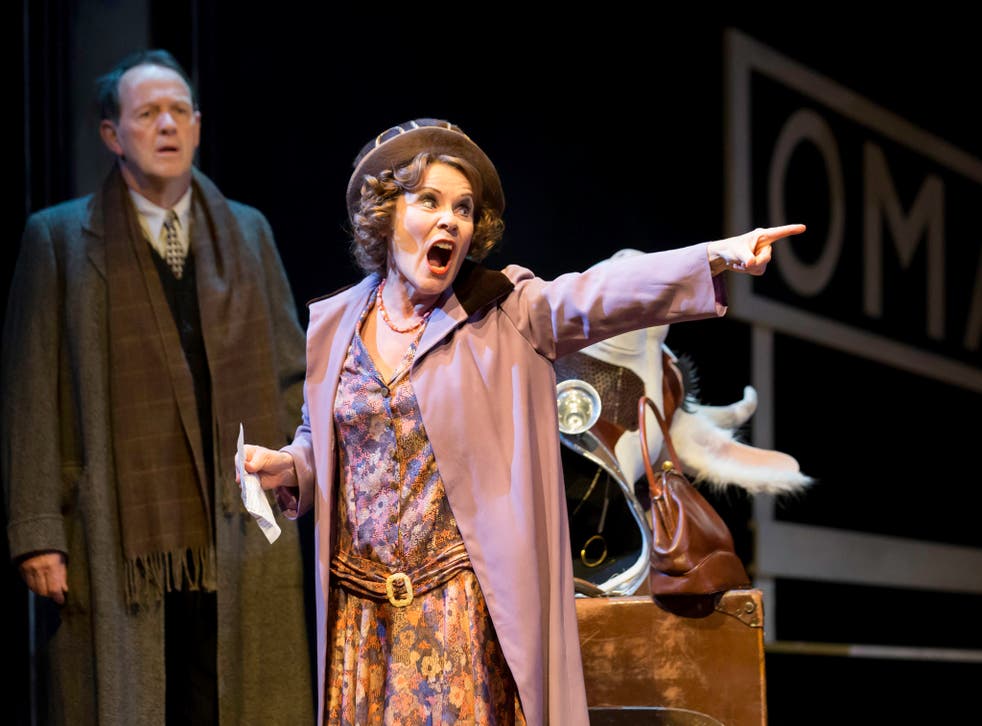 Imelda Staunton's knock-out, psychologically searching performance as Momma Rose, the showbiz mother from hell, brilliantly puts the "ow" in "wow-factor" and positions the "wow" up there in italics and neon lights.
It's all the fault of Stephen Sondheim who wrote the incomparable lyrics for Jule Styne's score – a marvel that ranges from flagrant, goosebump-inducing, brassiness to the most delicately precise poignancy – in this great 1959 musical.
Sondheim was so impressed by Staunton's Olivier Award-winning performance of Mrs Lovett in Sweeney Todd that he virtually insisted that she play Rose. Teamed with the same director, Jonathan Kent, she surely surpasses Sondheim's expectations now in this terrific production which is at once incontinently entertaining and the most dramatically persuasive account of Gypsy that I have seen.
The bottom line is that Staunton is a great actress who happens to have a strong, marvellously expressive voice, not a musical comedy specialist. And that's the right way round, one feels, for a portrayal of this iconic mother with the fixated, doomed dream of making her young daughters a star attraction of a vaudeville circuit that's dying during the Depression. There's a lovely, droll sequence at the start here where Rose and her kids are driving to Los Angeles and Staunton, with a calmly comic matter-of-factness, snatches passing boy beggars and boy scouts into the car to join the act. The child abduction gag is telling because that's essentially what she has done to her own daughters, Louise and June. As her hostages, never allowed to grow up, they are pushed, respectively, into elopement and becoming a headline stripper in the new burlesque houses.
Staunton's Rose – a pint-sized bundle of pugnacious indomitability, who thinks nothing of eating dog food and carting round a pantomime cow's head – shows you what is winning, and to root for, in the woman's pioneering spirit.
At the same time, she gives you unnerving glimpses of the demons that drive her - the terror, as child abandoned by her own mother, of ceasing to absolutely central to her daughters while being certifiably defended against the idea that she is doing all this for herself rather than them.
Bringing out all the lunatic hilarity of the garish, brainless routines that trap the girls in a time-warp, Kent also beautifully establishes that Act Two is like a savage parody of act one. The precocious cutesy come-on of the children's act is consciously turned into a chillingly controlled cock-tease in the "high-class" strip of Louise, now Gypsy Rose Lee (Lara Pulver stunning both as the love-starved tomboy and the sleek seductress).
Staunton turns "Ev'rything's Coming Up Roses" into a mounting delirium of denial at June's defection at the close of Act One. In the same spot in Act Two, her stupendous delivery of "Rose's Turn" matchlessly lets you see that this emotional striptease is both a vindictive act of show-stopping vindication and a nervous breakdown in which, with lewd laceration, she is flaying herself alive. Magnificent.
Kevin Whately offers lovely support as the strung-along, long-suffering manager, Herbie. The West End surely beckons.
To Nov 8; 01243 781312
Read more:
Join our new commenting forum
Join thought-provoking conversations, follow other Independent readers and see their replies