Hay Fever, Noël Coward Theatre, London The Leisure Society, Trafalgar Studios, London All New People, Duke of York's Theatre, London
A darker play lurks under Coward's smart shenanigans, but Howard Davies' production seems content to bob along on the surface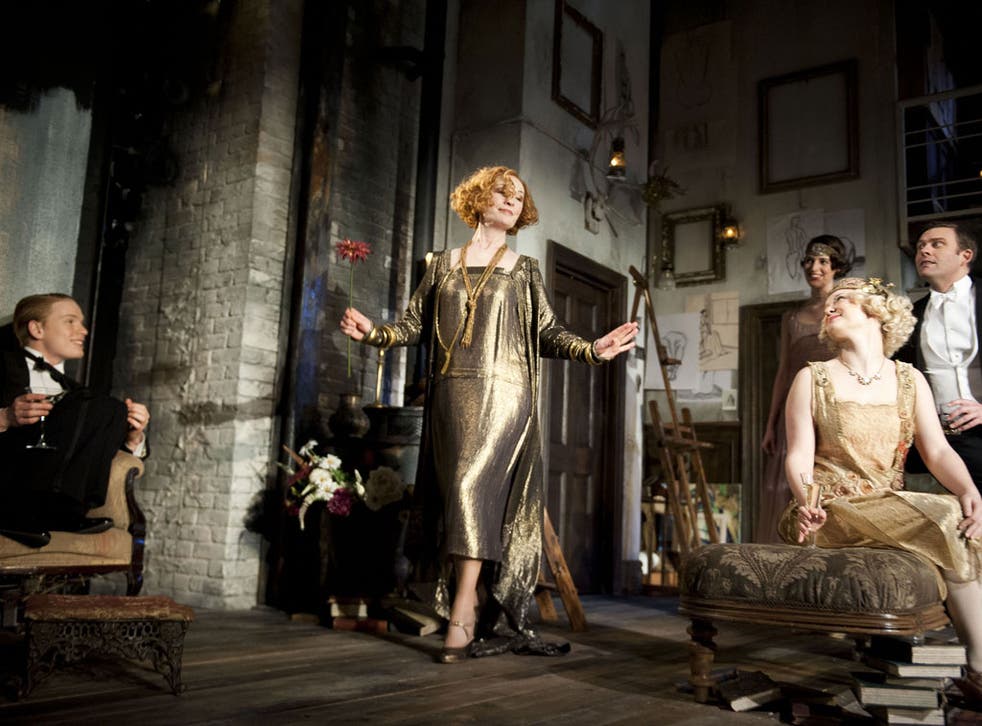 When they're not squabbling histrionically, the Bliss family favours lounging around, boho-style. They appear to be living out some kind of artsy, Arcadian fantasy at the start of Hay Fever, Noël Coward's country-weekend comedy from 1924, as staged by director Howard Davies. Their rural retreat is a converted coach house, more rough brick atelier than drawing room.
Affectedly scruffy, Simon (Freddie Fox) daubs an oil painting, as his plummy sister Sorel (Phoebe Waller-Bridge) poses as a tittering nymph, draped in a sheet. While their father scribbles his latest novel, their glamorous mother, Lindsay Duncan's Judith, swans about in tweed breeches and jewelled-buckle shoes. There's a hint of dressing-up box about all this, and Judith is, indeed, a stage diva whose home life is imbued with habitual play-acting.
Stupendously bad manners break out when the clan realise they're obliged to host a house party, since each of them, fancying a fling, has invited an admirer to stay. Their oddly assorted guests – a society vamp (Olivia Colman), a lower-class birdbrain (Amy Morgan), a butch chump (Sam Callis) and a stiff-backed diplomat (Jeremy Northam) – are soon bamboozled and running for cover. The family collude in an elaborate game of pretence, swapping partners then flipping into cod-melodramatic displays of ardour and jealousy, throwing in purple passages from Judith's favourite plays.
On the night I attended, the first half fell flat, with Fox brattishly shrill and Duncan's timing slightly off, but it warmed up eventually. Waller-Bridge's manic gawkiness and Morgan's chin-wobbling attempts not to blub are particularly inspired.
That said, I kept wanting the Blisses' blurring of truth and artifice to be more unsettling. Colman's Myra, after all, condemns the entire household as a nest of fake emotion, bordering on madness. As so often with Coward, a psychologically darker play lurks under the blasé surface. But here the shallow surface keeps reasserting itself.
The same director, back in 2001, found more depth in Coward's Private Lives, with Duncan and Alan Rickman on scorching form. Even so, this West End revival brings home how much Coward's plays have influenced recent dramas about posh but bruising families, Nina Raine's Tribes at the Royal Court being a prime example. That's quite a turnaround, given the mutual scorn of the Court and Sir Noël in the middle of the last century, when he was considered passé.
More partner-swapping is on the cards in The Leisure Society, a contemporary Canadian comedy about a rich, 30-something couple with an outwardly perfect life. This is by Quebec's François Archambault, snappily translated into English. Ed Stoppard's Peter and Melanie Gray's Mary insist they are happy and have everything they've ever wanted, except that their new baby is a bawling horror, their love life has gone off the boil, and they've started fantasising about trying a threesome. Cue supper with Paul's ribald, boozy buddy Mark (John Schwab) and his sexually swinging companion, Agyness Deyn's Paula.
To begin with, the short scenes seem skeletal and artificial, but then the register shifts, with dialogue of a sexual frankness that feels scorchingly honest, and plot twists that open up unexpected depths of hypocrisy and despair. Harry Burton's production, in the Trafalgar Studio's poky basement space, looks a tad squashed for a luxury pad and scene changes could be slicker. Nonetheless, the ensemble is strong. Stoppard, though too loud, finds a vulnerability in staid, jerk-ish Peter that's ultimately moving, and Gray's deadpan Mary is splendidly sardonic. Schwab satirises swagger with relish, and Agyness Deyn – better known as a model – makes an impressive stage debut, lolling with attitude, slack-limbed and hard-bitten.
Without the celebrity status Zach Braff has acquired in the US hospital sitcom Scrubs, a West End airing would surely have eluded All New People, a C-rate comedy both written by and starring Braff. It centres on lonely, guilt-ridden Charlie who – on the brink of suicide, puffing on a cigarette with a noose round his neck in a Long Island beach house – finds himself irritatingly befriended by a neurotic estate agent (Eve Myles). They're joined by a drug-dealing fireman (Paul Hilton) and a high-rent prostitute (Susannah Fielding).
The play has some good screwball exchanges and Myles, Hilton and Fielding give assured comic performances. But what a waste of their talents. This is also a lapse of judgement on the part of director Peter DuBois, who recently staged Becky Shaw with such panache at the Almeida. All New People is technically clunking, with redundant video flashbacks that look like a bid to save money on actors. As for the script, it would like to seem bold but is fundamentally hackneyed, veering between breast-groping, philosophical banalities and schmaltz. Yes, Charlie, that's right: "We all have pain." A shorter run of this show would reduce human suffering.
'Hay Fever' (0844 482 5140) to 2 Jun; 'The Leisure Society' (0844 871 7632) to 31 Mar; 'All New People' (0844 871 7623) to 28 Apr
Theatre choice
Cheek by Jowl's riveting, intensely physical staging of John Ford's sibling-incest tragedy 'Tis Pity She's a Whore is at the Barbican's Silk Street Theatre, London, till Sat. Filter's inventive A Midsummer Night's Dream, with rock band, is a deliciously silly, insightful and sexy take on Shakespeare's comedy at the Lyric Hammersmith, (to 17 Mar).
Join our new commenting forum
Join thought-provoking conversations, follow other Independent readers and see their replies