The Lady from the Sea, Kings Theatre, Edinburgh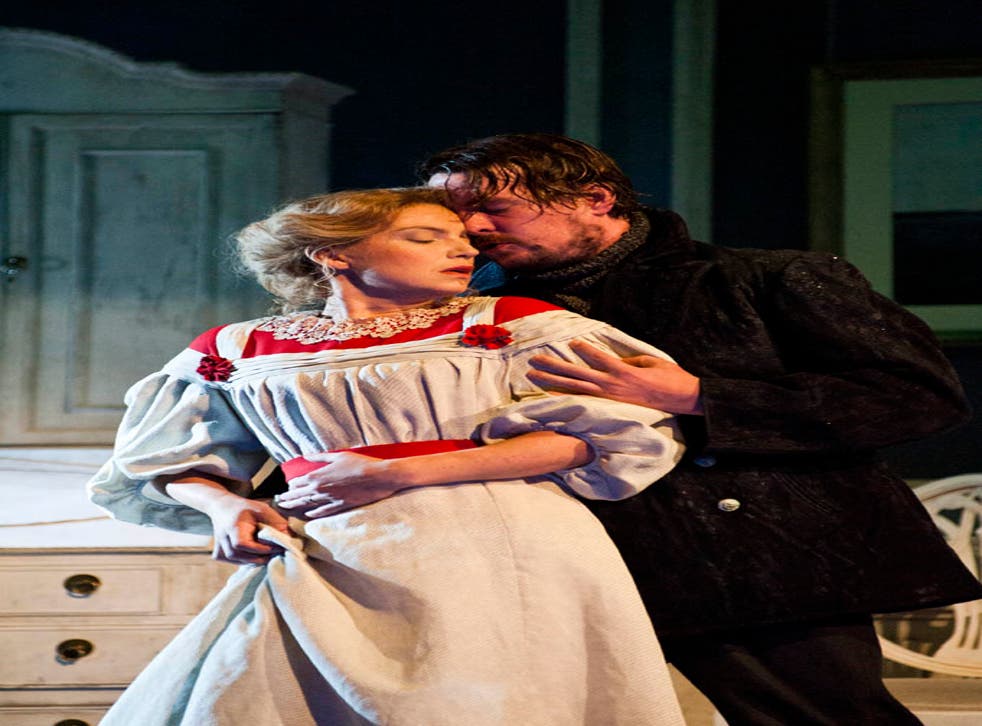 Craig Armstrong, a Scottish composer best known for the scores of Romeo and Juliet and Moulin Rouge, is a master manipulator of the emotions.
In this new chamber opera, telescoped from the Ibsen play by novelist Zoe Strachan, his soundscape marches the audience through the 28 mini-movements, musically micro-managing our responses to everything happening on stage.
This is in no way unpleasant. Armstrong's soundscape is minimal yet lush, its tonal language at the start becoming atonal as heroine Ellida's mind unravels. A "mermaid" trapped in the fjords, pining for the sea, she is torn between her safe, dependable husband and a former love who arrives unannounced. Strachan's libretto boils down the wordy original and deftly takes eight characters through an emotional journey in 70 minutes.
Designer Yannis Thavoris and video designer Finn Ross give the production a filmic intensity. The curtain comes up on Ellida (Claire Booth)'s back, as she stands, arms outstretched, facing of the digital waves. Filmed in queasy close-up, they threaten to overwhelm this obviously troubled woman. The motif recurs throughout the piece, with the white painted wood of the Scandinavian drawing room becoming mini-screens, roiling at random.
This Hitchockian edginess makes up for a lack of standout moments from the singers. This is not their fault - their acting is strong and, when allowed to soar, they grab the chance. Booth has some liquid notes and has great vocal chemistry with Mark Millhoffer, her husband Dr Wangel. More of these magical interactions and less narrative would have taken this to the next level. It is as if Armstrong, in his desire to control every twist and turn, does not want to throw the ball into their court. He is on safer territory with the orchestra, and so leaves them to drive the narrative. Under conductor Derek Clark they do a fine job.
Scottish Opera is more than willing to stretch the boundary of what opera is and who can write it. This is one of three new productions for the Edinburgh International Festival, from writers and musicians who first produced 15 minute operas for the company's 5:15 series. This freshness and open-mindedness is paying off with an audience which, for the most part, has to pay full fare on the bus. The Lady from the Sea whets the appetite for what they will do next.
To 1 September in Edinburgh (0131 473 2000; www.eif.co.uk); then transfer's to Glasgow's Theatre Royal for 8,9 September (www.scottishopera.org.uk)
Join our new commenting forum
Join thought-provoking conversations, follow other Independent readers and see their replies