The Life and Times of Fanny Hill, Bristol Old Vic, review: Caroline Quentin is a Hogarthian delight in this almost pornographic comedy
Michael Oakley's excellent production is not just racy entertainment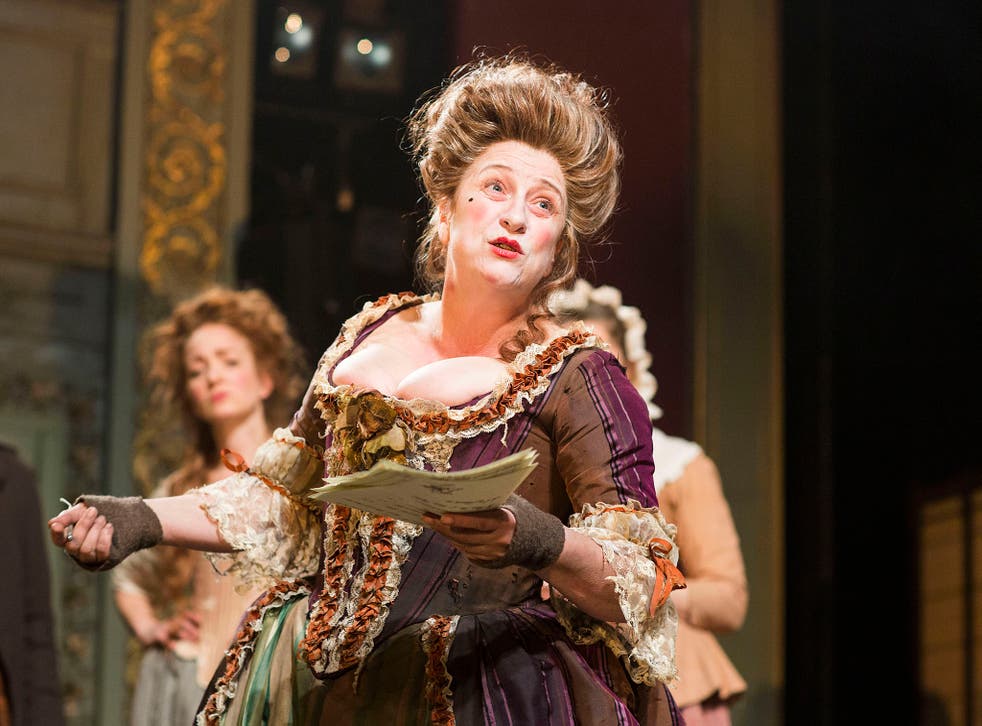 Never have I seen such explicit things done with an old sock or a little finger. Nor have I heard so many different names for the male sexual organ, though in the Bristol Old Vic's new production of John Cleland's famously banned pornographic novel detailing the climaxes and miseries of a Georgian prostitute none are particularly complimentary.
Instead of being a book of titillation for educated men as it was originally intended in 1748, April de Angelis's play adaptation reclaims Cleland's book for the women. No longer is it the sorry tale of a lost orphan come to London and beguiled by thoughts of carnality. Rather de Angelis reimagines its publishing history and gives authorship to an older Fanny Hill who is commissioned by an outwardly-upstanding (but inwardly-lustful) Enlightenment gent to write her autobiography.
Of course this Fanny, performed to swaggering and bawdy delight by Caroline Quentin, can't quite remember how her life has played out. So, she calls in the assistance of two younger prostitutes to help her imagine, and act out, how it might have happened. The premise? To provide as many sexual encounters as Fanny thinks her audience (and benefactor) desires.
Quentin, loved for her turn as Dorothy in Men Behaving Badly, is a Hogarthian delight from the moment she heaves herself onto the stage cleavage first to the final climaxes. That said, this is a chamber piece worthy of a place among the best Restoration-style comedies and Quentin is ably supported by the rest of the ballsy six-strong cast.
It's not all racy entertainment though, and nor should it be. As the audience eases its belly from laughing and hands from impromptu applause, a guilty realisation creeps in: is all we need to be diverted jokes and sex? And how apt the final comment of Fanny's literary benefactor, who quips that as the times change he will soon be dealing in pictures with no storyline at all.
Join our new commenting forum
Join thought-provoking conversations, follow other Independent readers and see their replies