Macbeth, National Theatre, London, review: Rory Kinnear and Anne-Marie Duff are no dream pairing
Rufus Norris's production, which stars Kinnear and Duff as Macbeth and Lady Macbeth, strays a little close to comic horror movie, but stays just on the side of chilling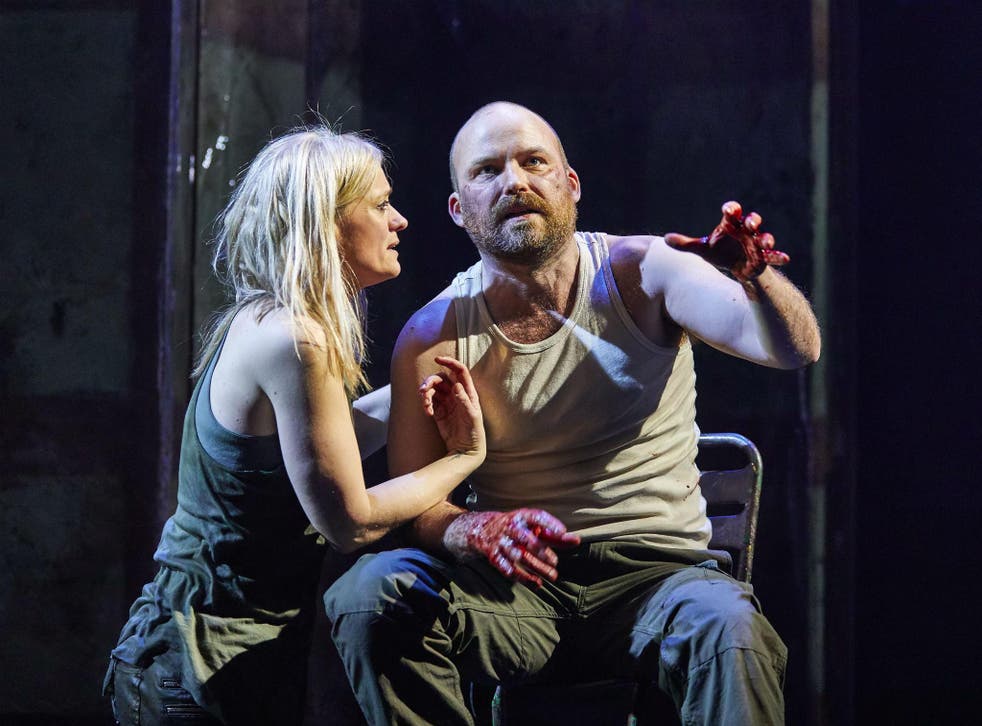 So, Macbeth isn't going to be the magic solution to Rufus Norris's struggle with the Olivier. After a series of flops (Salome, Common, Saint George and the Dragon), the supernatural favourite must have seemed like a Shakespearean safe bet.
Is it, though? Remarkably few productions seem to nail it. And while I've seen far worse than this, given the abundance of talent involved, it disappointingly adds up to less than the expected sum of its parts.
Norris is directing – astonishingly, it's his first Shakespeare in 25 years, and while it seems frankly cruel to look over his shoulder at the crisply modernised productions of his predecessor Nicholas Hytner, they do cast a rather long shadow. Especially given Norris has also inherited his star: Rory Kinnear plays Macbeth.
To be precise, he plays Macbeth as a grunt: a tough, blokey, shaven-headed soldier. We've seen him slay this as a contemporary Iago. Yet somehow here his speech is just too gruff, his usual mercurial fluency often strangely dampened, although the final "tomorrow, and tomorrow, and tomorrow" speech offers moments of illuminated, hard-won clarity.
Lady Macbeth is played by Anne-Marie Duff – expectations high, given this is surely a dream pairing. She's focused and flinty, but the expected sparks don't quite fly.
Partly that's due to Norris's driving concept. These are desperate people living in desperate times. The Macbeths are broke: they live out of a suitcase in a tiny breezeblock hut. Her clothes are torn; his armour strapped on with parcel tape. And they're already broken, anguished from the off. It's less that they're intoxicated or turned on by power, more that when you've got nothing, you've got nothing to lose. "If we should fail?" "We fail."
This makes for a particularly dour version of an always gloomy play. But it's also interesting. It provides a motor, and a motive, for the pair's murder; vaulting ambitious becomes more survival of the fittest.
But Norris doesn't really follow the idea through – the power grab doesn't seem to win them wealth, unless you count a tatty sequined dress and a coke-fuelled party (the less said the about that try-hard scene, the better).
It can also lead to dicey directorial choices. Hired murders become gap-toothed street drinkers who'll literally kill for tinny. Maybe this suggests the depths humans can be driven to by hard times, but it also makes Macbeth look like an idiot. You wouldn't entrust those two with the task of rolling a fag, let alone bumping off your mortal enemies.
Where Norris's production excels, however, is in atmosphere and visuals. It's dark. Plastic bags of decapitated heads are hung on stark trees, on a pivoting bridge that carves up the space in Rae Smith set; crackling black plastic drapes the back wall, like giant bin bags, suggesting both gothic drama and modern decay. James Farncombe's lighting keeps things gloomy. Squalls of brass and woodwind are suitably unnerving.
The witches are played by three young women; two have a portentous gravitas while a third – Hannah Hutch, superbly creepy – twitches and runs and giggles like a disturbed child. The apparitions they reveal to Macbeth are uncanny: actors move with eyeless masks on the back of their heads, their bodies all wrong. It strays a little close to camply comic horror movie, but stays just on the side of chilling. As befits, I suppose, this rather chilly production.
Until 23 June (nationaltheatre.org.uk)
Join our new commenting forum
Join thought-provoking conversations, follow other Independent readers and see their replies