Made in Dagenham, First night review: Gemma Arterton leads the musical beautifully
This pleasing West End musical really was Made in Britain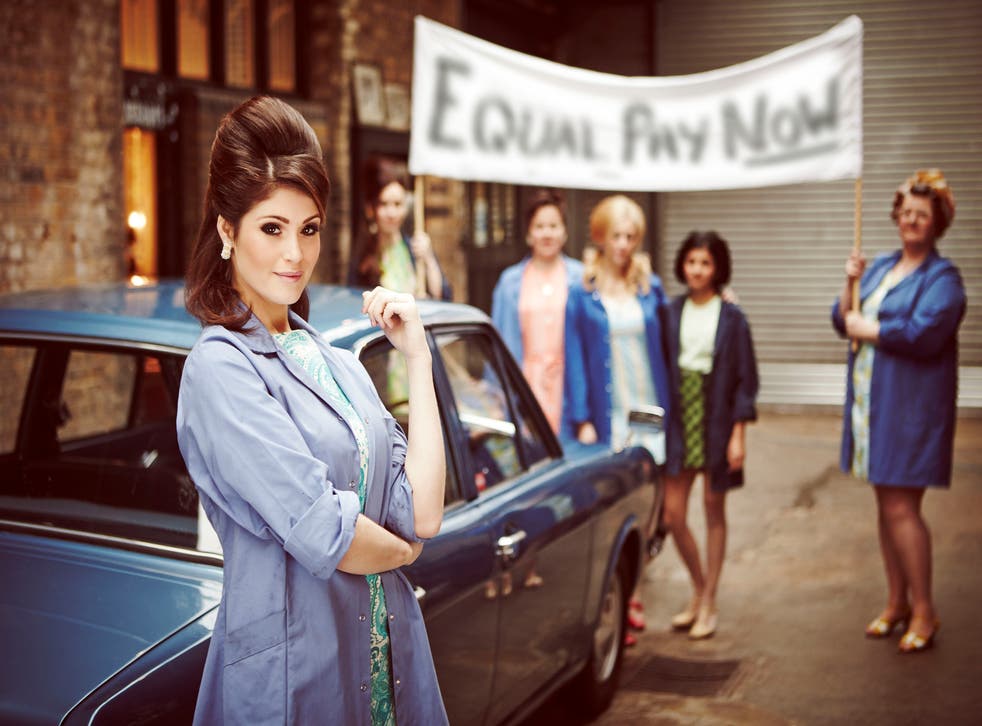 The parallels with Billy Elliot are unmistakable. The creators of Made in Dagenham have likewise seized on a hugely popular feelgood movie and transformed it into a big-budget, even more crowd-pleasing, British musical. But whereas Billy's personal triumph contrasted with the tragic defeat of the miners, Made in Dagenham celebrates a real-life strike that actually succeeded.
Who can fail to be stirred by the story of the Ford factory women who, in 1968, took on the company, their union and their menfolk in the fight be paid the same wage, helping to pave the way for the Equal Pay Act of 1970?
This show – with its slick, catchy tunes by David Arnold, Richard Thomas's droll, mischievous lyrics and a positively gag-infested book by Richard Bean – infectiously demonstrates that it's a saga well worth making a song and dance about. Unfolding on Bunny Christie's ingeniously adaptable air-fix set, Rupert Goold's bouncy production sweeps you between moods that range from Ready Steady Go!-meets-The Rag Trade to the heartfelt, galvanising climaxes to each act: "Everybody Out" and "Stand Up" (a rousing plea to male TUC members at the annual conference).
There's spot-on casting for the women – Sophie Stanton is delightfully incorrigible as potty-mouthed Beryl and Isla Blair movingly unappeased and staunch as Connie, the dying union representative who's sick of years of unfulfilled promises. Gemma Arterton can't disguise the natural glamour that is rather anomalous for the main part of Rita O'Grady, the ordinary housewife and mother who finds a voice she never realised she possessed until shoved into the role of strike leader. But Arterton holds the show together beautifully as she charts Rita's progress from unassuming reluctance to clarion-voiced conviction and to the painful realisation that she will have to resist the blackmailing charm and self-pity of her husband Eddie (well played by Adrian der Gregorian) and give brief priority to the movement over her family.
Plays to see this month

Show all 9
The trouble with the piece is that any serious emotion has insufficient breathing space. There's an overloading of humour, the breadth of which is sometimes more notable than its bite or pertinence. Hence Harold Wilson (Mark Hadfield) is here presented as a sort of music hall buffoon, sucking suggestively on his pipe and dispensing a stream of senile misogynistic remarks. Reminded that his Secretary for Employment is a woman, he says "Good she can do her own typing". And Sophie-Louise Dann's "fiery-haired" Barbara Castle (for it is she) has more than a lewd touch of late, great Hylda Baker in her make-up before she lets rip in the second half with a glass-shattering number designed to instruct the girls on the need for pragmatism in politics. On the other hand, I rather enjoyed the hilariously overblown Bruce Springsteen take-off in which the Steve Furst's sneering triumphalist US Ford boss, here to bust the strike, maligns everything in the UK ("Wearier and wearier/You remind me of Siberia"). There's something neatly ironic about the number. Because after a run of duds, the uneven but captivating Made in Dagenham is a West End musical you can be pleased to acknowledge was "made in Britain".
To 28 March 2015; 020 3725 7060
Join our new commenting forum
Join thought-provoking conversations, follow other Independent readers and see their replies