Miss Julie, theatre review: 'Sherlock's Louise Brealey is simply wonderful'
Citizens Theatre, Glasgow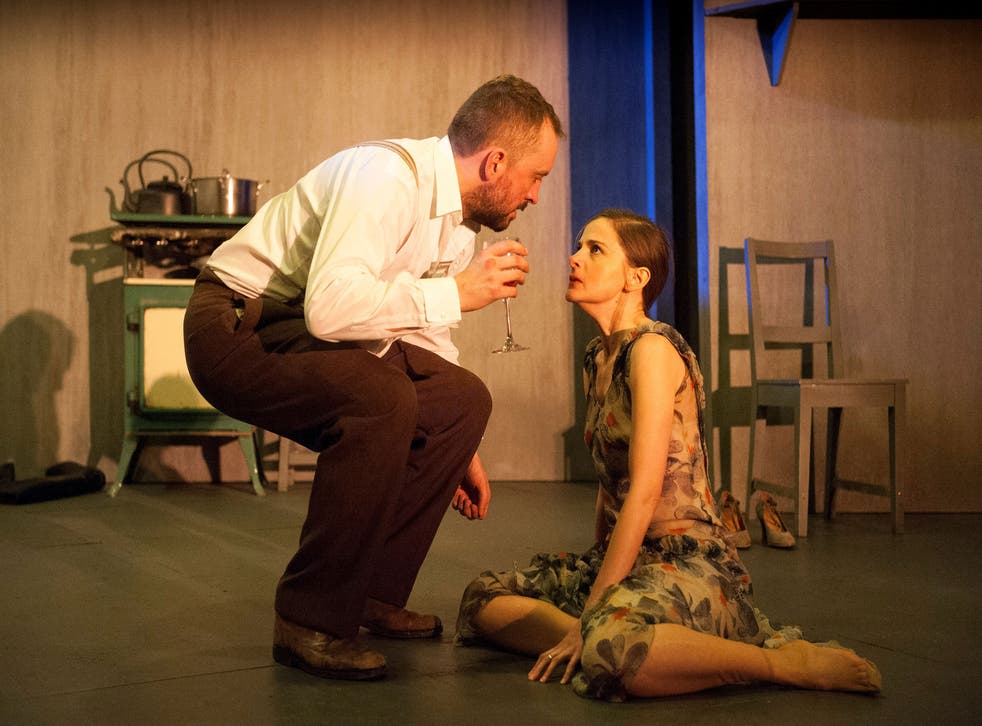 "All I know is that this is the system we have got," explains maid Christine, still shaking with anger at the discovery her valet fiancée John has shacked up for a night of alcohol-fuelled passion with Julie, the daughter of the pair's wealthy, mill-owning master.
"We may not like it, but that is all we have." It's Scotland in the 1920s, an era when such upstairs, downstairs arrangements were commonplace, but the tone of furious frustration being beaten down by weary resignation in her voice still echoes to this day, and it's in this delicate filleting of entrenched British class structures which playwright Zinnie Harris' text truly succeeds.
A new version of the 1888 August Strindberg classic (previously staged as simply Julie), this three-hander under the direction of Citizens artistic director Dominic Hill has gathered most pre-show attention for the appearance of Louise Brealey, Sherlock's Molly, in the title role. Yet to Harris and Hill's credit it's the visceral drawing into the present day of the story amidst Neil Haynes' vertiginous tilted stage design which lingers most resonantly afterwards.
The recounting of this most ill-advised night and morning after begins in the basement kitchen of the big house, where Christine is boiling an old-wives' potion to affect an abortion on Julie's dog, pregnant by the gamekeeper's mutt. In the background the sounds of revelry can be heard. This is the era of the General Strike and of Joe Corrie's socialist Scots theatre classic In Time O' Strife, so wonderfully restaged by the National Theatre of Scotland last year, and the mill-workers are still high on the power of self-determination caused by their own decision to strike.
It's a notion which John buys into fiercely and perhaps foolhardily, for his actions aren't those of a man possessed of the idea he should act cautiously and tread wisely in a world of unstable possibility opening up around him. He's drunk on the fragmentary glimpse of half-imagined power he's seen, and Julie – vivacious and forthright, but damaged by a physically brutalising father and a mother who encouraged her to kill small animals to prove her suitably in the absence of a male heir – is only too willing to fall into his arms as a means of rebellion. She too offers a glimpse of the future and an ugly reaffirmation of the past, willing to break the chains of duty and expectation but unable yet to do so without the direction and approval of a man.
Perhaps those who saw Yael Farber's dangerous and nakedly passionate multiracial update Mies Julie at the Edinburgh Festival two years ago were spoiled, but this version resonates more as an intellectual consideration of how (or how not) to break from stifling tradition than a raw immersion in irresistible lust. Brealey is simply wonderful, a captivating study of frayed nobility and overbearing sexuality, and Jessica Hardwick's Christine presents a strong but contained alternative vision of femininity. Yet the chemistry between Julie and Keith Fleming's John is interesting rather than irresistible, offering only glimpses of the ferocious magnetism which draws these characters to destroy their lives for one evening together.
Until Saturday 15th February
Join our new commenting forum
Join thought-provoking conversations, follow other Independent readers and see their replies