My Night With Reg, Donmar Warehouse, review: Outrageously sharp-witted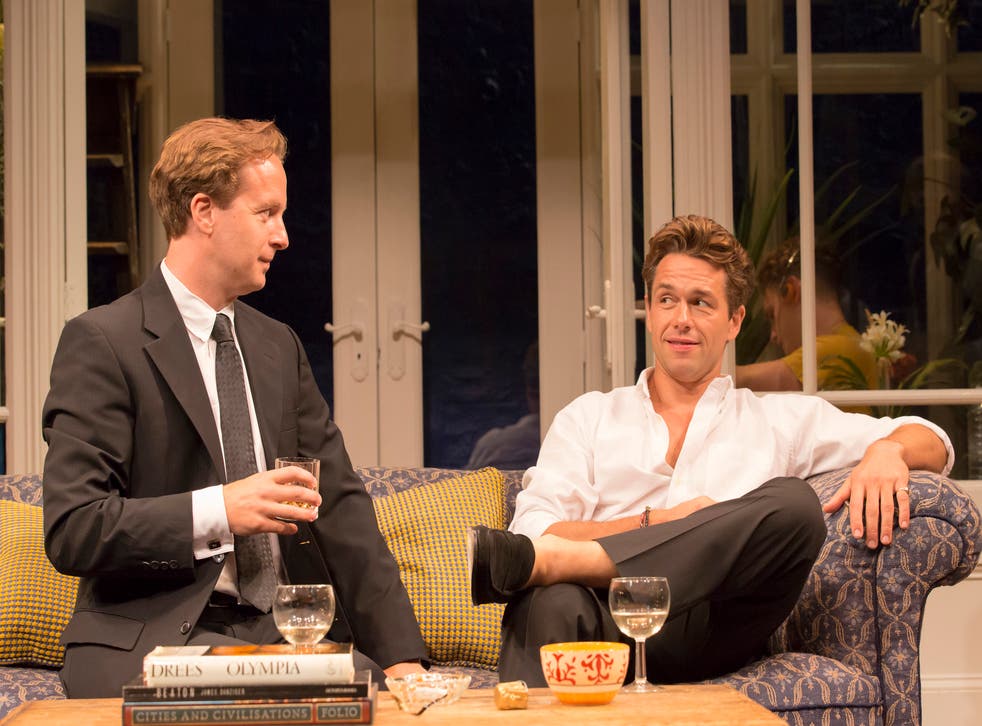 Reg must be the most tirelessly promiscuous off-stage character in world drama (unless we are to fantasise that the mysterious Godot is a bit of "go-er"). We can only say with certainty that Reg has overlooked the charms of a mere one of the men whose paths he's crossed.
And by all accounts, Reg never disappointed the recipients of his lustful largesse. By the same token, Robert Hastie's superb revival of My Night With Reg really knows how to show a boy – and a girl – a heavenly time.
In 1994, when it was first produced at the Royal Court, I was one of the many who raved about Kevin Elyot's matchless tragicomedy of gay manners and morals in the days when contracting HIV was virtually a death sentence.
This revival, with as consummate a cast as the original production, helps me to see more clearly than I did before that as well as being an outrageously sharp-witted and observant about the foibles of the gay world in crisis, the play is, at one and the same time, a beautifully structured poem about Elyot's abiding (Proustian) themes.
One of his later works was double-jointedly entitled The Day I Stood Still (a heart-stopping moment/subsequent paralysis) and My Night With Reg is haunted by the romantic memory of what-might-have-been-but-never-was as well as by its rising tally of the deceased. It's so sad that Elyot, who was closely involved in its preparation, did not live to see this production performed. He died, aged 62, in June.
All the action unfolds in the bachelor flat of bustling, roly-poly, bow-tied, always-the-bridesmaid Guy (spot-on Jonathan Broadbent) who would far rather be hugged for his body than for his faute de mieux knack of being everybody's confidante. Guy has been besotted from university days by John, the Adonis with whom he thinks he shared an epiphanic moment after a student production of The Bacchae.
Julian Ovenden beautifully conveys how the habitual slightly plastic inauthenticity of this rich kid has been pierced, leaving him exposed and vulnerable, by his secret love affair with the titular Reg.
The agonising twist is that Reg is the long-term partner of a third Oxbridge chum, Daniel, whose virile, electrically-funny screaming queen-ery, partly a conscious parody of the mode, is brilliantly captured by Geoffrey Streatfeild. He lets you see that under all this camping, Daniel is a vulnerable, frightened man who realises that it's no laughing meta-.
Hastie endows with a just the right stage lyricism those moments you that it's continuous time, only for it to steal upon you that the action is resuming at a rather different social occasion a few years later.
You keep wondering, throughout, how these characters would react, if you were to tell them that, in two decades, gay marriage would have been instituted to majority public approval. I like to think Eric, the young plumber, would now be fixed up with a decent husband. He deserves to be.
His bashful shrewdness and kindliness and his practical heart ("The security at the Frog and Trumpet's rubbish" he muses during a bout of post-coital languor) are wonderfully well communicated by Lewis Reeves.
I hope that Hastie and gang are taking pride in how this production pays the author's memory a huge and (in every respect) handsome tribute.
Join our new commenting forum
Join thought-provoking conversations, follow other Independent readers and see their replies