Othello, Shakespeare's Globe, review: Mark Rylance is brilliant as Iago in a production that flares into glorious life
Shakespeare's Globe's great founding artistic director stars as Iago in this production directed by his wife, Claire van Kampen
Paul Taylor
Thursday 02 August 2018 18:23 Comments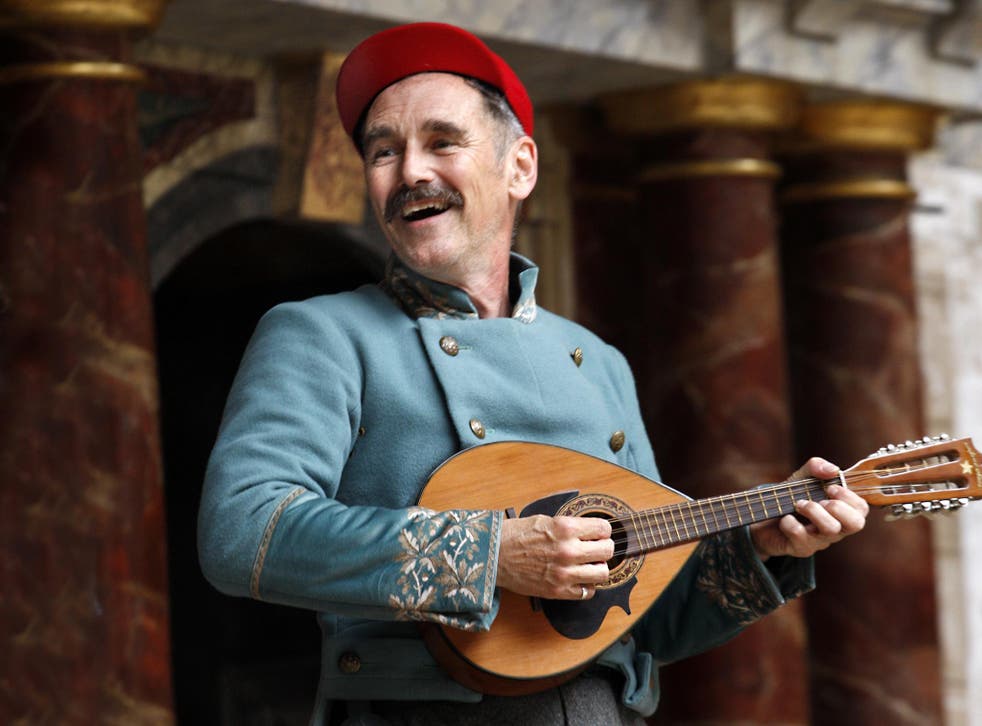 A lot has happened to both the actor and the venue in the six years since Mark Rylance – its great founding artistic director – last performed at Shakespeare's Globe. Rylance has bonded with Steven Spielberg and forged an Oscar-winning movie career. The controversial tenure of Emma Rice and the board's cack-handed treatment of her threw the theatre into an identity crisis from which it is yet decisively to recover. But some things remain unchanged as is demonstrated by Rylance's brilliant portrayal of Iago in this production of Othello directed by his wife, Claire van Kampen.
No actor rivals his genius for working the Globe's inn-yard space – establishing an understated comic complicity with the audience that can then be chillingly subverted at will. Here, Iago's diabolical plot to destroy the hero unfolds with a frenetic, farcical edge. It's not the coolly pre-meditated design of a master-strategist, but a grubbier, hand-to-mouth improvisation that involves lots of pacing about the stage on gingerly looking legs and calculated bluster that masquerades as stumbling spontaneity. In his bum-freezer duck-egg-blue jacket and little red cap, he even looks a bit like a superannuated version of those hotel bell-boys that are a fixture in Feydeau.
The moustache, though, belongs to the kind of bar-room bigot who will, of course, have voted for Brexit. In this multicultural version of the play, it's not Othello's race but the fact that Andre Holland is foreign – an American who speaks with the accent of the deep South – that eats at Iago. Holland, superb in Selma and Moonlight, has charisma to spare and the villain is affronted by the palpable genuineness of the love between him and Jessica Warbeck's spirited, Pre-Raphaelite-esque Desdemona. Rylance makes unnervingly seamless transitions from dialogue to soliloquy, barely allowing a pause between them. He confides that "I hate the Moor" with a quiet, offhand matter-of-factness, as though he were stating a law of physics. At the same time, he imparts a powerfully eerie sense that there's a void within Iago and that most of his revealed "motives" are just another set of disguises that struggle to account for the fathomlessly small-minded nihilism that drives him.
There have been recent adventurous accounts of this tragedy such as the one in Manchester that put the spotlight on gender by reimagining Othello as an out lesbian army commander and the one in Stratford, in which Iago was black too, seething at the assimilationist approach that has caused Othello to promote a spuriously liberal white man over him. Van Kampen's production is too lacking in specific context to attempt anything so daring. It seems to exist in a "timeless" pick-and-mix world of its own imagining. The Venetian flag is draped at the back and there's a female Doge, but Hammond has been directed to break up Othello's speeches naturalistically, so you never properly hear how their propulsive, grandiloquent music is the character's his way of hypnotising himself from the terrible truth – that the Republic's tolerance of him is meanly conditional upon his military service to the state. The stakes feel lower because you get a muffled impression of the strain he is under.
Sheila Atim's Emilia is wasted in the earlier acts – her marriage to Iago is curiously under-explored — but the performance flares into glorious life later on; first in the touching scene where, as she readies her mistress for bed, she tenderly harmonises with Desdemona's "The Willow Song" and shares her wry thoughts on sexual double standards. And then in the magnificent recklessness of her truth-telling in the final scene, where she wrenches back the curtains on the fatal four-poster bed and lets light into the warped, murderous murk the men have created. I wish I could say that all of this rather underwhelming production rose to her and Rylance's occasion. The four stars are mainly for them.
Until 13 October (shakespearesglobe.com)
Register for free to continue reading
Registration is a free and easy way to support our truly independent journalism
By registering, you will also enjoy limited access to Premium articles, exclusive newsletters, commenting, and virtual events with our leading journalists
Already have an account? sign in
Join our new commenting forum
Join thought-provoking conversations, follow other Independent readers and see their replies