Our Ladies of Perpetual Succour, National Theatre, London: 'Delightfully potty-­mouthed and sex­-obsessed, it's not to be missed'
Vicky Featherstone's wonderfully fluent and vivid production of Alan Warner's award-­winning 1998 novel The Sopranos is a boozy, raucous rite of passage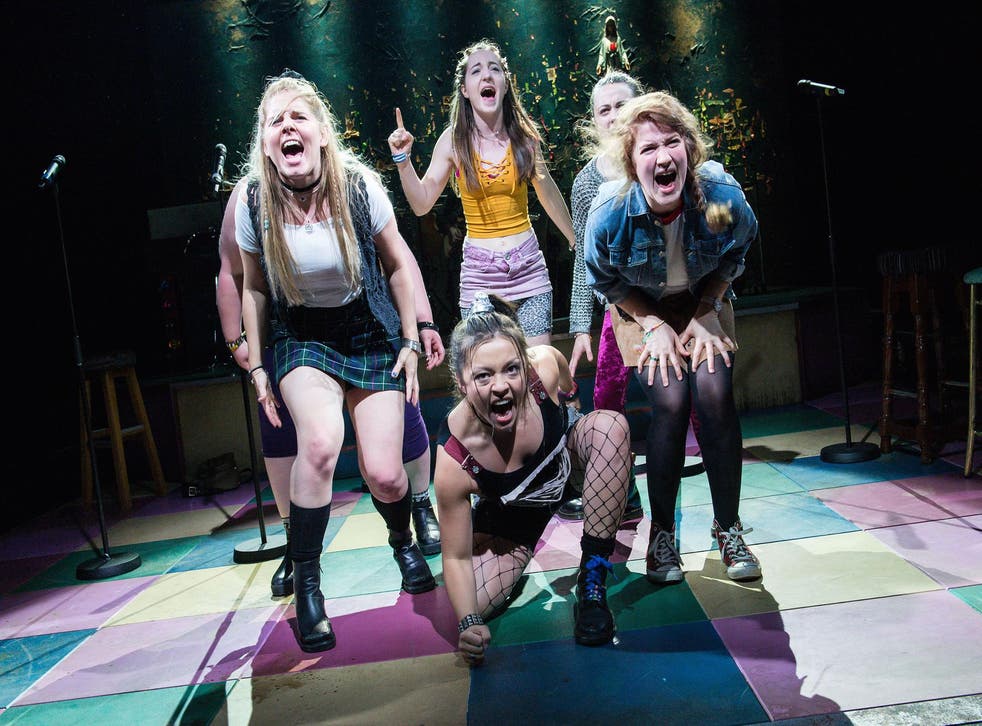 If you were to imagine a racy cross between Once A Catholic, The History Boys and The Commitments, you'd still only get a pale inkling of the joys unleashed by this rude, raucous and irresistible show.
Adapted by the Billy Elliot author Lee Hall from Alan Warner's award-­winning 1998 novel The Sopranos, the piece tells the story of six 17-year-old girls from the choir of a Catholic state school in Oban – nicknamed the Virgin Megastore – as they head to Edinburgh to take part in a national competition. They are not going to let a small detail like a major contest cramp their style, though, during their free afternoon when they embark on an alcoholic, sex­-obsessed rampage across the city. "Fuck the singing ... we're just gonna go mental": they are true to their word and this leads to some outrageously funny misadventures and touching moments of self­-discovery in what amounts to a 24­-hour rite of passage.
You won't find a more exhilarating ensemble anywhere than that provided by the six gifted young performers in Vicky Featherstone's wonderfully fluent and vivid co-­production for the National Theatre of Scotland and Live Theatre, Newcastle. The success of the adaptation and the staging derive from two brilliant decisions. The first is the idea of letting these girls play all the many parts, including the leering male lechers. It's as if the central characters have made a show about their experiences and that that they are mounting it in the Mantrap, the grotty nightclub in Oban that's mentioned in the story. The second is the idea of putting live music and singing at the core of the drama so that the event is more like a gig than a conventional play and the emotional range is powerfully extended.
Backed by a four-­piece, all-­female band, the magnificent cast deliver angelic renditions of Mendelssohn, Handel and Vaughan Williams one moment, only to revert to their potty-­mouthed, bantering, sex­-obsessed selves the next. Those composers can't often have featured on the same bill as cover versions of Jeff Lynne and the Electric Light Orchestra (also exquisitely arranged by Martin Lowe). The musical range is extraordinary as the piece captures the heady state of being on the cusp of adulthood – at once fearless and afraid, invincible and vulnerable. This a show that defiantly refuses to be censorious about young women grabbing life by the balls. But it is shaded with the poignant sense that "we are just a tiny percentage of what we could have been". Hence the slightly wistful note in the dreamy "everything's gonna be all right" chorus of Bob Marley's "Three Little Birds" at the end. First seen in Edinburgh last year, it's not to be missed now at the National.
To 1 October; 0207 452 3000
Join our new commenting forum
Join thought-provoking conversations, follow other Independent readers and see their replies