Photograph 51, Noel Coward Theatre, review: Nicole Kidman gives a compelling performance
Oscar-winner returns to the London stage in a deeply serious-minded role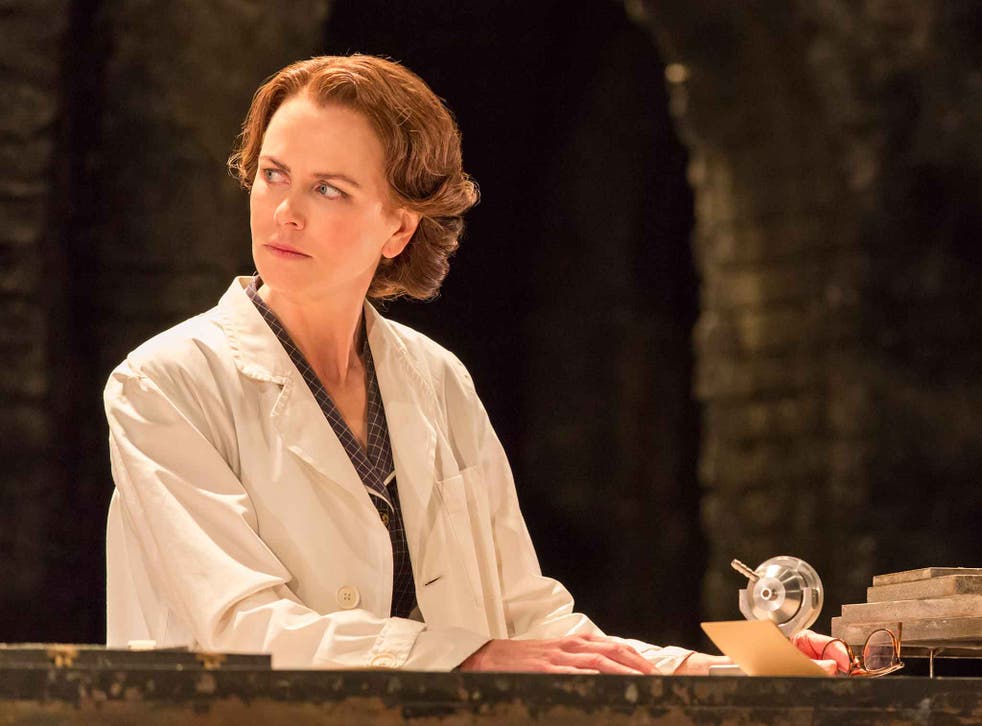 Her last West End appearance, seventeen years ago in The Blue Room, mushroomed into a sensation when one critic described her performance as "pure theatrical viagra". All the more credit, then, to Nicole Kidman for choosing such an unflashy, deeply serious-minded role for her quietly triumphant return now to the London stage.
Anna Ziegler's engrossing play focuses on the brilliant British scientist, Rosalind Franklin. This figure has latterly become iconic as the woman never given due recognition for her pivotal contribution to the discovery of the double helix structure of DNA. Indeed, Franklin went to her grave at the tragically early age of 37 not even realising the extent to which this momentous breakthrough had been reliant on her work.
The eponymous X-ray photograph of a DNA molecule, which she'd taken using her expertise at crystallography, had – unbeknownst to her – fallen into the hands of rival researchers, James Watson and Francis Crick with the force of a revelation. But when, four years after her death, this pair and her former colleague, Maurice Wilkins, were awarded the 1962 Nobel Prize for Physiology or Medicine, hers was not, to put it mildly, a name on everyone's lips.
The recent wince-makingly unfortunate "trouble with girls" comments from contemporary Nobel laureate, Tim Hunt, have reminded us that sexism in science is a problem that hasn't gone away. Ziegler's thoughtful, empathetic play brings home with bitter comedy the unlovely male-domination of this world in the 1950s, but it declines to patronise the Jewish Franklin by presenting her as an example of pure victimhood.
The format of the piece is indebted to Michael Frayn's Copenhagen. All the characters, apart from the heroine, are men; they recount and re-enact the story, which begins with her arrival at King's, London as a research fellow in 1951, while at the same time conducting a kind of quarrelsome, interventionist post mortem. Designer Christopher Oram places her subterranean lab centre stage and surrounds it with a monumental representation of the college's blackened, bomb-damaged neo-classical buildings. This stunning set manages to feel both in-period and spookily out-of-time, a limbo where the minds of her associates might well nag away at the irresolvable questions posed by Franklin's career – crucially why, when her extraordinary work had led her so close, she did not come first in race to unravel the "secret of life".
In her compelling and subtle performance, Kidman beautifully captures the prickly defensiveness, the lonely dedication, and the suppressed emotional longings of the scientist. Her father, we learn in Ziegler's version, had warned her that if she persisted with a scientific career, she "must never be wrong" as that would risk losing everything. Kidman shows you that the immaculately turned-out perfectionist is paying the penalty for the fear he sowed back then. The obnoxiously brash, go-getting Watson (vividly played by Will Attenborough) and Edward Bennett's embarrassed, gentlemanly Crick take the kind of intuitive leap with her data that her own painstaking integrity and self-mistrust forbid.
The actress nails to a nicety Franklin's high-handed brusqueness, comically described by her research assistant as like being addressed by a French person who insists on speaking English so as to rub your nose in the inadequacy of your French. The manner starts off as a survival strategy in a world of reflex chauvinist condescension where, on her first day at King's, Wilkins, her new colleague sees nothing odd in abandoning her and sloping off for lunch in the men-only senior common room. But you see how she has become her own worst enemy from the behaviour of Stephen Campbell Moore's excellent clumsily distraught – and here romantically smitten – Wilkins. It's frustration at her refusal to collaborate that makes him vulnerable to the fake sympathy of the scheming Watson whom he shows the photograph, to prove that he and Franklin are onto something.
Photograph 51 is not not nearly as deep as Copenhagen. But Michael Grandage's superb 95-minute production expertly balances its energies as detective thriller and as interactive speculation about the hovering moments where her life could have taken a different turning. When she's diagnosed with ovarian cancer, the bitter-sweet might-have-beens never become cloying. Franklin's regret is not that she failed to get there first but that she didn't discern the double-helix in the photograph. As delivered with a wonderfully unsentimental candour by Kidman, that confession seems to liberate us from the comparative pettiness of ego-driven pursuits of the truth. Glorious.
To 21 November; 0844 482 5130
Join our new commenting forum
Join thought-provoking conversations, follow other Independent readers and see their replies