Picnic at Hanging Rock, Barbican, London, review: I admired the production's uncompromising clout
There is no hint of costume-drama nostalgia for the past in this minimalist production – a far cry from the dreamy 1975 Peter Weir film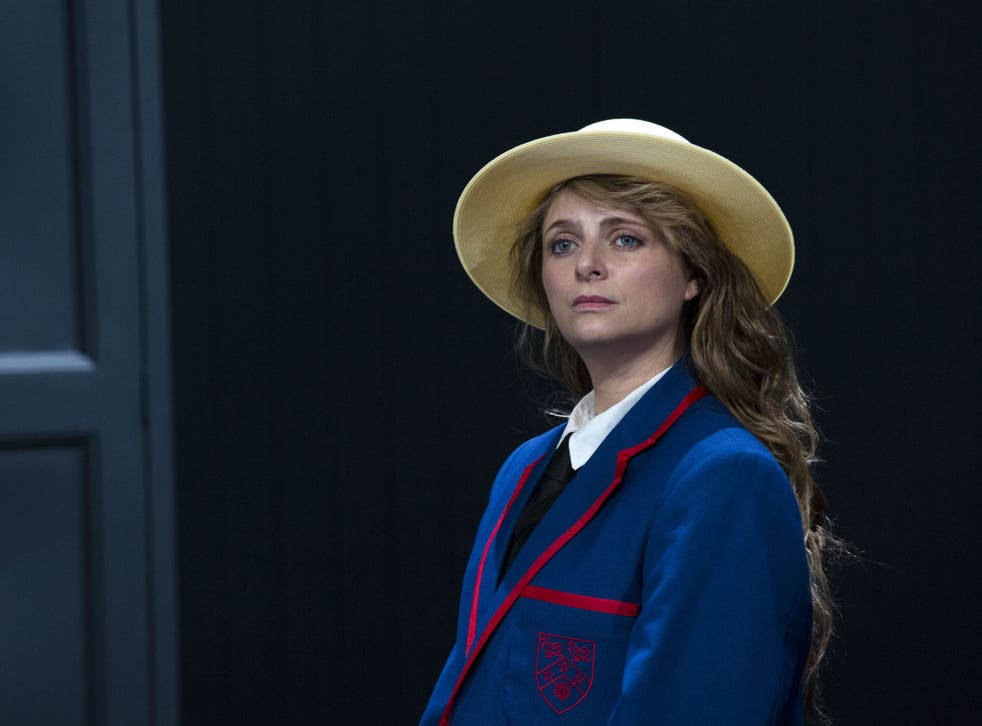 Joan Lindsay's novel has been haunting the Australian psyche since it was published in 1967. Brought to a world-wide audience by the Peter Weir film adaptation in 1975 it tells the unsettling story of how some of the pupils from the all-girls boarding establishment Appleyard College, and one of their teachers, inexplicably vanish during a Valentine's Day trip in 1900 to this sinister volcanic beauty spot. The tale is not based on fact but it rouses so many deep anxieties that it has become embedded as a great Australian myth that continues to fascinate as if it really happened, bristling with mysteries that might one day be solved.
This stage version, by the Malthouse and Black Swan State theatre companies of Australia, is at the opposite end of the scale from the somewhat woozy Weir movie with its girls in violable white muslin on the brink of becoming sexual beings. As adapted by Tom Wright and directed by Matthew Lutton, the story seems to have even more of a horrible force on stage, told with stylised minimalism in ways that starkly deconstruct the underlying assumptions. The emphasis is on the failure of the English colonisers – frightened of and hostile to Australia's prehistoric landscape and teeming vegetation which they ignorantly perceive to be "an anti-Eden" – and on the disappearances as symbolising the land taking revenge on its would-be "civilisers".
Zoe Atkinson's design is a three-sided grey box, bare of scenery, over-hung with a bale of straw. The excellent five-strong female cast begin as narrators in spruce blazers, straw hats and white socks, stealthily advancing to the edge of the stage. There is no hint of costume-drama nostalgia for the past in this production where the episodes are subtitled with Brechtian captions ("Eyes in the Back of the Head") and where there is the added energising instability of watching Appleyard College students take on all the roles, not least that of the bullying headmistress who slowly cracks up after the girls disappear and parents begin to withdraw their daughters.
The rhythm of the show and the acid-etched stage pictures are highly impressive. Scenes flash out disjointedly between blackouts. The young English visitor Michael Fitzhubert thinks that many eras exist simultaneously, some of which we live in: you understand why he has come to believe so from the abrupt succession of torch-lit glimpses we get of his desperate solo search at Hanging Rock. Victimised orphan Sara has fallen into the posture of an upended insect by the time we've reached the next-to-last instalment of the head's systematic torture of the girl.
Some may find this approach overemphatic, but I admired the production's uncompromising clout. Recommended.
Until 24 February (barbican.org.uk)
Join our new commenting forum
Join thought-provoking conversations, follow other Independent readers and see their replies