Revolution Farm, Newham City Farm, theatre review: A powerful update of Orwell's classic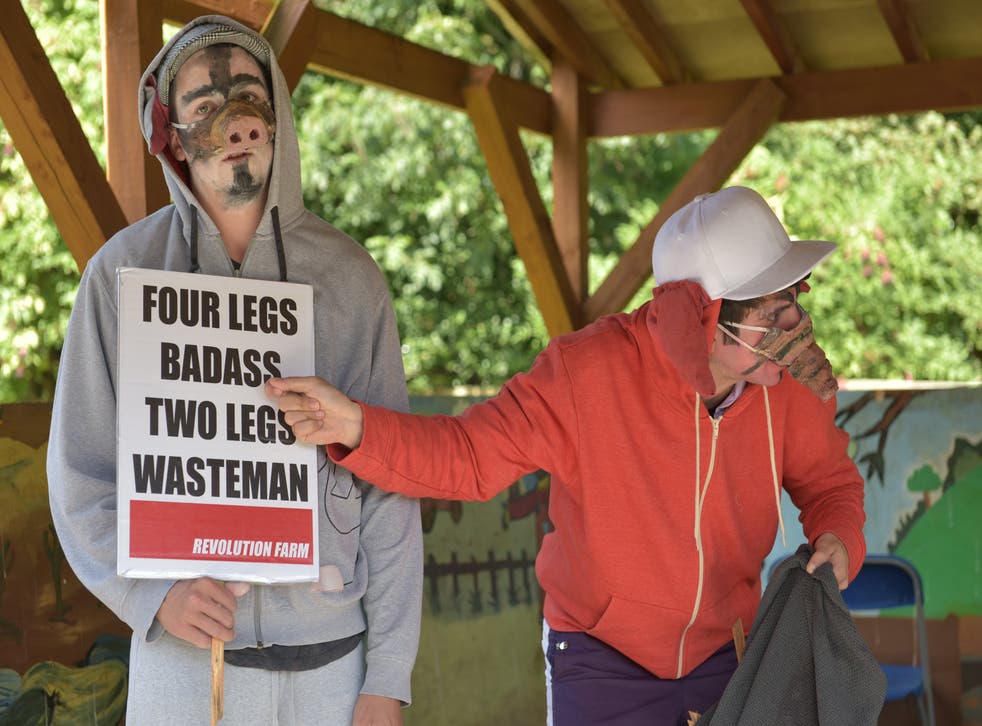 Instead of "Four legs good, two legs bad", the animals are whipped up to chant "Four legs badass, two legs wasteman" in this terrifically powerful update – adapted by James Kenworth and directed by James Martin Charlton – of Orwell's timeless Soviet Union-inspired fable of revolutionary ideals betrayed by the crushing of its left wing and the rise of a a self-serving elite.
The unique selling points of this version – which resounds with troubling echoes of our own predicament today in Britain – are not just the in-yer-face modernity of the language and attitudes, but the fact that it unfolds as a promenade performance in the precincts of a genuine inner-city farm.
Thanks to Ian Teague's excellent design and costumes (half-masks, adapted hoodies etc), there's a weird cognitive dissonance between the enlightened trappings of the actual farm and the atrocities (purges registered as the crashing of bodies against the wooden walls of a shut barn) that are fictionally perpetrated upon it.
Young amateur actors play the bulk of the vilely duped animals. Nicola Alexis is transfixingly menacing as a Mugabe-like Daddy Love (the Stalin stand-in the book) and Kevin Kinson breaks your heart as the trusting workhorse Warrior and Andreas Angelis is horribly funny as Smoothy, Daddy Love's representative on earth.
"Heroes of the Revolution, I salute you!" he declares raising his hipflask and promptly keeling over drunk on officially unrevolutionary booze.
Highly recommended.
2 performances a day until 24 August; www.ticketsource.co.uk
Join our new commenting forum
Join thought-provoking conversations, follow other Independent readers and see their replies