Romeo and Juliet, Royal Opera House, ballet review: An explosive yet creaking production
Stellar cast work with, and sometimes against, a very dated production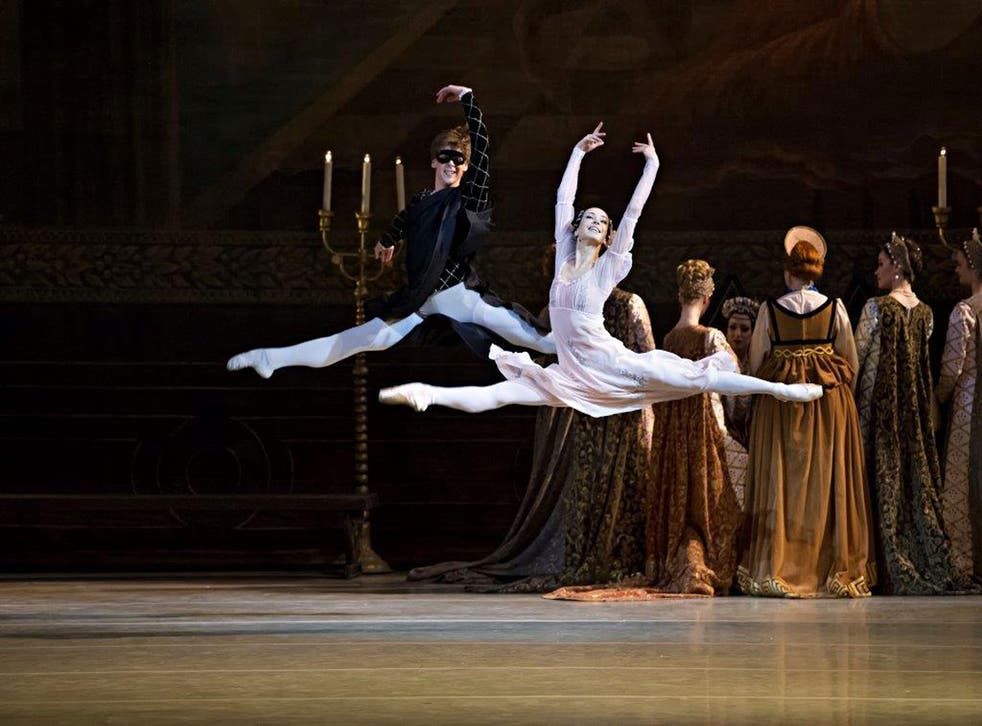 The Mariinsky Ballet opens its London season with radiant young lovers in a creaky old production. In the leading roles, Diana Vishneva and Vladimir Shklyarov are stellar as well as star-crossed, with ardent charisma and plush, expansive dancing. Leonid Lavrovsky's staging, created in 1940, is showing its age.
The Mariinsky – renamed the Kirov Ballet during the Soviet era, when this Romeo was first staged – is one of the world's greatest and grandest ballet companies, its visits eagerly awaited. This London summer season promises some excitingly varied repertory and a sight of the company's next generation. For the first night, however, it stuck with established names.
It's easy to see why Vishneva is an international star. With her dark eyes, flowing line and a vivid sense of drama, she makes an innocently eager Juliet. Lavrovsky gives Juliet a signature low arabesque position: with Vishneva, the step shines out, clear and lyrical. Her footwork is gleamingly quick and sure.
She even makes the production's stiffness work for her. Her Juliet is a young woman who hasn't yet been coached into artificiality, though she can put on grown-up airs for her parents and their party, crossing her wrists like the ballet's affected court ladies. Falling for Romeo, she's both serious and very direct. When Shklyarov lifts her high, she looks down at him with wonder.
Shklyarov's Romeo is devotedly romantic. I love the moment when, waiting for Juliet in Friar Lawrence's cell, he arranges a line of lilies for her, literally strewing her path with flowers. In the balcony scene, he whirls through a heroic series of jumps and turns: his soaring steps match the surge of Prokofiev's score, and of Romeo's emotions. His partnering is steady and tender.
They're terrific, but they're working with, and sometimes against, a very dated production. In 1956, when the Bolshoi Ballet became the first Soviet troupe to visit the West, this Romeo caused a sensation for its full-blooded vigour. It's now gone stale, with wigs, makeup and gestures all highly exaggerated.
Vladimir Ponomarev's Lord Capulet staggers through the action in full-on ham mode, every movement overwrought and unlikely. There are heavy-handed, Soviet-friendly class issues, too. Romeo and his friends flirt respectfully with hard-working tavern girls; Tybalt, being a wrong 'un, is accompanied by curly-haired courtesans who jeer at the poor.
The Mariinsky go through the motions, while the leads try to rethink the work. In the tomb scene, Vishneva's first sight of dead Romeo is a beautifully realised shift from happy recognition to fear. Then she adds a silent scream, before finally throwing her arms to the sky with old-school heroics. Three reactions is too many: there's a tension between her dramatic instincts and the staging.
Still, there are glimpses of this company's dance strength. In the town scenes, there's clean line and execution from the corps de ballet, with lilting upper bodies and crisply stretched feet.
Boris Gruzin conducts a bristling account of Prokofiev's explosive score.
Until 31 July. The Mariinsky season continues until 16 August. Box office 020 7304 4000
Join our new commenting forum
Join thought-provoking conversations, follow other Independent readers and see their replies