The Second Mrs Tanqueray, Rose Theatre, Kingston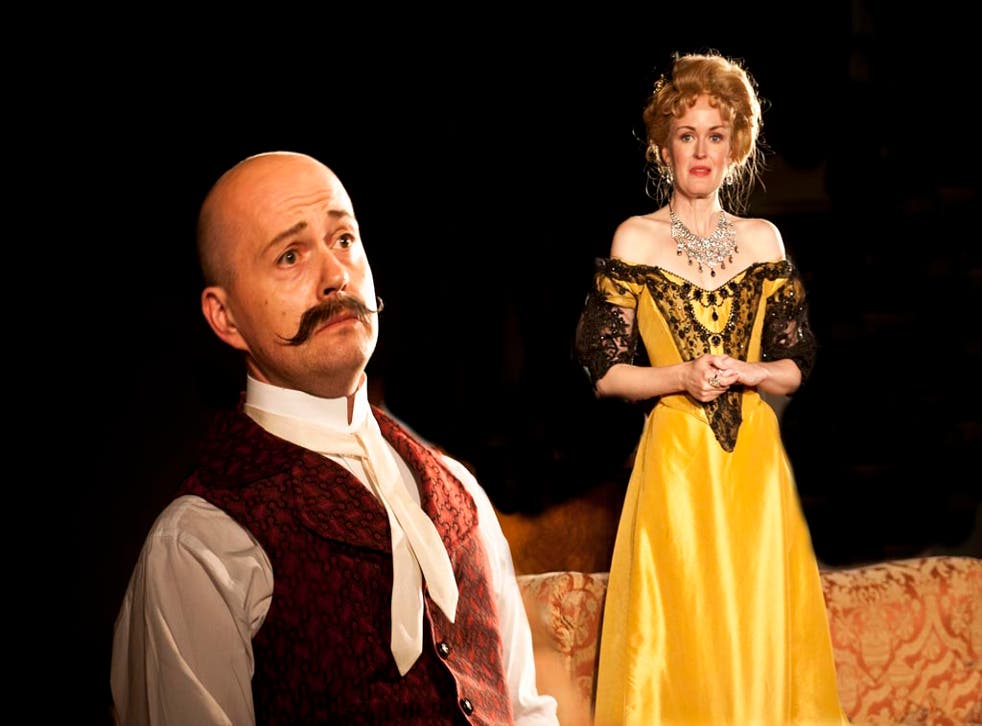 The Victorian double-standard whereby a young male is allowed to sow his wild oats but a young female is branded forever as a "woman with a Past" comes under spirited, if equivocal, attack in Arthur Wing Pinero's 1893 play, The Second Mrs Tanqueray.
The piece caused a sensation at its premiere and now receives a rare and highly intriguing revival from Stephen Unwin at the Rose Theatre. The author established his reputation with farce – the National is about to unearth the ebullient The Magistrate – and it is, curiously, the streak of irreverent comedy that most impresses here as The Second Mrs T weaves its way between heated, issue-driven melodrama and pointed laughter.
After a dinner in his Albany chambers, rich, widowed Aubrey Tanqueray (James Wilby) shocks his cigar-puffing chums with the news that he is going to be married again, this time to Paula, a young woman who, it is generally known, hails from a career in high-class prostitution. The rest of the play is set in the couple's country exile and shows how this unconventional alliance unravels as neighbours fail to visit and as Aubrey's convent-educated daughter, Ellean (Rona Morison) – a chip off the old ice-block of her frigid Catholic mother – rebuffs the lonely Paula's overtures.
Looking like a caged bird of paradise, Laura Michelle Kelly's stormy, restless Paula captures the petulant boredom, the defensive rudeness (she refers to servants as "only machines made to wait upon people – and give evidence in the Divorce Court") and her jealous insecurity and neediness. In the best scene, Daniel Goode and Sally Tatum give a delectably funny turn as a blotto baronet and his squiffy spouse who, though equivalently jumped-up, patronises her hostess with a gratingly vulgar grandeur. Drink-dependent and violent ("He loves a bit of Dresden when he's furious"), this union is like a satiric, knockabout travesty of the increasingly troubled marriage at the play's core.
By contrast, the melodrama feels a stiffly engineered affair in which virginal purity falls for a figure from Paula's murky past, allowing the play to precipitate a suicide that seems as much a sop to conventional propriety as a protest against it. In a finely judged performance, James Wilby's as Aubrey projects an air of gruff, ham-strung decency as he veers between contradictory views of his second wife. One rather hopes that there wasn't a third Mrs Tanqueray.
To 27 Oct; 08444 821 556
Join our new commenting forum
Join thought-provoking conversations, follow other Independent readers and see their replies