Speed-the-Plow, theatre review: Lindsay Lohan silences the doubters with a deft performance
She is winning and worrying at the same time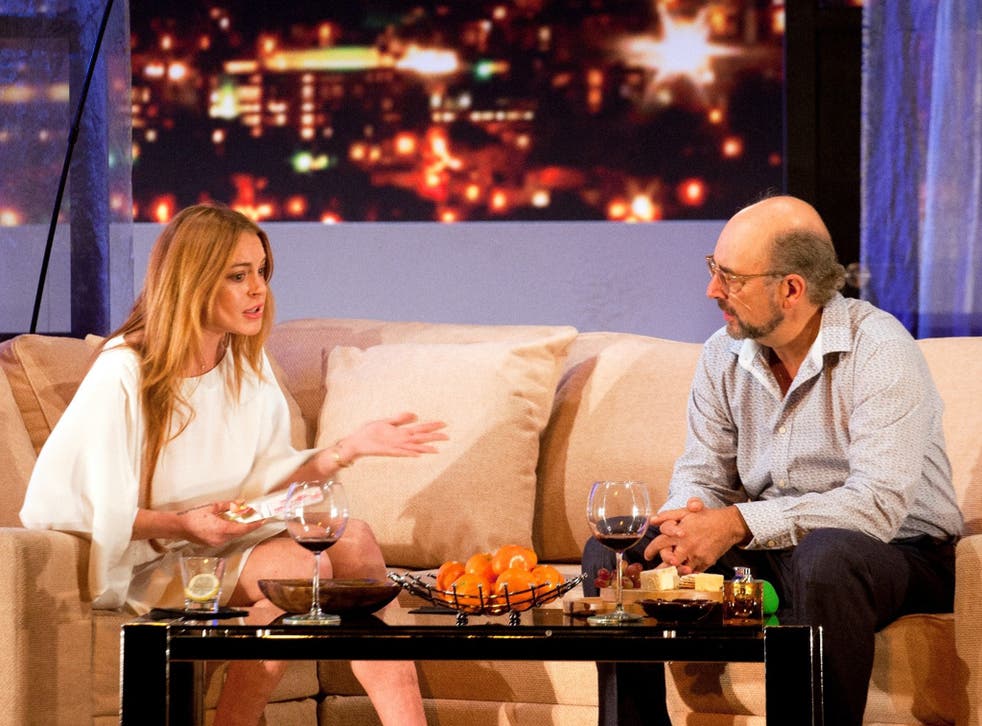 Did Lindsay Lohan turn up to this most intensely – not to say, morbidly – awaited First Night of the theatrical season? Yes, she did. Did she stay to the end? Indubitably. Did she remember all her lines (the prompters who jogged her memory during the painfully scrutinised preview period have garnered the bulk of the kudos so far in this venture)?
Given the circumstances and the glare of publicity, it would have been understandable if she had succumbed to traumatic mutism at tonight's press performance of Speed-the-Plow, so it's good to report that she was completely on top of the script.
And lastly – and most importantly – is David Mamet's trenchant, verbally intricate satire on the dubious values of Tinseltown at long last the centre of attention rather than the distractingly turbulent life and problems of Lindsay Lohan?
If the answer to that is a surprising and refreshing Yes – in Lindsay Posner's entertaining, if slightly underpowered, production – that is little thanks to the producers. In hiring a young woman who has sadly become a byword for unreliability (six months in rehab; a two-week stretch in prison for breaking parole etc) to make her stage debut in the small but pivotal role of the producer's temporary secretary in this testing three-hander, they must have known that there's a thin line between being seen as offering the 28-year-old actress a bracing shot at redemption and being perceived as exploiting her troubled emotional history.
Speed-the-Plow: Lindsay Lohan's West End debut

Show all 6
It's not even clear that notoriety necessarily puts bums on seats, though in the British it certainly foments that gloating schadenfreude that loves nothing better than to gawp at the high and mighty brought low.
So bravo to Lindsay Lohan for transcending these considerations and turning in a deftly delineated characterisation. Sporting a white minidress and turquoise heels in one scene, she has real presence as a gauche, husky-voiced operator who keeps you guessing as to how far she goes around using her idealistic naivete and wide-eyed questions ("Does it have to be like this?") as a stalking horse for naked ambition.
As she reads with mesmerised fervour from a god-awful novel about radiation that she yearns to see filmed, you feel that she wouldn't be able to give you a definitive answer either. She's winning and worrying at the same time.
Richard Schiff and Nigel Lindsay are in fine, darkly frisky form as the pair of producers whose longstanding friendship she threatens to sunder. Nigel Lindsay portrays independent producer Charlie Fox who swaggers in to see his old partner-in-crime Bobby Gould (Schiff) who has just been promoted as head of the studio. He's come with a dream package – a sure-fire blockbuster prison buddy-movie with a star who is prepared to "cross the street" to appear in it. Lindsay's Charlie is so cock-a-hoop that he can barely sit down. Unfortunately, it's at that moment that morality makes an incongruous first appearance in these offices.
This pair ritualise their mutual mistrust and edgy loyalty to each other in a high-octane parody of a fast-talking double act – the overlappings and undercuttings of Mamet's stylised demotic language having a bizarre rococo formality, like razor-bladed Guys and Dolls or Restoration comedy on speed. Nigel Lindsay, in particular, revels in the sheer brazen corruption of it and in the final scene gets his man back from the female interloper with the livid brutality of a jilted lover and a romping cynicism: "Hey, I believe in the Yellow Pages, Bub, but I don't want to film it."
A good but by no means a great night out whose value does not depend on the swirl of publicity occasioned by the female lead.
Join our new commenting forum
Join thought-provoking conversations, follow other Independent readers and see their replies