The Tempest, Royal Shakespeare Theatre, Stratford-upon-Avon, review: Simon Russell Beale in the most profoundly moving performance of his career
Beale stars in Gregory Doran's production of 'The Tempest', which makes the first use of live motion capture in a major classical production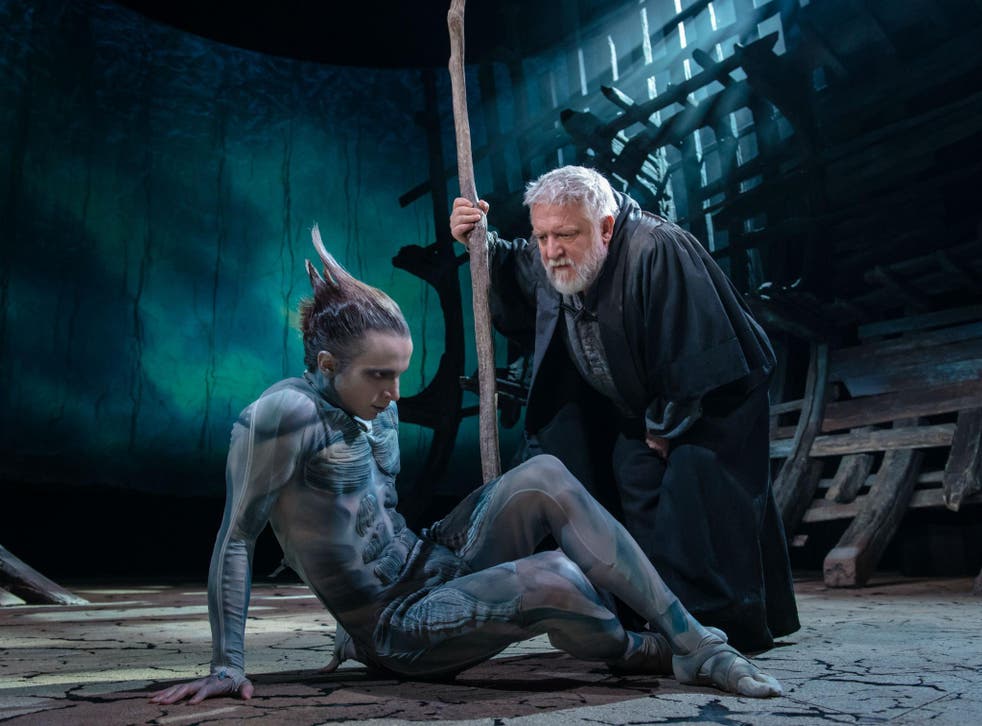 Simon Russell Beale returns to the Royal Shakespeare Company after more than 20 years and marks the occasion by turning in one of the most profoundly moving performances of his career.
He portrays Prospero in Gregory Doran's production of The Tempest – a version whose stated aim is "to break new boundaries in theatre-making". The idea is that this Shakespeare play contains a masque and that masques were the multimedia events of their era, requiring innovative stage machinery to produce the astonishing effects. Hence Doran's collaboration here with Intel (in association with The Imaginarium Studios) to see what happens when the cutting-edge technology of our own day is brought to bear on the piece.
The production can boast that it makes the first use of "live motion capture" in a major classical production. Mark Quartley, the lithe actor playing Ariel, wears a body suit that is sensor-equipped and so able to transpose his movements into a computer-generated avatar that flits around in real time, sometimes projected onto the silken tubes that are lowered from on high in Stephen Brimson Lewis's design. The digital wizardry allows, for example, a drowning father's body to seem to shatter to piece in his son's imagination and the faces of hideously fanged dogs to be flashed onto the tabors of the spirits so that the pack seems to be coming at Caliban and his terrified drunken cohorts from all directions.
We seem to be travelling through a dream of David Hockney landscape paintings in the masque proper in which the huge white skirt of the hovering Ceres (Samantha Hay) becomes the screen for a phantasmal riot of flowers and where Juno (Jennifer Witton) arrives not by chariot but through one of the eyes in the great light show of peacock plumage that engulfs the stage. Paul Englishby has composed a joyous Mozart pastiche that is sung with rapture by these visiting eminences.
Russell Beale's Prospero is the still centre of the storm – delivering the verse with a quietly spoken mastery and conveying the banked-down turbulence in the magician all the more powerfully for the subdued-seeming surface. It's not just vengeful desire but the rockiness of self-doubt that this Prospero has to overcome. How far, for example, was he to blame for his own overthrow by being such a removed and bookish ruler? There's a wonderful mix of irascibility and sheepishness as he tells his story to Jennifer Rainsford's robust, forthright Miranda. He's the most human, complex, and vulnerable Prospero I've ever seen.
There are a couple of extraordinary exchanges with Quartley's attractive Ariel. This creature, who has been observing the progress of Miranda's courtship with Ferdinand (Daniel Easton), is trying to get the hang of the concept of "love". When he experimentally asks "Do you love me, master?", Russell Beale's Prospero is completely disarmed, as if no one has ever asked him this simple question before and is forced to cover his tear-stained face with his hand. And at the crucial moment where Ariel tells his master that he would turn to mercy if he himself were human, Russell Beale lets out a series of agonised bellows that are shatteringly expressive of the conflict within. The essential loneliness of the hero is matchlessly, hauntingly captured.
Joe Dixon is a sad and rather sensitive Caliban with severe curvature of the spine that has formed on the outside of his back. Tom Turner plays Sebastian as a moustachioed cad, repellently comic and sinister. Everything feels fresh and pondered anew.
This production will be in cinemas from 11 January 2017
Join our new commenting forum
Join thought-provoking conversations, follow other Independent readers and see their replies