The Red Lion, Dorfman, National Theatre, review: Play about the beautiful game is aptly beautiful
An admirably staged and richly dense production
Paul Taylor
Friday 12 June 2015 15:06 Comments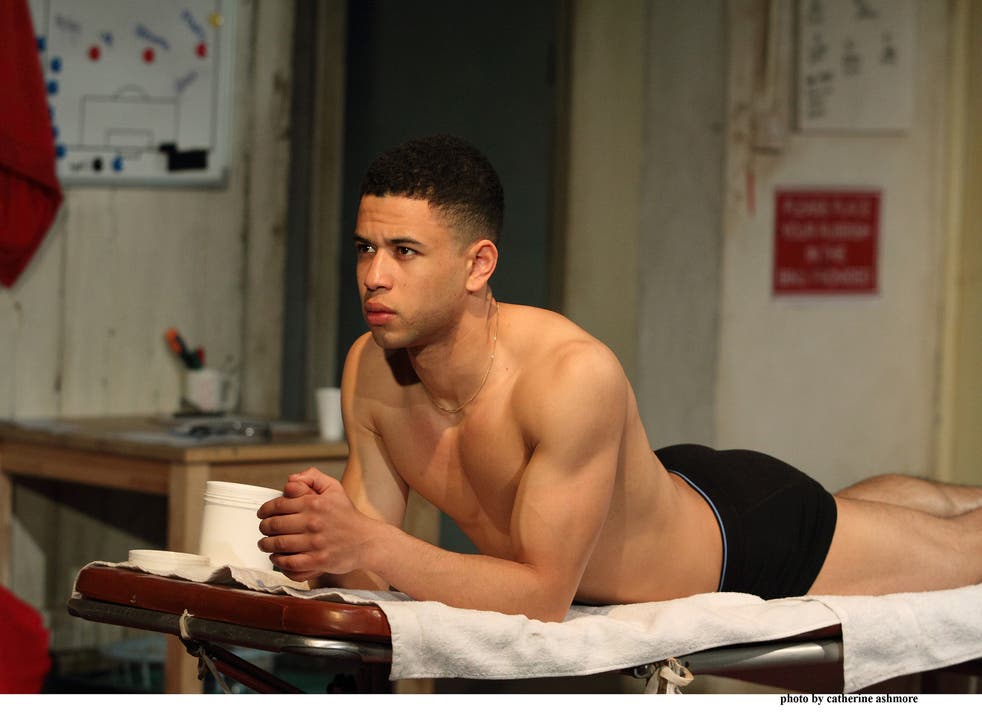 It's a pleasure to report that Patrick Marber, author of such Nineties classics as Dealer's Choice and Closer, has overcome a nasty and protracted case of writer's block and is back at the National with a beautiful play about the beautiful game. He's been at pains to suggest that football is not really the subject of The Red Lion but the gateway to a study of loyalty, loneliness and belonging.
In fact, while the piece is wonderfully acute about these things, it's also suffused with Marber's love of the sport and informed by his intimate knowledge of it. Director Ian Rickson is doubly to be thanked. He was The Red Lion's encouraging, patient midwife through its difficult three year labour. And now he presents it to the world in this superlatively acted, perfectly modulated production.
A three-hander, the play is set in the dingy, high-ceilinged changing room of a small-time, semi-pro soccer team who have been on a recent winning streak but have just had their best player poached by a rival team. Potential salvation seems to arrive in the lithe shape of Jordan (Calvin Demba) a young man who shows exceptional promise Over the course of three wintry Saturdays, we see the other two characters deviously battling for control of this boy's future and, by extension, their own.
Daniel Mays's Kidd is the insecure, ambitious manager with a crumbling marriage and mounting debts who sees Jordan as the fastest route to a cut from a transfer fee. Peter Wight, in an extraordinarily moving and nuanced performance, is Yates, a one-time legend who has given his life and soul to the club, first as player, then as (humiliatingly unsuccessful) manager and now as dedicated kit-man. He's fatherly and tender towards Jordan because he sees, in the boy, a way of reincarnating the spirit of the old glory days before the club was corrupted by the opportunistic values of Kidd.
All the characters bear the scars of their past. Jordan is harbouring an appalling secret about his dodgy knee and Marber conjures up a world of men striving to compensate for the failures of their fathers and for becoming absent fathers themselves to their own children. It's a funny, said and haunting piece where, though Yates and Kidd despise one another on one level, there's also strong fellow-feeling, seen at its most attractively farcical when Kidd give himself a bloody gash while struggling to help Yates unscrew the recalcitrant hook that he wants to take as a memento of his long association with the club.
The lady sitting next to me gasped nineteen to the dozen at the twists and turns of the pacier, very well-plotted second half. What's equally admirable, though, is the rich density of Marber's evocation of the semi-pro culture with its "lonesome duffer" volunteers and pitches that look emerald from a distance but are knackered old meadows where women's and youth teams and poncey sponsor kick-abouts "mullah" the turf. I recommend the production to Sepp Blatter, who could certainly afford the seat, and to theatre-lovers generally.
To September 30; 020 7452 3000
Register for free to continue reading
Registration is a free and easy way to support our truly independent journalism
By registering, you will also enjoy limited access to Premium articles, exclusive newsletters, commenting, and virtual events with our leading journalists
Already have an account? sign in
Join our new commenting forum
Join thought-provoking conversations, follow other Independent readers and see their replies