The Tempest, Silk Street Theatre, Barbican, London
Caliban and comrades go down a storm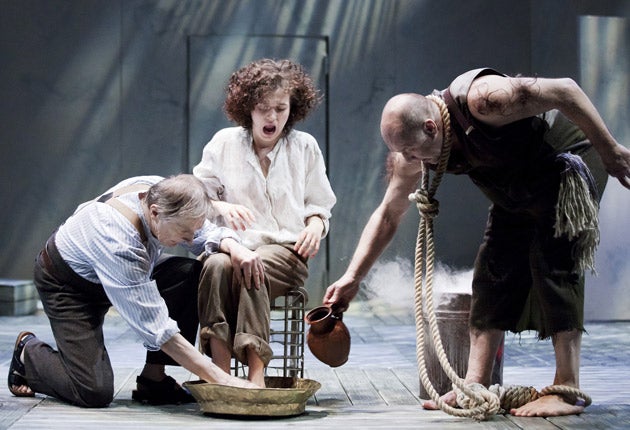 Prospero enters alone in the half light. He whistles quietly. The three grey doors in his cell begin to creak, and the distant swell of the sea comes closer. The flood becomes overwhelming. The doors fly open to reveal the wrecked mariners fighting for their lives.
It's the simplest, and most terrifying opening to the play imaginable, and announces the intentions of the Cheek by Jowl director/designer duo, Declan Donnellan and Nick Ormerod, and the company of Russian actors with whom they've worked these past 11 years under the aegis of the Chekhov International Theatre Festival in Moscow.
This is a rough, harsh Tempest, with old scores settled, a daughter married and dispatched, an island left to fend for itself, and a savage yanking of the ritual apparitions and feastings into Soviet socialist satire: the masque of Iris and Ceres is reworked as dance of peasant women with garish faces, then a chorus of workers brandishing sickles in unison.
This follows the cleansing of a naked Ferdinand, and the putting on of his new civilian suit. The lights come up throughout the theatre. Our revels now are ended: it's on with the motley, then on with the business of running and ruining the world as usual. The subversive faction of Caliban, Trinculo and Stephano are seen plucking their new shiny suits and mobile phones in a shopping mall.
There is no hint of valedictory about this Prospero: the arch manipulator is bringing everyone to heel, making his point, and moving on. Igor Yasulovich is angry, determined and vindictive throughout. Even his own daughter, Miranda, is dragged howling and screaming away from Caliban, her sexual tormentor, into a not so brave new world.
Miranda was innocent of his slavering because she knew nothing else. Caliban, as played by Alexander Feklistov, is a primitive old family retainer, and his world is as violently confounded as is Miranda's. Anya Khalilulina has the air and beauty of a prelapsarian virgin. Until the storm.
The new arrivals, the usurping party led by Prospero's brother, the Duke of Milan (Evgeny Samarin), and the unusually vivid Gonzalo of the shock-haired Alexander Lenkov, have to readdress their status, and their politics, in a strange, ethereal limbo.
This atmosphere of unreality is enforced by Prospero's spirit, Ariel (Andrey Kuzichev), a black-suited malevolent gofer who douses the characters in water poured from buckets and gardening cans. He's also replicated in four identical musicians on accordion and wind instruments, and his shape-shifting abilities are most strikingly represented as a log, humped by Ferdinand from one side of the stage to another.
Every character is played with heart, from the inside out, as you'd expect from Russian actors. Ilya Iliin as Trinculo, for instance, exudes comic uncertainty in his heart-breaking portrayal, while rubicund Sergey Koleshnya simply is Stephano, the cook and bottle-washer who's been knocking back the grog for days.
This is a fine, fresh, bold look at a play that can sometimes seem over-familiar and sentimental.
To 16 April (0845 120 7550)
Join our commenting forum
Join thought-provoking conversations, follow other Independent readers and see their replies