Theatre review: Roddy Doyle's The Commitments - 'The mood is blandly upbeat'
Roddy Doyle's tale of the rise and demise of a young Dublin soul band is more staggered gig than drama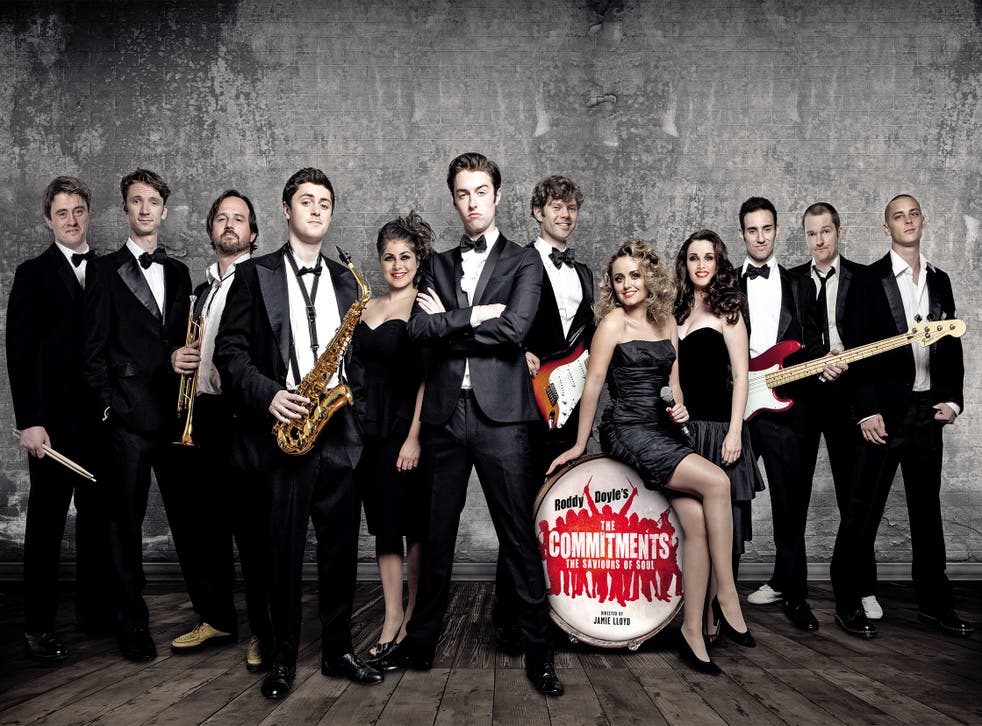 Roddy Doyle's tale of the rise and demise of a young Dublin soul band began life as a novel in 1987 and was turned into a smash-hit movie by Alan Parker in 1991. But, on the face of it, the stage would appear to be the natural destination for this material.
The storyline provides a cast-iron excuse for storming through a string of classic soul and Motown numbers – "In the Midnight Hour", "What Becomes of the Broken-Hearted", "Satisfaction" et al – without toppling into the dreaded "jukebox musical" category. And with the songs performed live, it seemed that we could look forward to an elating hybrid – "a play and a concert rolled into one", as the show's director, Jamie Lloyd, described it recently.
As a fan of both the original novel and the film, I wish I could say that this is how things work out. But the evening is much more successful as a staggered gig than as drama. Though Doyle himself wrote the book, the storytelling lacks texture; the crude banter has been drained of most of its saving charm and the characters all come over as two-dimensional comic types. Newcomer Denis Grindel is winning as the band's manager, Jimmy Rabbitte, who yearns to spread the gospel of soul to the Dublin working classes. But you're never properly convinced that there's real hunger behind this mission and that the music represents, for him, a rebellion against the material and spiritual poverty of the environment. Despite Soutra Gilmour's looming tower-block set, the stakes feel low and the mood blandly upbeat.
Killian Donnelly is phenomenal as the obnoxiously big-headed Deco, his mighty voice ranging from a snakily sexy falsetto to a deep rasping boom. Even when scoffing a bag of chips as he performs "I Heard It Through The Grapevine" (a feat Marvin Gaye curiously never attempted), he can imbue a number with insidious erotic drive. Persuasively charting their growing prowess, the engagingly cast band pound out the numbers with infectious zest and energy.
But the whimsical notion that they re-group as a spoof country & western outfit – on the grounds that sex broke them up and that playing country music is about as arousing as singing the phone book – is a flat-out mistake that merely exposes how dramatically flimsy the brawling disputes are that cause them to implode in the first place. And the encores, where the fourth wall is knocked down ("Hello, London!") in too calculatedly frenzy-inducing a fashion, reinforce the feeling that this show about soul is itself a mite soulless.
Join our new commenting forum
Join thought-provoking conversations, follow other Independent readers and see their replies