Theatre review: West Side Story - An above average production, but no masterpiece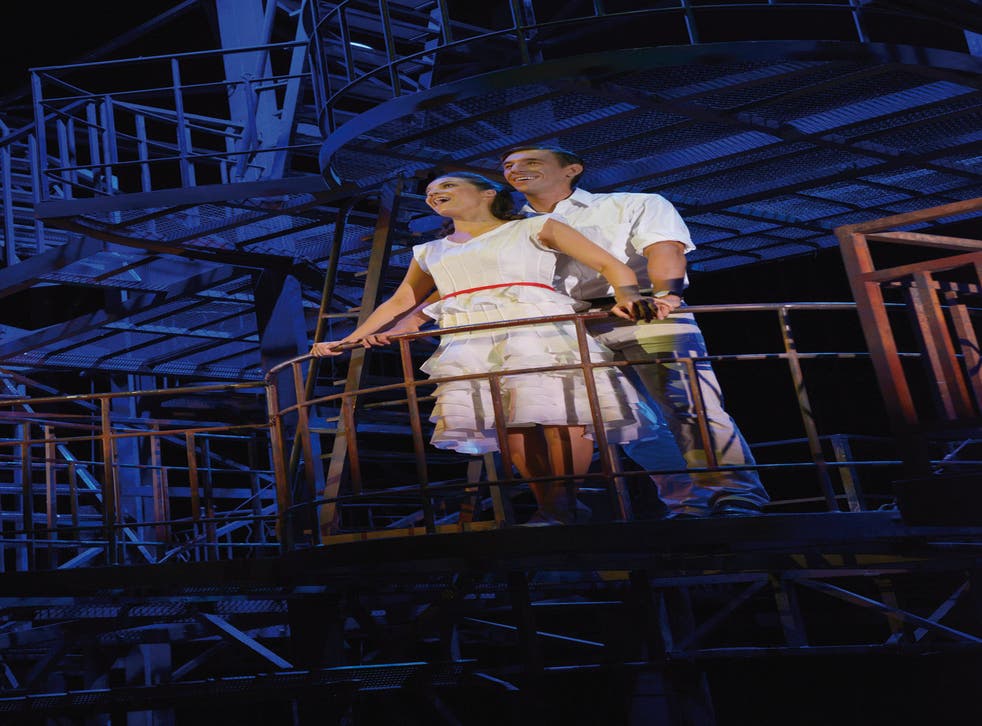 It was the most thrillingly up-to-date of all musicals when it opened on Broadway in 1957, but revivals of West Side Story have tended to feel stuck in a time-warp in recent years. You wouldn't want to change Jerome Robbins's electrifying choreography; nonetheless, there has been a distinct whiff of mothballs as wholesome athletic young performers – exuding all the delinquent menace of, say, the young Cliff Richard – went through the motions with technical aplomb but with seemingly no gut connection to the spirit of the piece.
Joey McKneely's production, returning to Sadler's Wells where it was first seen in 2008, is no masterpiece. Paul Gallis's lacklustre design (with its flimsy cage-like balconies and fire escapes and its projected black-and-white images of 1950s New York) pulls off the considerable of making Manhattan look dull. And while Elena Sancho-Pereg is a well-nigh ideal Maria with her beauty, sensitivity, touching playfulness and the yearning soar of her soprano, Liam Tobin's Tony - though he sings with impressive, if rather generalised ardour – is a tad bland and knitting-pattern-clean-cut dramatically. 
Where the production hits the mark is in restoring a genuine edge of spontaneity and danger to Robbins' testosterone-charged dance treatment of the gang warfare between the Jets and the Sharks. There's nothing remotely dutiful here about the way McKneely's fine cast transmit the strutting macho competitiveness and the swagger and insecurity – choreography brilliantly galvanised by the jazzy, street tough rhythms and aching lyricism of Leonard Bernstein's matchless score (with its echoes of Stravinsky and Bartok). Mark MacKillop's excellent Riff heads a knock-out rendition of "Cool" where the violence simmering under the show of crouched, finger-clicking calm keeps erupting in frenzies of leaping hormonal turbulence.  
The daddy-o stylised slang in Arthur Laurents's book occasionally sounds strenuous and artificial ("Now you'd all better dig this and dig this the most") and the second act dream ballet – where the characters, in transfiguring pristine white, escape into fantasy idyll of peace and reconciliation – always comes across (for my taste) as a sop to soppiness rather than as a piercingly poignant glimpse of a better world.   But Penelope Armstead-Williams is terrific as Anita dancing up a wittily sexy storm in "America" and giving "A Boy Like That" a bleakly eloquent vehemence and generally reminding you of the strength and versatility of the almost ludicrous pile-up of classic songs. Not a great production of West Side Story, but a definite cut above the current norm.
To 22 Sept; 0844 412 4300
Join our new commenting forum
Join thought-provoking conversations, follow other Independent readers and see their replies