The Tragedy of King Richard the Second review, Almeida, London: A fresh and challenging evening
Simon Russell Beale proves himself our foremost Shakespearean actor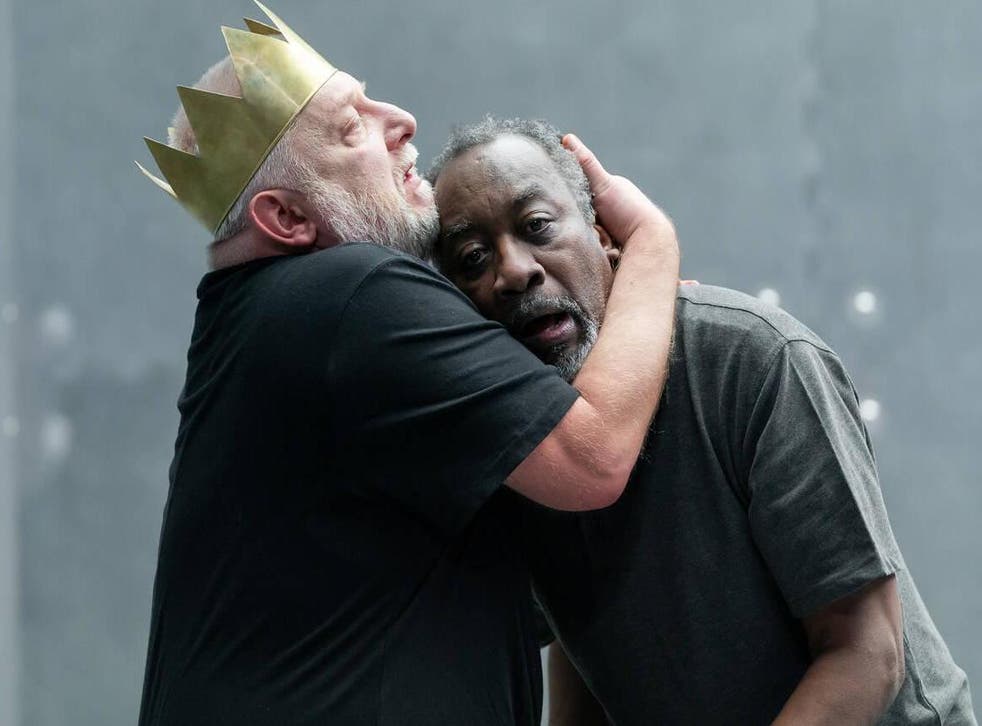 Joe Hill-Gibbins's stripped-back, arresting production of Shakespeare's tragedy begins near the end.
Simon Russell Beale steps forward and, with a quiet, heart-stopping inwardness, delivers the searching soliloquy that Richard traditionally delivers in act five, scene five: "I have been studying how I may compare / This prison where I live unto the world."
It's a great sequence in which Richard, "unkinged by Bolingbroke" and wretchedly incarcerated, recognises the limitations of his power and makes the journey from unfeeling monarch to bare, forked, frightened human being, who, "With nothing shall be pleased till he be eased / With being nothing."
As it is forcefully reconceived here, the whole play becomes a kind of nightmarish flashback in which Richard reviews the blunders that have led to his deposition. This makes dramatic sense of the casting. On one level, this great actor is now too old for the part (he reminds you more of Lear at moments) but the idea of the piece as anguished retrospect gives his seniority a haunting emotional resonance. His performance is wonderful.
Bringing up a boy, from childhood, to believe that he is God's anointed and that his power cannot be assailed is liable to have disastrous effects on his psyche. (How on Earth will he develop alternative sources of self-reliance?) I've never felt that more keenly than here, where Russell Beale confronts the "nothingness" of his unkinged condition as a frantic identity crisis. He veers between hyperventilating panic and furious shafts of the old assumed entitlement. In the deposition scene, he puts Bolingbroke through a pointed coronation ceremony in reverse ("With mine own tears I wash away my balm...") in an upstaging manner that is close to a nervous break-down.
Shakespeare plays adapted by the BBC for TV

Show all 37
Hill-Gibbins is not a director who does Shakespeare by halves. In his scabrously funny modern dress Measure for Measure, he filled Vienna with plastic inflatable sex dolls. His droll, deviant A Midsummer Night's Dream presented the forest as a mud-bath version of the id. Here, the theme of confinement is reinforced by Ultz's austere set of a bare, riveted grey cell in which a cast of eight in drab rehearsal clothes perform all the parts, with no attempt at simulating opulent ritual. How should authority be transferred? In whom or what does it justly reside? The director has no need to underline the topicality of these questions.
Skulking round the edges of the set or hammering against its walls in demented attempts to claim attention, the company vividly conjures up the moral confusions and divided loyalties in a period of political transition. There's a comic frenzy of gauntlet-throwing. Blood, dirt and water are chucked over people (Richard very much not excluded) from helpfully labelled buckets. Just occasionally, I was reminded of the kind of television game show where they tip horrible substances over the contestants.
The production comes in at one hour 40 minutes, which surely means that it holds the land speed record for this particular play. It's fluent and sometimes weirdly dreamlike in its succession of scenes. But the amplitude of the play has been lost in the cutting, and while there are some striking performances – Natalie Klamar's Carlisle, Martins Imhangbe's Aumerle – you feel that the breakneck pace does not give the actors much scope for nuance.
Leo Bill plays the usurper Bolingbroke as shifty and awkward about the PR aspects of his ascent to the throne (he writhes out of a crowning that might be thought premature) and it's darkly droll how he's driven frantic at having to act as a peacemaker when a multiplicity of hot-headed feuds break out under his rule. You feel, though, that this impulsive youth is more petty criminal than how he's normally portrayed – as the enigmatic operator who returns from exile with a long-term strategy of seizing perhaps more than just his hereditary rights. The contrast between the styles of rule of him and Richard are unfortunately blunted.
A fresh and challenging evening though that enhances Russell Beale's reputation as our foremost Shakespearean actor.
The Tragedy of King Richard the Second runs at Almeida, London, until 2 February 2019. Broadcast in cinemas via National Theatre Live on 15 January 2019
Join our new commenting forum
Join thought-provoking conversations, follow other Independent readers and see their replies