A Very Old Man With Enormous Wings, BAC, London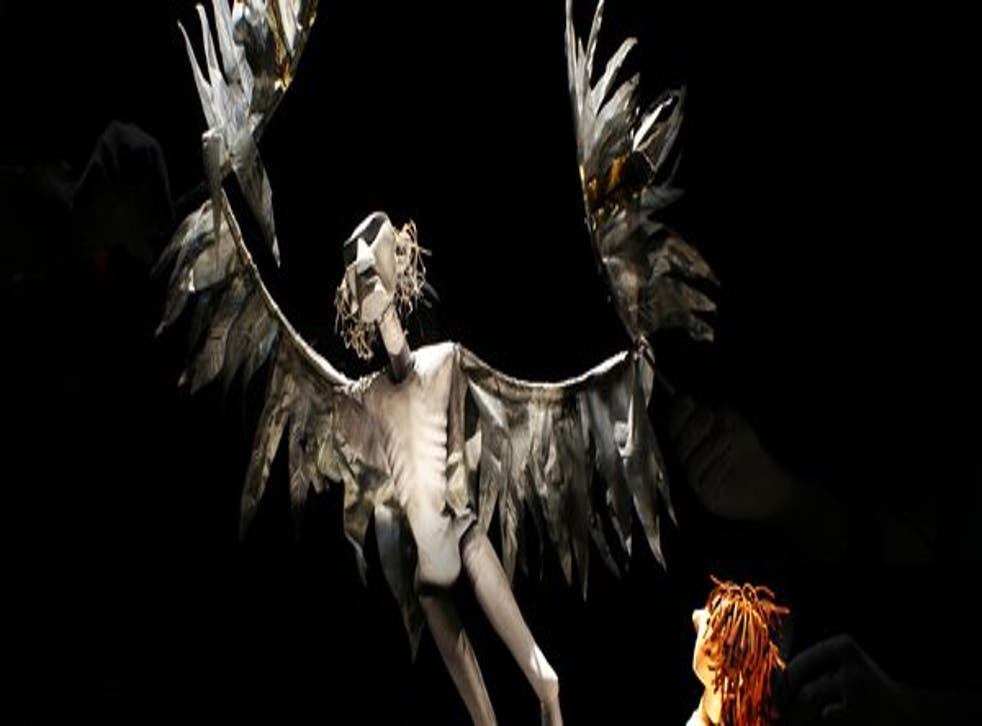 Gabriel Garcia Marquez's magical realist fable proves to be the perfect vehicle for this bewitching collaboration between Islington's Little Angel Theatre and Cornwall's Kneehigh company.
The rod-operated puppetry – directed by Sarah Wright and superbly executed by a four-strong team – gives just the right fantastical twist (in its witty and wondrous games with scale and perspective and in its suggestive blend of the cartoon-like and the uncanny) to this story of how the locals react when the eponymous creature crash-lands in their windswept coastal village.  
It's a location beautifully evoked here by the embracing curve of slate-coloured houses in Lyndie Wright's melancholic, multi-level design and by the accordion swirl of the Breton-tinged soundtrack by Ian Ross and Benji Power.
The arrival of the old man – a grey, hauntingly emaciated, half-naked figure with huge bedraggled wings – seems to rid the place of its plague of crabs (who are seen clattering creepily over the set at the start) and to cure a dying little boy. 
Who is this newcomer- angel or freak, demon or redeemer?  Asserting proprietorial rights (well, he did land in her back yard), the boy's mother soon has the largely mute, enigmatic stranger imprisoned in a chicken coop and is charging "five tups" for a touch of his supposedly healing feathers to the bus loads of pilgrims who descend with their outlandish complaints. 
Eyelids permanently lowered with doctrinal fastidiousness, his whole body occasionally levitating with self-importance, the pious Father Gonzaga decrees that the old man cannot be angelic because he does not know Latin and has appeared "without permission or the proper papers".  He too, though, is eventually corrupted by the economic boom in this short-lived, bunting-decked tourist trap.
There are times when the piece is stronger on atmosphere than on narrative energy. But it counterbalances the astringency of its satire on the cynical, narrow-minded and exploitative ways in  which people deal with otherness by the joie de vivre of its comic quirks and idiosyncracies – from a gingerly tightrope-walking chicken and a snoutily nosy neighbour through madcap races against time (seen far and near) on bikes, boats and hot air balloons to the potato-faced little boy and his shy, instinctive kindness towards the titular character.
The precise nature of the latter's powers remains a mystery but this enchanting show can certainly claim to be a minor theatrical miracle.  
To 19 January; 020 7223 2223 – then touring
Join our new commenting forum
Join thought-provoking conversations, follow other Independent readers and see their replies