The Kite Runner, Wyndham's Theatre, London, review: A performance that lacked children still comes up winning
A simple stage allows the small cast to carry the weight of Khaled Housseini's debut novel that sold multi-millions worldwide and follows the film adaptation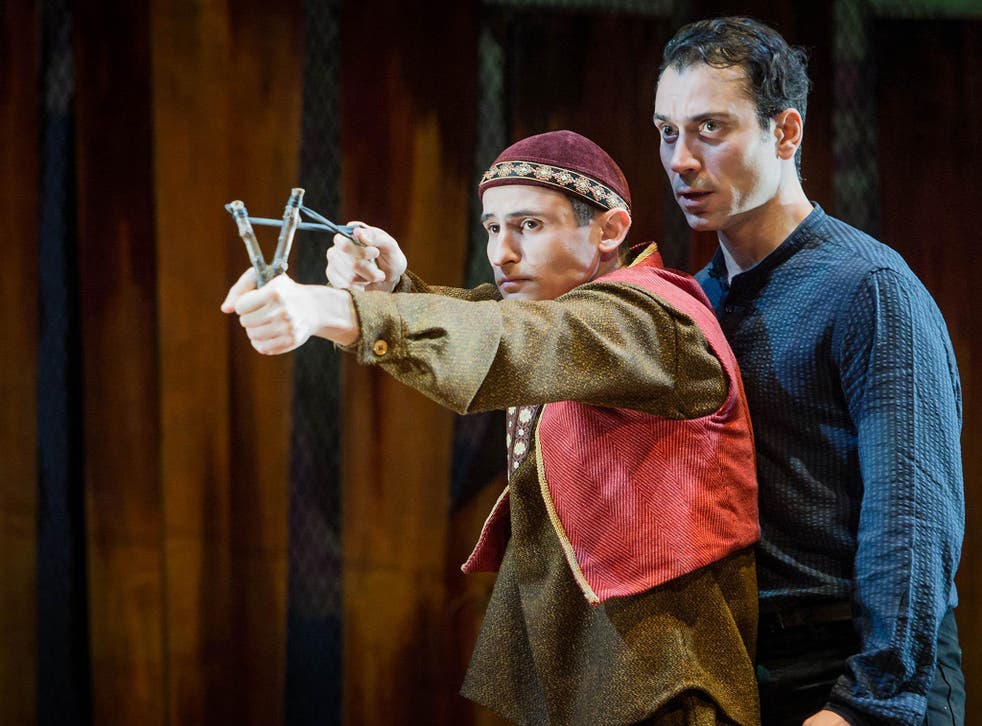 It's no easy feat taking on a stage adaptation of a world best-selling book and a critically acclaimed film version. But Matter Spangler's adaptation of Khaled Hosseini's novel, The Kite Runner, manages to convey the entwined stories of two boys that are duped in secrecy, shame and bitter irony and pierced with historic events from the Soviet invasion, the rule of the Taliban and 9/11 as it follows the burdened 12-year-old Amir through to adulthood.
Amir – played by Ben Turner - drives the story with his intense storytelling, speaking directly to the audience. He is retrospectively looking back on the events that led up to his life now – living as a refugee in California. He looks back to his childhood, growing up as a privileged Phustan child in 1970s Kabul with his father Baba, a proud business man played by Emilio Doorgasingh. It was here he spent every day with his poor servant, Hassan the son of Ali who are both Hazaras.
The adults acting as their child selves are distracting. They awkwardly play tag and zoom around like aeroplanes in what really feels like a poor attempt at adults trying to behave like 12-year-olds, when child actors could easily have taken on the role as in the film.
Turner's performance as an adult is more convincing where his painful – almost verbatim from the novel- monologues damning himself as a coward transcend as deeply heartfelt, but still tinged with heavy guilt. But as a child, he is selfish, jealous of his father's affection for Hassan, while Baba takes no interest in his ability to write stories. Amir is also spiteful, taking pleasure in mocking Hassan's inability to read and thus know words such as imbecile, which he teaches his illiterate friend to mean intelligent and clever.
Hassan is like a little lamb, sent to the slaughter at every opportunity by Amir, where Andrei Costin's youthful looks only add to this notion. His loyalty is proved time and time again - namely on the fateful snowy day that ruins the boys' relationship like a knife cutting the umbilical cord, separating them forever.
​Hassan promised to run the kite Amir cut when he won the competition with the heart-breaking line: "for you a thousand times over". He refuses to hand it over to the bullies - led by thug Assef (Nicholas Karimi) and Amir fails to intervene when his friend is raped for his dog-like loyalty, in a symbolic incident that mirrors the invasion of Afghanistan by the Soviets. And later, Hassan falsely admits to a staged theft, set up by Amir in the hope that Hassan and Ali will be dismissed in a selfish hope to put his own guilt to bed.
Amir finds "a way to be good again" – the redemption he so sorely seeks - after his father's friend Rahim Khan (Nicholas Khan) asks him to visit him in Pakistan. There, the story unfolds that Hassan was actually his half-brother after his father slept with Ali's wife. The revelation of the truth allows him to redeem himself by rescuing his half-nephew from the Taliban, leading to a one-on-one dogfight with the leader, Assef the bully.
The set design, by Barney George, is simple with a backdrop that resembles a non-descript skyline which looks too modern for Kabul. A kite, split into two parts, is the only other part to the set, which at times acts as curtains and thankfully hides the rape of Hassan. The rest is left to the imagination, aided only by the sound of spinning kite spools and a few interspersed tissue paper kites, setting it aside from its West End counterparts famed for their elaborate sets. But the touching story of the novel is carried on stage by the turbulent ups and downs, echoing the ducking and diving of a fighting kite that will come up winning.
The Kite Runner runs until 11 March
Join our new commenting forum
Join thought-provoking conversations, follow other Independent readers and see their replies