Theatre review, Dead Funny, Vaudeville Theatre, London: shrewd and funny revival of a modern classic
Katherine Parkinson and Steve Pemberton are terrific in Terry Johnson's hilarious production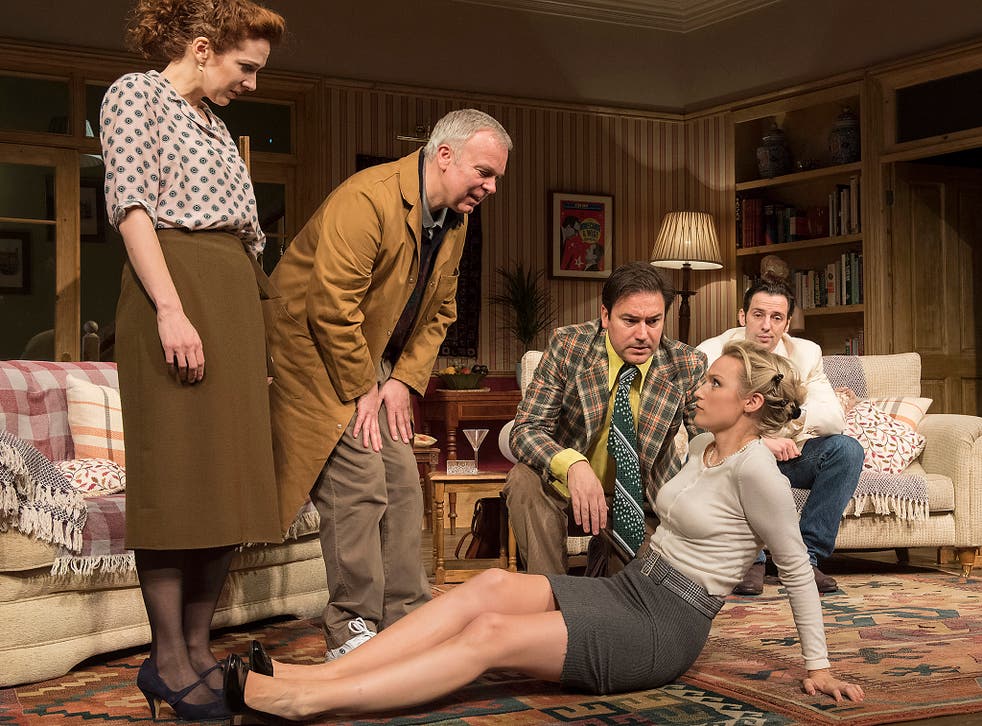 Richard is a consultant obstetrician who thinks nothing of performing five hysterectomies a day but cannot bring himself to touch his wife, Eleanor. She's 39 and desperate to have a baby. Rather than discuss with her the sexless state of their 10-year marriage, Richard prefers to pursue his obsessive hobby as chairman of the Dead Funny Society, a bunch of anoraks who regularly meet to commemorate – by rehashing the routines of – their favourite British comedians from the "classic" years (Frankie Howerd, Morecambe and Wise, et al). Lying naked and limply reluctant upon the living room floor for a "sensate focusing" session prescribed by their sex therapist, Richard is saved by the bell (hilarious gag here that I won't spoil for you) and their neighbour Brian with his news ("There's no easy way to say this") that Benny Hill has died. A meeting of the society must be convened.
Terry Johnson's strongly cast revival of his 1994 play confirms its status as a modern classic. The piece is painfully funny and shrewd as it dramatises its central irony: Eleanor, patronised as humourless by her husband and unable to see the point of the society, is the only person on stage with any real wit. "Neither of you would recognise a joke if it didn't have its trousers round its ankles," she tells Rufus Jones's smug, pompous Richard and his chum.
Her withering allergy to what Richard sanctimoniously describes as "the joy of simple laughter" and her raw hurt at marital neglect that has turned this woman into a devastating comedian are splendidly conveyed by Katherine Parkinson. Bitter and bereft, the character uses wit as a goad to try to force people to confront life, in contrast to the parroted routines of the comedy buffs which seem to be a cover for the fear of self-knowledge. At times, as she knocks back the martinis at the wake for Benny Hill, Parkinson's Eleanor seems to add to her own sense of humiliation by a queasy awareness that she's gone too far – in telling them all an appallingly tasteless joke about Aids and Alzheimer's. That's how far she's been driven.
"If I had no sense of humour," she informs Richard, "I would have hanged myself from the banisters on our third wedding anniversary, which, in case, you've forgotten, we celebrated with a trip to Little and Large". The fact that her spouse seems utterly devoid of redeeming features in this revival makes you wonder about the plausibility of this marriage. Would a woman so intelligent have clung on this long? How many well-educated obstetricians would you find at a Little and Large gig?
The terrific cast includes Ralf Little and Emily Berrington as the other couple and Steve Pemberton who gives lovely shading to his portrayal of Brian, an elderly gay man who screws his courage up to come out to no one's great surprise. Johnson's clever have-it-both-ways strategy is to push two marriages to the brink of serious disaster through devices that are pure Benny Hill – as when Little's Nick comes to the wake in the guise his Mr Chow Mein character, whose Chinese accent converts the most innocent remark to filth. Nick scarcely realises, as yet, how terrible home truths he accidentally hits on. Carry On, Ibsen.
Johnson keeps you aware that real blood is flowing amidst the custard-pie slapstick of the final scene, which he paces beautifully ending with a desolate diminuendo that delicately combines laughter and tears. Dead impressive.
To 4 February; 0330 333 4814
Join our new commenting forum
Join thought-provoking conversations, follow other Independent readers and see their replies