1864, TV preview: An exclusive look at the BBC's latest Scandi drama import
Gerard Gilbert heads to a wet Copenhagen to talk to the cast and crew of the period epic about Denmark's disastrous war with Bismarck's Prussia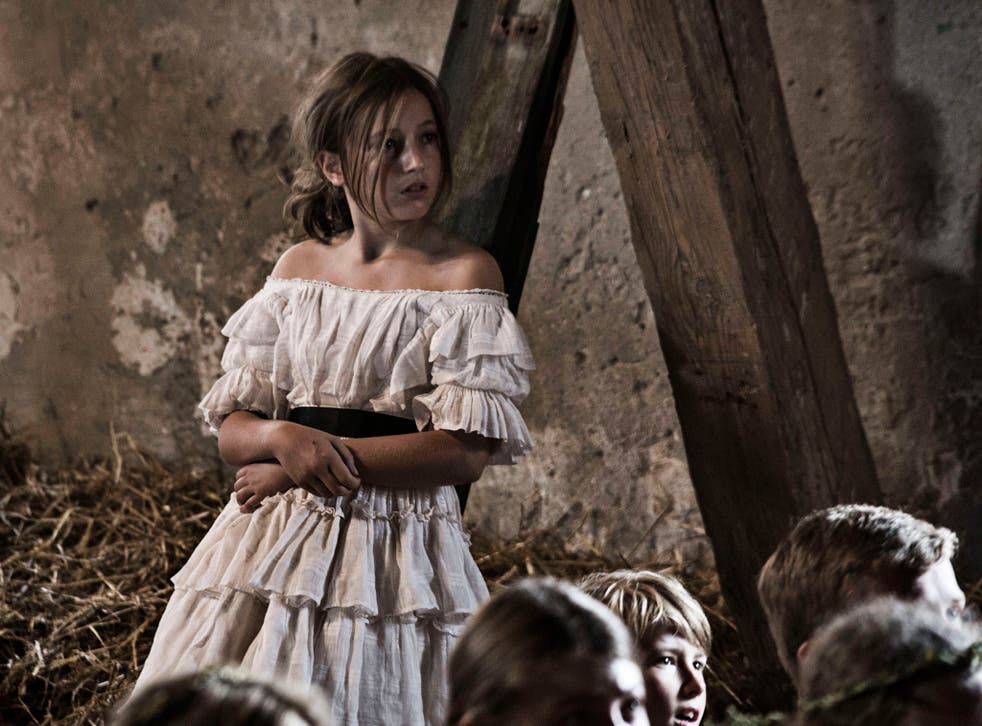 It's a wet, midweek October morning in Copenhagen, and I'm heading by taxi to a cinema in the trendy Norrebro district – all young people on bikes, juice bars and artful graffitti.
I'm here for the press launch of 1864, a sweeping new historical drama set against Denmark's disastrous war with Bismarck's Prussia that saw the loss of a vast chunk of territory and lasting trauma to the Danish psyche. Apart from a reporter from Al-Jazeera, I'm the only British journalist present; indeed I'm button-holed by a lady from Danish radio curious to know why I had bothered to make the journey over from the UK to watch a drama about a historic conflict that surely, she says, is of only local interest.
Or as the prime minister of the time, Lord Palmerston, reportedly remarked about the complex 19th-century dispute that led to this war: "Only three men in Europe have ever really understood the Schleswig-Holstein Question: the Prince Consort, who is dead; a German professor, who has gone mad; and I, who have forgotten all about it."
But, as I tell her, 1864 is also the most ambitious drama to date from the Danish state broadcaster, DR (Danmarks Radio), whose previous shows The Killing, Borgen and The Bridge have earned cult followings in Britain.
It stars many of the leading actors from those dramas, including Sidse Babett Knudsen and Pilou Asbaek (Borgen's female prime minister, Birgitte Nyborg, and her spin-doctor Kasper Juul), Soren Malling (Sarah Lund's cop-partner in the first series of The Killing and the TV news editor in Borgen), and Lars Mikkelsen (dodgy Copenhagen mayoral candidate Troels Hartmann in The Killing 1 and Soren Ravn in Borgen).
Moreover BBC4, the de facto home for Scandi television in the UK, has purchased the rights and the question on my mind was that, while crime and political drama might well have an international appeal, could the same be said of a localised history epic? "In terms of travelling, I really don't know at all," says Borgen's Sidse Babett Knudson with disarming candour. "As far as Denmark is concerned, [the show] is extremely expensive [to make] so everybody is shaking like mad to see how it goes down."
"The taxpayer-funded DR was given an extra $35m expressly for a history drama," says Piv Benth, DR's Head of Drama. "We really like to have variety in our repertoire, and it's not very often we can afford to do things like this; I know you British do a lot of history dramas, but we rarely do."
The money and a remarkable degree of artistic freedom was handed over to writer-director Ole Bornedal, who has several big-budget, English-language films under his belt, including the 1997 Hollywood remake of his own Nightwatch, starring Ewan McGregor and Nick Nolte.
Bornedal's telling of events is satirical as well as dramatic and involves a sweeping cast of characters including Denmark's romantic politicians, the greatest actress of her day, a fervent nationalist called Johanne L Heiberg (played by Knudsen), and the deadly pragmatic Otto von Bismarck. But the meat of the story is a tale of two young brothers swept off to war on a tide of patriotic fervour. It is emotional, epic and immediate and, based on the two episodes I have seen, it feels refreshingly different from BBC-style costume drama. "The challenge was to make it real people because I've seen so many period pieces, from the BBC too, where I feel like I'm walking into a museum," says Bornedal. "That can be good enough, but it wouldn't be good enough for this series."
Access unlimited streaming of movies and TV shows with Amazon Prime Video Sign up now for a 30-day free trial
Sign up
Lars Mikkelsen, who plays the boys' father, a farmer and a veteran of an earlier war with Prussia, believes Bornedal has succeeded in breaking new ground. "If people think they're going to see a Scandinavian thing in the manner that they've seen before, this will certainly be different," he says. "It's more epic and it's got bigger feelings. Naturalism, we know we can do, but this is a live injection of something else."
Is this the end of Scandi-noir as we know it, then? "Well, there are still some elements of Scandi-noir," says Mikkelsen in his curiously British accent that sounds just as if it has been picked up on the streets of Camden. "[For example] the hand-held camera [is still used] when you need that to make it seem real, but this is a step forward for us in other ways."
The history books will say that the armies of Prussia and Austria had occupied most of mainland Denmark by the end of 1864, and that the government in Copenhagen was forced to cede its southern territories. The defeat is still marked in Denmark with an annual memorial day on 18 April, although its full meaning has become lost on successive generations of Danes. "I liked 18 April because it was a day off school but I had no idea what it was about," says producer Piv Bernth. She describes the defeat of 1864 as "a sort of Ground Zero for Denmark: we started redefining the Danish national character".
"We lost big time … really big time," agrees Soren Malling, who plays an army veteran. "Back then we were a superpower in Europe and in one day you're fucking nothing, right? And we haven't been to war since – until the Iraq War. We need to talk about this more. Who are the Danes?
"You can even take a parallel from 1864 to today and [see it as] the reason why we actually insisted on building up a welfare state, because we came from a huge amount of land and suddenly – we had to survive, we had to rethink our identities and our souls."
It's an intriguing suggestion, that those qualities that many viewers of The Killing and Borgen admire about the Denmark they see in these shows – with its consensus-building liberal democracy, deeply padded welfare state and progressive gender politics – are a direct result of the country being crushed on the battlefield. And it's one echoed by Knudsen. "We refer to it as the war that really changed our identity as a nation," she says. "Maybe we should just stay where we are, in our own backyard – that kind of mentality."
British students of the Danish character will find much of interest in 1864 but what will probably draw most BBC4 viewers to the show will be the familiarity of the cast. "I read an article and some English journalist asked 'so, are there only five actors in Denmark?'," says Soren Malling. "Of course not, and what's brilliant about 1864 is the number of young actors coming to the fore."
One of these is 26-year-old Marie Tourell Soderberg, who plays the spirited apex of a love triangle involving the two brothers. Soderberg says that perhaps, with the right project, she might want to pursue an international career in the way of her older compatriots. "But I think it's also a very interesting time for Danish film and theatre … there are so many interesting parts."
Leaving the cinema, I ask a middle-aged man and woman – she leaning on a bicycle – for directions to the centre of Copenhagen. The pair, slightly to my embarrassment, turn out to be Knudsen and Malling. There is something about the sight of two of the country's leading actors blending cosily into the Copenhagen street-scene – free from paparazzi and autograph hunters – that makes you realise that staying put might actually not be such an unattractive option.
'1864' will screen on BBC4 in 2015
Join our new commenting forum
Join thought-provoking conversations, follow other Independent readers and see their replies