After 40 years in the public eye, dark rumours that haunted Sir Jimmy Savile leave reputation in tatters
New account of star's 'imperious' efforts to keep abuse claims secret raises heat on star's BBC bosses. Adam Sherwin reports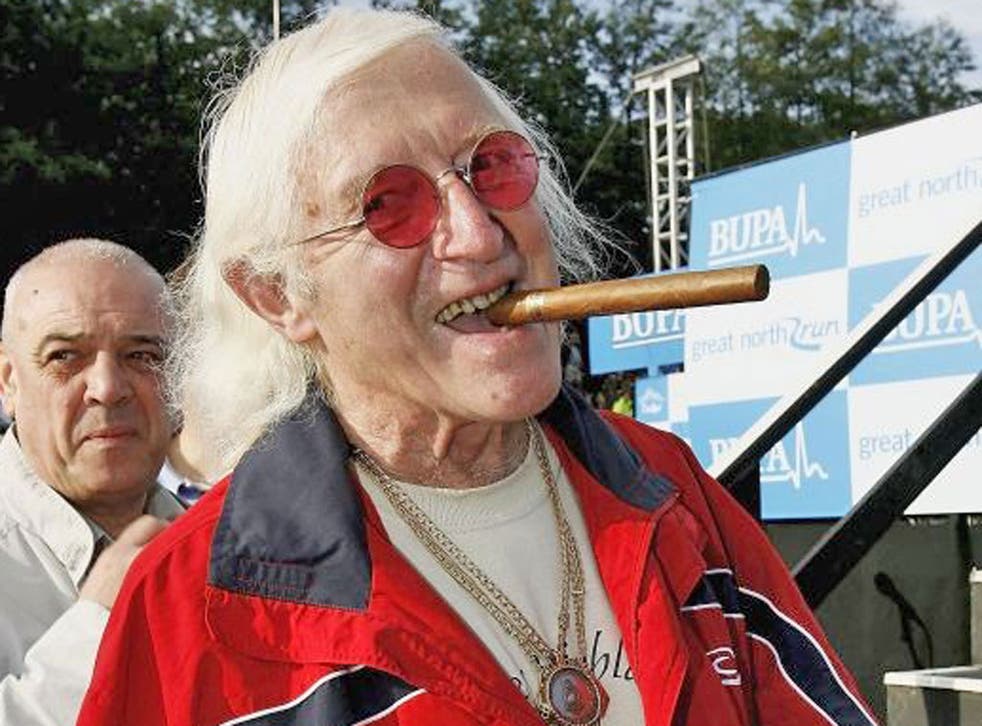 When Sir Jimmy Savile's death was announced last October, Cabinet ministers and the Prince of Wales led the tributes to one of broadcasting's most colourful characters.
The flamboyant entertainer, a unique presence on screens since the 1960s, famed for his cigar and outrageous tracksuits, was remembered in a series of nostalgic BBC programmes. Yet this celebration of Savile as a tireless charity fundraiser, whose eccentricities only endeared him further with the viewing public, angered a group of women who believed they had encountered a very different, darker individual.
Now, a year after his death, his reputation lies in ruins as those women use the airwaves he once ruled to expose an apparent sexual predator. Former colleagues meanwhile line up to claim that they always knew Savile's larger-than-life public image was a sham.
Yesterday, Surrey Police confirmed that the force received a complaint about Savile five years ago. "In 2007, Surrey Police received an historic allegation of indecent assault which is alleged to have occurred at a children's home in Staines during the 1970s," a Surrey spokesman said. "The allegation was investigated and an individual was interviewed under caution. The matter was referred to the Crown Prosecution Service for a charging decision who advised there was insufficient evidence to take any further action."
The claims that Savile indecently assaulted young girls, supported by 10 women in an ITV1 documentary to be broadcast on Wednesday night, began surfacing as rumours within days of his death, aged 84.
BBC's Newsnight reporters began to investigate claims that Savile had molested a teenage girl in the 1970s. The report was shelved, the BBC said at the time, because the story "could not be substantiated".
The BBC denied that the report was abandoned because the corporation was due to run three tribute programmes on Savile. The Newsnight editor Peter Rippon prompted a furious dispute behind the scenes when he canned the film and journalists connected with the programme privately questioned the decision. The director of BBC News, Helen Boaden, is understood to have been aware of the investigation but insiders say she did not make the final decision.
Several women who were pupils at Duncroft, an approved school for girls in Staines, Surrey, have claimed that Savile repeatedly assaulted them during regular visits to the institution in the 1970s. The floodgates opened from women who said they were too frightened to speak out when Savile was alive. He preyed on girls as young as 14, committing a series of sexual assaults in hotels, his Rolls-Royce and even inside the BBC Television Centre, according to the claims that are due to be aired.
The ITV film will also include a 2009 interview in which Savile defended Gary Glitter, the disgraced pop star jailed for downloading child porn and child sex offences. Savile argues that Glitter had done "nothing wrong… it was for his own personal gratification" when indecent images were found on his computer. Savile refused to own a computer to avoid leaving any trace of his personal affairs.
Access unlimited streaming of movies and TV shows with Amazon Prime Video Sign up now for a 30-day free trial
Sign up
Sir Jimmy, an "imperial personality", used his charity fundraising work as a lever to prevent his private life from being exposed, his former Radio 1 colleague, Paul Gambaccini, said yesterday. Whenever rumours circulated, Sir Jimmy played tabloid newspapers "like a Stradivarius" to keep any allegations of impropriety quiet, he said.
"You just didn't mess with Jim," Mr Gambaccini said yesterday. "He was the governor, because after all he had been the first great club DJ, he had been the originator of Top of the Pops presentation, and you just let him have his turf. On another occasion, and this cuts to the chase of the whole matter, he was called and he said, 'well, you could run that story, but if you do there goes the funds that come in to Stoke Mandeville – do you want to be responsible for the drying up of the charity donations'? And they backed down."
The broadcaster Louis Theroux, who made a BBC documentary about Sir Jimmy's personal life, said yesterday: "So the rumours seem to have been in some degree validated… what is especially disturbing is the nature of the alleged abuse – the fact that it apparently took place repeatedly, in the workplace and at a school he was visiting, and that it may have been known to his bosses and co-workers. My thoughts are with the victims. I hope they find peace."
The ITV film, Exposure: The Other Side Of Jimmy Savile, presented by Mark Williams-Thomas, a former Surrey Police child-protection officer, finally puts the case for the prosecution. Wilder web rumours, of necrophiliac behaviour, may also now be explored. This is not just Savile being placed posthumously on trial, argues Esther Rantzen, the broadcaster who campaigns against child abuse. An entertainment industry that "blocked its ears" to persistent rumours about Savile's behaviour should also be scrutinised. Roger Foster, Sir Jimmy's nephew, said his family was "disgusted and disappointed" by the programme.
The charities, which Savile intended to be his legacy, will lose their funding, the family warns.
But it appears to be too late for Savile, whose inscrutable persona could not survive his death and who is now set to join Glitter and Jonathan King among the ranks of shamed entertainers who were invited into the nation's living rooms only to betray the trust of their fans – and the British viewing public.
Join our new commenting forum
Join thought-provoking conversations, follow other Independent readers and see their replies