Arrested Development returns but can the new episodes on Netflix capture the show's deadpan glory days?
The cult TV sitcom returns to our screens this week after seven years away but will it be as good as the much-loved original episodes, asks Sarah Hughes, and will that longed-for movie ever happen?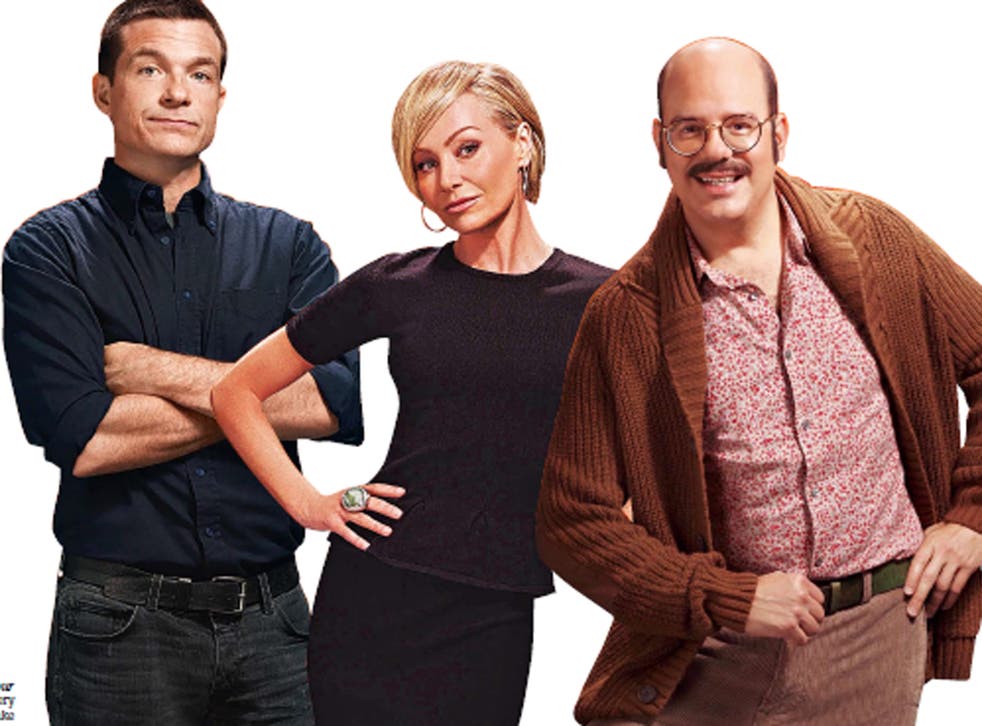 What's the link between a frozen banana stand, a chicken dance and a ventriloquist's dummy who just wants to promote inter-racial harmony? The answer is Arrested Development, the much-loved and prematurely cancelled sitcom, which returns with 15 new episodes available on Netflix on Sunday.
To say the return is hotly anticipated is almost an understatement. From the moment Arrested Development met its end in 2006, three-quarters of the way through its third season creator Mitchell Hurwitz has been lobbying for a movie – indeed he even had a character pitch just such a film in the final episode – but it wasn't until the show began to find a second life on DVD and the internet that the prospect of new material became a reality.
So just what is it about this tale of a highly dysfunctional family and their desperate attempts to make money that so struck a chord in the seven years it has been off the air? How did it go from barely watched to cult classic, hailed as one of the best sitcoms of all time? And can the cast and crew possibly strike gold once again?
The short answer is that Arrested Development was always a show ahead of its time. When it started in 2003 the most popular sitcom in America was still Friends.
It was a time of Everybody Loves Raymond and Will & Grace when comedy was still about broad gags, a laughter track and a multi-camera format. On HBO, Sex and the City and Curb Your Enthusiasm were demonstrating in very different ways that comedy could take risks but the idea that a network sitcom would do so was inconceivable.
And then came Arrested Development, a show both subtle and silly, which riffed endlessly on popular culture and had an omniscient narrator in place of a laugh track. In contrast to the majority of US sitcoms, Arrested Development had no teachable moments: the family at its centre, the venal Bluths, rarely learnt from their mistakes but instead blundered their merry way through life, bound together not so much by love as by a sense that family, no matter how bad, is all you've got.
Ratings were low by the standards of the day – the show pulled in six million viewers for its first two seasons and four million for the third – but Arrested Development can lay good claim to being the most influential sitcom of its era. Its knowing nods to camera can be seen in everything from 30 Rock to Parks and Recreation while Community with its pop-culture obsessions and love of a good extended in-joke is its natural heir. Even a more sedate sitcom such as Modern Family owes a debt to Hurwitz's show: what are the extended Pritchett-Dunphy clan but a warmer, less deranged version of the Bluths? Indeed, so great is its influence that these days it's the traditional shows that feel out of place.
For instead of the tight rhythm of set-up, gag, punch line Arrested Development preferred to almost throw its humour away. One-liners came thick and fast, often cutting quite close to the bone ("OK, Lindsay, are you forgetting that I was a professional twice over: an analyst and a therapist, the world's first 'analrapist'"; "Get rid of the Seaward" "I'll leave when I'm good and ready.") But they were delivered slightly off the beat ensuring that many times the humour didn't fully hit home until a few seconds later. As Ron Howard, who played the narrator remarks in recently released documentary, The Arrested Development Documentary Project: "It wasn't that laugh-out-loud but once you got it, it was belly laughs."
It was also a show that loved running gags and in-jokes. Phrases such as "And that's why you always leave a note" or "Has anyone in this family ever even seen a chicken?" were repeated throughout, while one of its finest moments came when the Bluths' incompetent lawyer, played by Henry Winkler aka Happy Days' Fonz, was fired, only to be replaced by a lawyer played by Scott Baio aka Fonz's cousin Chachi.
Access unlimited streaming of movies and TV shows with Amazon Prime Video Sign up now for a 30-day free trial
Sign up
It wasn't entirely sui generis: the set-up and offbeat humour owed a debt to surreal Seventies comedy Soap while there were times that the Bluths' misfortune played out like a less-mannered Wes Anderson movie, a lovingly detailed world in which everything was slightly off key. But when it first aired it felt as though there was nothing else like it on TV.
In other words, it was the sort of show that made those who were watching feel as though they were part of something special. Reciting the silliest lines to fellow addicts made you feel part of a gang. As such it was also born for the internet – over the last seven years the way in which we watch, and crucially talk about television has changed and Arrested Development was perfectly placed to capitalise on that change. Fansites spurted up, Tumblr screencapping the best moments and quotes can be found everywhere while, most memorably of all, oldest Bluth brother Gob's most famous quote "I've made a huge mistake" has been superimposed over everything from pictures of distraught animals to screengrabs of would-be president, Mitt Romney.
That said, going back is always a risky business. Can the new episodes really capture the show's glory days of hook hands and incredibly inventive incest jokes? Interestingly Hurwitz has been quick to stress that this is not a fourth season but rather a series of prequel episodes ahead of his still longed-for movie. Will that movie finally happen? A lot depends on how this new material is received but the cast appear confident that the decision to reconvene was the right one. "Taken at AD mission control, all systems are go. Woo!" posted the show's lead Jason Bateman on (where else) Twitter as filming started. On Sunday, fans who have waited seven years to say "Steve Holt" one more time, will find out if that excitement was justified.
'Arrested Development' begins this Sunday on Netflix
Join our new commenting forum
Join thought-provoking conversations, follow other Independent readers and see their replies