The Independent's journalism is supported by our readers. When you purchase through links on our site, we may earn commission.
Call the Midwife: Latest borderline boring drama to win Sunday snoozer ratings war
Sunday evening audiences are unlike the TV audiences at any other time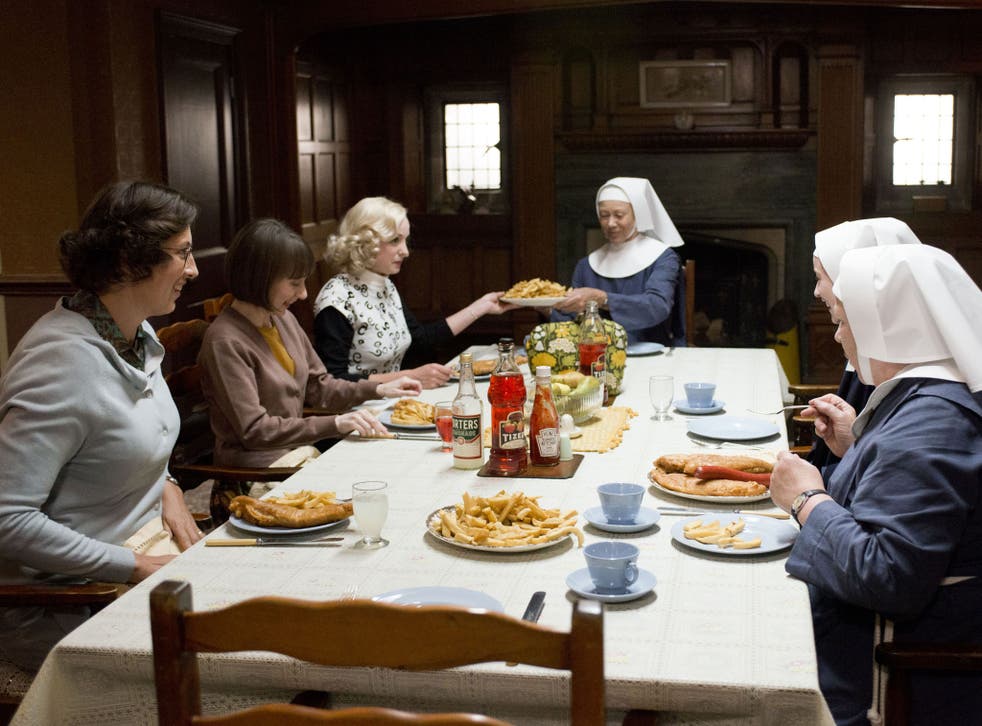 "Ere we bloody go again!" These were the opening words of Call The Midwife's third series and though the character who spoke them was in labour at the time, the rest of us can surely sympathise. Last Sunday, the BBC's nostalgic drama about mid-wives set in the East End of the 1950s returned for a third series.
Despite, or rather because of, the fact that the show remains largely unchanged, it attracted record breaking viewing figures of 9.6 million. Forgot Thursday evening's sit-coms and Saturday night "shiny floor shows", the only ratings battle worth winning now takes place between 8pm and 10pm on a Sunday evening, when the nation settles down on the sofa for something appropriately cosy.
Sunday evening audiences are unlike the TV audiences at any other time. They require entertainment that's escapist enough to distract them from the looming working week, but untaxing enough for a tired brain to process. The line between 'gently entertained' and 'outright bored' is a thin one, but evidently both the BBC and ITV feel confident to walk it. Our Sunday night schedules are filled with strikingly similar so-called "dramas", in which nothing much happens and everything is alright in the end.
Call The Midwife joins the second series of Mr Selfridge (9pm, ITV) and the soon-to-start new series of BBC One's Blandings, but it was Downton Abbey which first revealed the potential of the Sunday snoozer. There had been Sunday period dramas before (Lark Rise to Candleford, Cranford), but Downton was the first to perfect the deliberately dull formula: A period setting, an enclosed, hierarchical community, some chaste romances and a barely-there sense of dramatic tension.
In pictures: Call the Midwife Series 3

Show all 15
The problem with borderline boring television is that, at some point, even the writers begin to yearn for excitement. That point came in series four of Downton when regular viewers were scandalised by a storyline involving the rape of lady's maid Anna (Joanne Froggatt). It's true that female servants in that period were vulnerable to sexual assault, but since when was Downton interested in historical accuracy?
There are signs that Call The Midwife is heading down a similar path. This series is set to cover more serious "issues" and in an interview with the The Independent last year, writer/creator Heidi Thomas boasted of how one US critic had compared the show to Breaking Bad. As much as I'd love to see a mash-up, in which Miranda Hart played the role of Jesse's meth-dealing sidekick Badger and Sister Monica Joan took over from Huell as Saul's bodyguard, I think we have to admit that's ludicrous.
Call The Midwife and its ilk might include darker subjects from time to time, but lacking the nuance of serious drama they can never truly tackle them - so why bother? On a Sunday night, the last thing anyone wants is to be challenged.
Jim Davidson vs. Chandler from Friends
For this week's edition of 'Separated At Birth' consider Celebrity Big Brother housemate Jim Davidson alongside Matthew Perry, aka Chandler from Friends, in his recent Newsnight incarnation. It's not just the fact that both own similarly shaped specs, or that they share the world-weary countenance of the reformed addict, it's that seeing either man back on television again, immediately transports us back to a different time.
The 90s New York of Friends was fun at least, but who'd want to revisit the bad old days that Jim Davidson represents? This week he reminded us of his flair for antiquated bigotry by arguing that it's a woman's job to iron her husbands shirts. It would be nice to believe we've come a long way since the nation found anything in him to admire. Alas, he's currently 7/4 favourite to win.
Access unlimited streaming of movies and TV shows with Amazon Prime Video Sign up now for a 30-day free trial
Sign up
Catch UP
Mom, ITV Player
Actress Allison Janney was often the best thing about The West Wing. Then she was the best thing about Masters of Sex, and now she's the best thing about ITV2's new sitcom Mom. But what's an actress of her calibre doing in a show from the producers of Two and a Half Men? Mom is about two generations of alcoholic mothers, Bonnie (Alison Janney) and her daughter Christy (Anna Faris), trying to make amends and re-build relationships, now they're newly sober. The gags aren't exactly original, but when two actress this charismatic share a screen, it hardly matters.
https://www.itv.com/itvplayer/mom
India's Got Talent, Colors.in.com
Britain's talent well has long-since run dry, but in other countries reality TV has only just begun to dig. While we could probably do without the age-inappropriate crotch-grabbing, Akshat Singh is a shining example. He's only eight but he's already got all the moves from his favourite Bollywood films down pat. See Akshat on YouTube, or watch full episodes of IGT on the Colours TV Network website. A knowledge of Hindi helps, but isn't essential; the judges and contestants often slip into English.
http://www.youtube.com/watch?v=uaIuUgx2fWs
http://colors.in.com/in/indias-got-talent/videos/indias-got-talent-season-5-full-episode-3-18th-jan-2014-53563-2.html
Children on The Front Line, 4oD
This week's unmissable C4 documentary Children on The Front Line, told the story of four forgotten victims of the conflict in Syria, young siblings Helen, Farah, Sara and Mohammed and Aboube, a poster boy for the Syrian uprising. In revealing the human reality of sectarian conflict it was reminiscent of last year's excellent Syria Across The Lines, for which director Olly Lambert spent five weeks living deep inside Syrian territory. Catch both on 4oD, or the latter on Vimeo, minus the ads.
http://www.channel4.com/programmes/dispatches/4od#3525918
My Favourite Picture of You, DazedDigital.com
Dan Lindsay and TJ Martin are the directing team behind the Oscar-winning high school football doc, Undefeated (2011). If you haven't seen that, this three-and-a-half minute bittersweet short will give you a taster of their capabilities. It's built around the audio reminiscences of Martin's own grandparents, combined with photos and home movies from a long marriage.
http://www.dazeddigital.com/artsandculture/article/18552/1/my-favorite-picture-of-you
The Naked Rambler, BBC iPlayer
Whether you celebrate him, or ridicule him, Stephen Gough, aka 'The Naked Rambler', has long since earned his place in the English eccentrics hall of fame. This thought-provoking documentary went beyond the silly season headlines, to reveal an individual who really only wants to be free.
http://www.bbc.co.uk/iplayer/episode/b039086d/The_Naked_Rambler/
Join our new commenting forum
Join thought-provoking conversations, follow other Independent readers and see their replies