Christmas TV is full of oddities like Bing Crosby singing with David Bowie, but at least we can escape them in this decade
Some bizarre examples of light entertainment once ruled the festive schedules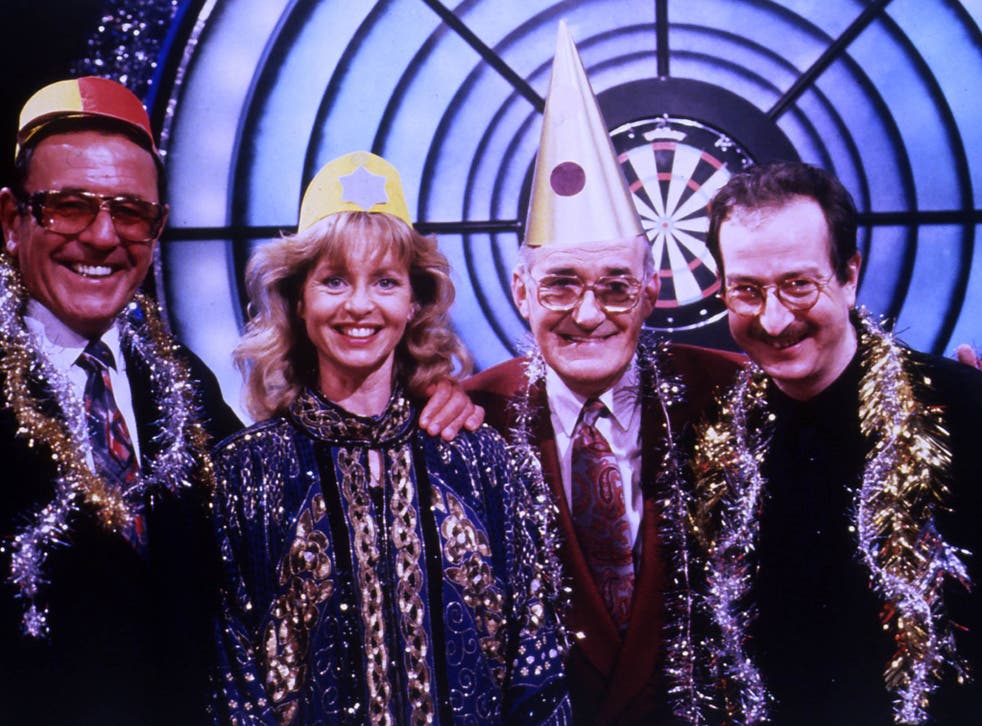 For any Briton of a certain age, the approaching televisual signs of Christmas seemed never-changing. In November there would be Harry Worth appearing in the Woolworths commercials and, by December, there would first be an outbreak of knitwear, preferably in the form of pullovers elaborately patterned with reindeer.
In the TV Times these would be worn by the leading players of Crossroads as they shared their brandy-butter recipes and, on the smaller ITV stations, announcers would don some jolly jumpers; on Westward Television Gus Honeybun might perform some extra bunny hops.
Better still, there would be the promise of a Christmas edition of a familiar programme.
For these shows, all much heralded in The Radio Times, the ingredients would be as fixed as the running time. On a long-running sitcom the Ronnie Hazlehurst theme would be augmented with bells, and the opening credits themselves were often festooned with holly; Terry and June of 1980 left even less to chance as it commenced with a shot of an advent calendar.
The plot would involve the main cast members wearing party hats and at least one character would become intoxicated on cooking sherry. There would also be a moment when "the boss" – whom, in the best sitcom tradition, had the apparent right to enter his employees' homes to demand sustenance at any given moment – made an appearance dressed as Santa Claus.
Further ingredients for a really excellent seasonal show were "snow" – albeit of a strange light-entertainment variety as opposed to the sort that blocked motorways and caused school closures – and large quantities of tinsel. The latter would be extensively deployed on the festive editions of quiz shows, not least for the moment when one of the hostesses, attired as one of Santa's "elves", demonstrated this week's jackpot.
"Whooo", the studio audience would exclaim, so awestruck were they at the sight of a Lada 1200 festooned in gold and silver. Bullseye of 1984 had a studio apparently decorated in Quality Street wrappers and an animated bull pointing to a mink coat, a "star prize" roguishly described by Jim Bowen as "every lady's dream – after me".
Another treat of the season, one regarded with increasing distrust by adolescent members of the family, was the variety show. The format of these dated back to the 1950s, when the attraction was that major singers, actors and comedians would appear in your front parlour in a bill of fare designed to appeal to viewers who would still don their best suits for their weekly visit to the cinema.
From 1958 to 1972, the BBC aired Christmas Night with the Stars, which had the atmosphere of a staff party, with the leading players of theatres, sitcom and even popular dramas performing turns. There might be a sketch from the cast of Dixon of Dock Green or The Likely Lads and the hosts would be such genial veterans as David Nixon.
To see a fragment that has survived BBC archive culling is enough to induce strange cravings for a jar of Brylcreem and a box of Meltis Newberry Fruits. ITV's franchisees would create similar offerings, and on both channels they occasionally took a form that was surreal as any Jonathan Miller production, often due to the use of major American guest stars, which created a truly unbalanced line-up: 1958's Christmas Night with the Stars had Perry Como appearing on the same show as Billy Cotton and his Band singing about how they had a lovely bunch of coconuts and, 29 years later, a bemused Charlton Heston appeared with The Two Ronnies.
Access unlimited streaming of movies and TV shows with Amazon Prime Video Sign up now for a 30-day free trial
Sign up
London Weekend Television's main offering for Boxing Day 1970, Holiday Star Time, featured Les Dawson, Peter Cook (as EL Wisty), Reg Varney playing the piano, and Hattie Jacques hitting Vincent Price in the face with a custard pie.
The 1977 Bing Crosby Merrie Olde Christmas special, recorded at Elstree Studios, has already passed into legend thanks to Crosby duetting with David Bowie on "Little Drummer Boy", although even more bizarre is the moment when Crosby introduces "Heroes".
Of all forms of television, it is light entertainment that is arguably the most time-bound, and to watch a tape of the genus brilliantly deconstructed in Alan Partridge's Knowing Me, Knowing Yule is to observe a world that now seems as remote as the 19th century.
Christmas 2015 window displays

Show all 11
Footage of 60 years ago captures the routines of the deeply malevolent-looking Charlie Drake, a supposedly comic figure with the sardonic menace of a Dickens villain, and of Ted Ray or Charlie Chester, who hailed from the music-hall tradition.
Sometimes the surviving black-and-white footage is desperately poignant – one thinks of Kathy Kirby, with no amount of Marilyn Monroe hairstyle and make-up quite masking the fear in her eyes, singing "Have Yourself a Merry Little Christmas" – but occasionally the performers captured on the faded tape can still hold the viewer in a warm glow, Tony Hancock's budgie routine is still good value and the 1964 Christmas Night with the Stars boasts an astonishing, self-penned sketch from Benny Hill in the form of a spoof documentary about a juvenile delinquent that still stands as a reminder of an acting talent that British cinema largely overlooked.
Seasonal specials remain with us, but the impact can never be the same as four or five decades ago. Today's audiences can escape from the TV schedules via their Xboxes.
Join our new commenting forum
Join thought-provoking conversations, follow other Independent readers and see their replies