Elisabeth Moss interview: The Mad Men actress talks reunion, theatre and women in Hollywood
Mad Men might be over yet Moss's career is anything but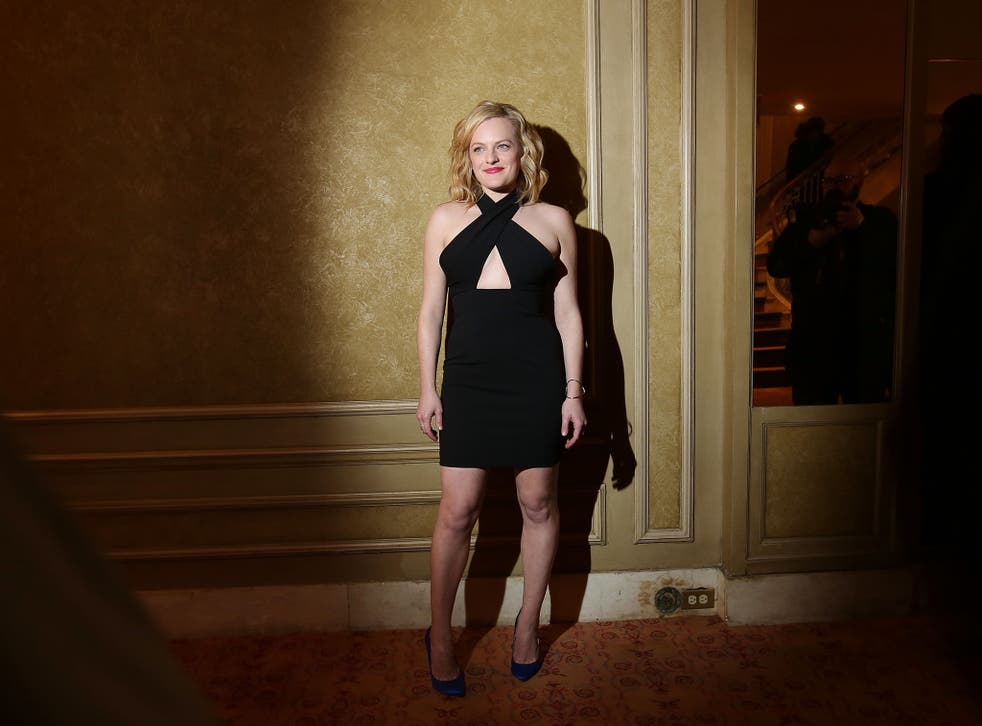 Life after Mad Men might seem like a daunting prospect. One of the defining television shows of the past decade, after the final episode unspooled recently, you could forgive its stars for worrying about where next.
Not, though, if you're Elisabeth Moss. The blonde haired, blue-eyed actress, who played the glass ceiling-shattering ad exec Peggy Olson, has just finished a run on Broadway in a revival of Wendy Wasserstein's The Heidi Chronicles. It left her with glowing reviews, a Tony nomination and the "re-assuring" feeling that Peggy isn't the last meaningful character she'll ever play.
Today, she's been running around New York like a mad thing, taking meetings: the life of an actress – some twenty-five years into her career – who no longer needs to audition. She's in high spirits, assured, confident. "Obviously I'm very sad that the show is ending, but at the same time, there is this massive silver lining to it," she says. Namely, the golden handcuffs of a seven-season show are off, with Moss's schedule finally her own. "It's very liberating to be able to have the freedom, where I can go, 'Oh, yeah, I want to work with this filmmaker. Let's collaborate on something.'"
Chief among them is her work with Alex Ross Perry, a striking new voice in cinema whose third film Listen Up Philip is released in the UK next week. The film stars Jason Schwartzman as an arrogant New York writer about to publish his second novel. Moss plays his long-suffering girlfriend, aspiring photographer Ashley, who becomes increasingly exasperated by Philip's behaviour. "I thought it was funny, brave and cool," says Moss of a deliciously scripted film that feels like a distant cousin to mid-period Woody Allen or early Wes Anderson.
"I feel like Alex just bypasses all of the conventional ideas of what you're supposed to do with your script," she adds. Indeed, from the voiceover (read dispassionately by Eric Bogosian) to the way the narrative switches focus from Philip to Ashley to Jonathan Pryce's fellow author, Perry does everything screenwriting class tells you not to do. Moss was immediately sold. "I enjoy a Hollywood film as much as the next person. I love romantic comedies, and I love when everyone ends up happy at the end, but I think it's also important to show other kinds of stories."
Already, the 32-year-old actress has worked on a follow-up film with Perry, Queen of Earth, which premiered at the Berlin Film Festival this year. This time, the focus is fully on her in this John Cassavetes-inspired tale about a woman, grief-stricken at the loss of her father and nursing rejection from a boyfriend, who begins to mentally unravel. Co-starring Inherent Vice's Katherine Waterston, it is an uncomfortable watch, far removed from the arch nature of Listen Up Philip, as Moss becomes more paranoid and hysterical throughout.
Compared to the largely buttoned-down Peggy Olson, it's a startling transition for Moss, who is also credited as a producer on the film – her first behind-camera experience. She calls it "accidental", saying it came about after Perry asked her for input into casting and locations. "To be able to be a part of the decisions and have a say is fantastic," she nods. "I know a little bit about this business! And to be able to have some creative control in what you're making [was great]… I'm definitely interested in doing it again."
Curiously, Moss never directed on Mad Men, unlike several of her colleagues (Jon Hamm, Jared Harris and John Slattery shot episodes). "That is one of those things where I loved my place on the show and I felt like it was such a gift and such a pleasure to have my position and to play Peggy. I couldn't ask for anything more and I didn't want to. I didn't want to see behind the curtain. I loved my place on that. I was particularly happy to remain there."
I ask Moss whether she could conceive of another series of Mad Men – a 10-year reunion, perhaps. "I don't think so. I think we're big fans and I think Matt [Weiner, the show's creator] is a big fan of leaving the party while people still want you around. Of course never say never, but I feel like we did what we wanted to do with that show. I can't believe it went as long as it did," she says. "It's fine to have a story that ends when it ends and let someone else come up with a new show that everyone loves."
Access unlimited streaming of movies and TV shows with Amazon Prime Video Sign up now for a 30-day free trial
Sign up
Moss didn't even have time to grieve; when the final episode was shot last year, she packed up her belongings in Los Angeles, moved them back to New York and then headed straight to Belfast, where she joined the cast of High-Rise, the anticipated new film by acclaimed British director Ben Wheatley. Adapted from the JG Ballard novel, this tale of a 1970s tower-block and its elitist residents, co-starring Tom Hiddleston, Sienna Miller and Luke Evans, is a further example of how Moss is making it work without the crutch of the Hollywood to lean on.
Landing in Ireland, Moss immediately shed Peggy to play Helen Wilder, pregnant wife to Evans' character. "I had a pregnancy belly the whole time. And then these hippie-ish maternity clothes," she laughs. "I was really quite surprised to get the job because it was mostly British people. There's no way they're going to give it to this American girl, although I am half-British and I do have British citizenship." As it turns out, Moss's father Ron actually hails from Birmingham. He left when he was 30 for Los Angeles and never came back.
Moss was raised in Laurel Canyon, with her younger brother Derek. Ron was a trombone-playing jazz musician (and later a manager, looking after Clint Eastwood's jazz-star son Kyle). Moss's mother Linda played blues harmonica. While Moss initially wanted to be a ballet dancer, watching her parents struggle to make a living put a career in the arts into perspective. "It allowed me to not be one of those Hollywood kids. There's nothing harder than being a musician," she notes. "It's a very difficult life and it's not glamorous."
It taught Moss that discipline and dedication were the only real ways to strive for success. "The harder you work, the better you'll be," she shrugs. "So those kinds of things really helped me to not be as skewed by the business and not be too taken up by the superficial side of it. There was always something more important than that. And in my mind there was something far more difficult than acting, which was either ballet or music – you have to practise for hours every day. And that's how you make it. That kind of discipline was very grounding I think."
Moss started young; an agent saw her in a ballet when she was six and suggested she try out for commercials. From there, she worked steadily as a child actor, from TV show Picket Fences to playing Harvey Keitel's offspring in the film Imaginary Crimes. By the end of the decade, she was acting opposite Angelina Jolie and Winona Ryder in Girl, Interrupted, but it would not be until she won the role of Zoey, youngest daughter to Martin Sheen's President Bartlet in The West Wing, that Moss began to make an impression. It led to Mad Men, to Peggy and five Emmy nominations.
Certainly, Moss makes a mockery of the idea that there are few decent parts for women. She was stunning in Jane Campion's New Zealand-set programme Top of the Lake, winning a Golden Globe for her work as a troubled detective.
"I have come up in this business at a really fortuitous time. I think it is true that the roles for women are less than for men, but I also think it's changed a lot, and I've seen it change over the last decade of being on Mad Men, where you now have so many shows on television that are led by women. I don't think it's all solved. I don't think it's quite equal yet. But it's so much better."
She cites the ITV drama Broadchurch – one of her "favourite shows in the entire world", as she puts it. "You could never just have David Tennant in that now. You have to have a great female lead." While she evidently admires his co-star Olivia Colman, "I would totally just watch the David Tennant version," she giggles.
Moss has been married, briefly, to actor-comedian Fred Armisen, noted for his work on Saturday Night Live, but the union lasted less than a year. Relationships seem secondary to work right now. She recently completed Truth, a tale set around the last days of CBS news anchor Dan Rather, co-starring Robert Redford and Cate Blanchett. "That was one of those things – you get an email and it says: 'There's this film with Cate Blanchett and Robert Redford...' And you're like, 'Yes! Yes!' How many times do I say, 'Yes!' to this." It's yet another prestige project on a CV that's looking increasingly classy. Mad Men might be over. Moss's career is anything but.
Listen Up Philip opens on 5 June
Join our new commenting forum
Join thought-provoking conversations, follow other Independent readers and see their replies