Game of Thrones season 6: Wun Wun actor Ian Whyte discusses the death of the Battle of the Bastards' MVP
'He had a humanity...I really felt for the guy'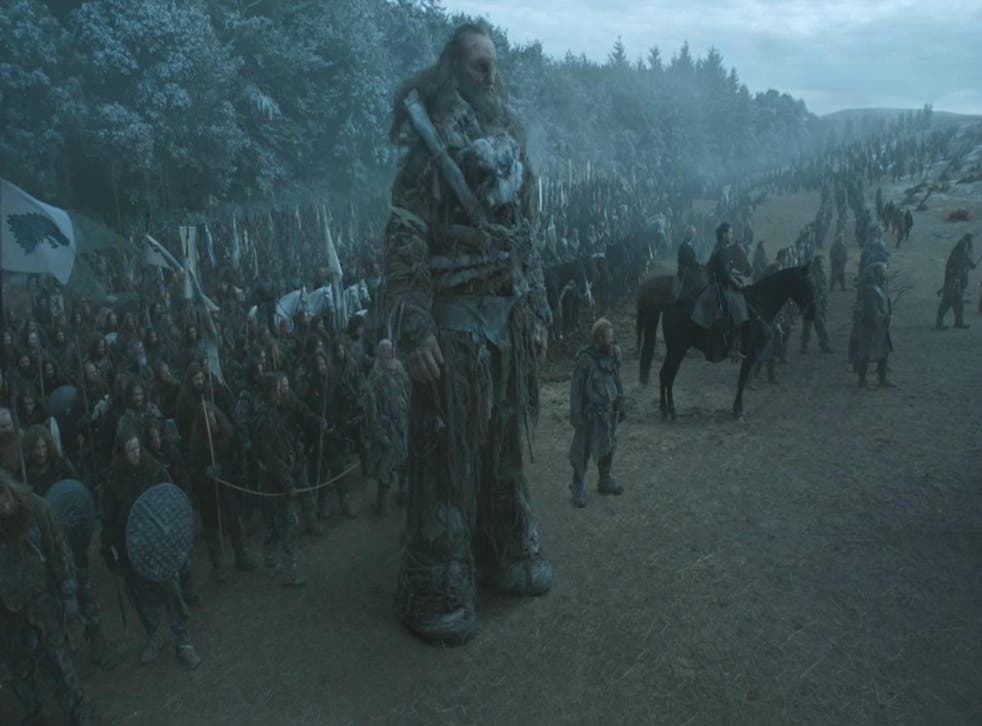 In the fallout of Game of Thrones' Battle of the Bastards, we caught up with Ian Whyte, the 7ft 1" tall actor behind arguably its most key player - wildling giant Wun Weg Wun Dar Wun.
CH: RIP Wun Wun man, he seemed like a good guy.
IW: He had a humanity, if a fantastical character like that can actually manage it. I really felt for the guy.
It must have been a nice surprise that he got such a pivotal role in the episode?
Yeah, I didn't really realise how popular a character he was until he died.
And he was key in taking back Winterfell.
It was ultimately a suicide mission in the end, wasn't it.
It seems that when characters are killed off in the show, the actors behind them usually get a courtesy call from the showrunners to deliver the bad news before they read it in the script. I don't suppose you got one with Wun Wun though?
Haha no, I've died before. Nothing would have surprised me.
What other characters have you played in the show?
Well, season one I was a White Walker; I think I was responsible for either the first or the second beheading of Game of Thrones. Season two I played The Mountain, and season three I started playing the giants. The first giant didn't really get a name until season four but we can infer that he was Dongo, [the grey-haired giant who used a giant bow to shoot huge arrows at the top of the Wall]. Then season five, Wun Wun appeared.
Tell me, how does one do motion capture for something as bizarre as biffing a horse in the face [below]?
It's actually not motion capture, we do it all for real against green screen in the studio. It's quite an intricate process because we have to match everything that's shot before - all the human action, the big battle - with what I then later do. So they know where the horse is going to be, it's just a case of overlaying my performance on top of the existing footage.
I see, and in an action scene like that, do you have something physical to swat away?
I believe in the case of the horse it was a tennis ball on a stick. So I'm not exactly up to my knees in blood and body parts, but it's still exhausting and pretty physical.
Yeah, I guess getting on-screen shot with about a hundred arrows must have taken its toll too?
I was poked a great deal by men with spears, yes, haha.
Do you know how tall Wun Wun actually is?
The proportions are doubled, the visual effects supervisor told me, so he's 14 foot tall.
Did you also voice him?
Yeah I was mic'd up, they tinker with that as well…
Right, pitch shift it down to make him more sonorous.
Yeah.
You've already played four characters in Game of Thrones, have you got any more coming up?
I don't know about anything that's coming in the future, fingers crossed!
I think that's the last of the giants now unfortunately, isn't it…
Unfortunately yeah, I think so.
But I guess at least there's probably plenty of White Walkers to come in the final seasons!
Well who knows, it's a fantastical realm so there's always room.
The House Sigils in Game of Thrones

Show all 36
You used to be a basketball player, right?
Yes, many, many years ago.
What made you turn to acting?
Quite simply, I had a phone call one day. You might hear actors say 'I was in the right place at the right time' or 'the phone just rang' and it really was that simple for me. A casting director was working on the film Alien vs. Predator and needed Predators. There's no such thing as a standard casting, but my first experience of the casting process was just purely physical. They gave me a wetsuit, a mock-up of the Predator head and a balaclava helmet and just said "start running". Then an hour later they said "oh, you can stop now".
So they just literally approached tall basketball players?
Yeah. The casting director came through the secretary of the basketball club. When they told me they wanted to put me in a Hollywood film I thought they were pulling my leg - little did I know it would be the start of a new career for me. I decided to go for it with gusto and pursue acting with 110% effort until it's no longer an opportunity…and that was 14 years ago!
Access unlimited streaming of movies and TV shows with Amazon Prime Video Sign up now for a 30-day free trial
Sign up
Did you ever get a chance to talk to Peter Dinklage during filming on GoT?
Haha, the only time I saw Peter Dinklage in six years was when I first went over to Belfast to do a costume test for season three. I was in the back of the studio in a tiny little changing room and the door had a thin glass window. I was chatting away to the costume team and getting dressed and I had the feeling of being watched. I looked up, there was a face at the door, and it was Peter Dinklage staring through the window! It was quite surreal but no, that was the only time I've ever even seen him, I've never met the guy.
Because it's quite impressive isn't it - he's a man who would have been initially cast because of his proportions too, but has been able to carve out a really strong career.
Yeah absolutely, he's a magnificent actor.
Game of Thrones Season 6 - Episode #10 Preview
Game of Thrones season 6's final episode - 'The Winds of Winter' airs on HBO in the US and Sky Atlantic in the UK on Sunday night.
Join our new commenting forum
Join thought-provoking conversations, follow other Independent readers and see their replies