The great Downton Abbey quiz
As millions tune in tonight to the last episode of the current series – don't worry, they're back next year! – The IoS invites you to form teams and get your fingers on the buzzer for our mammoth quiz.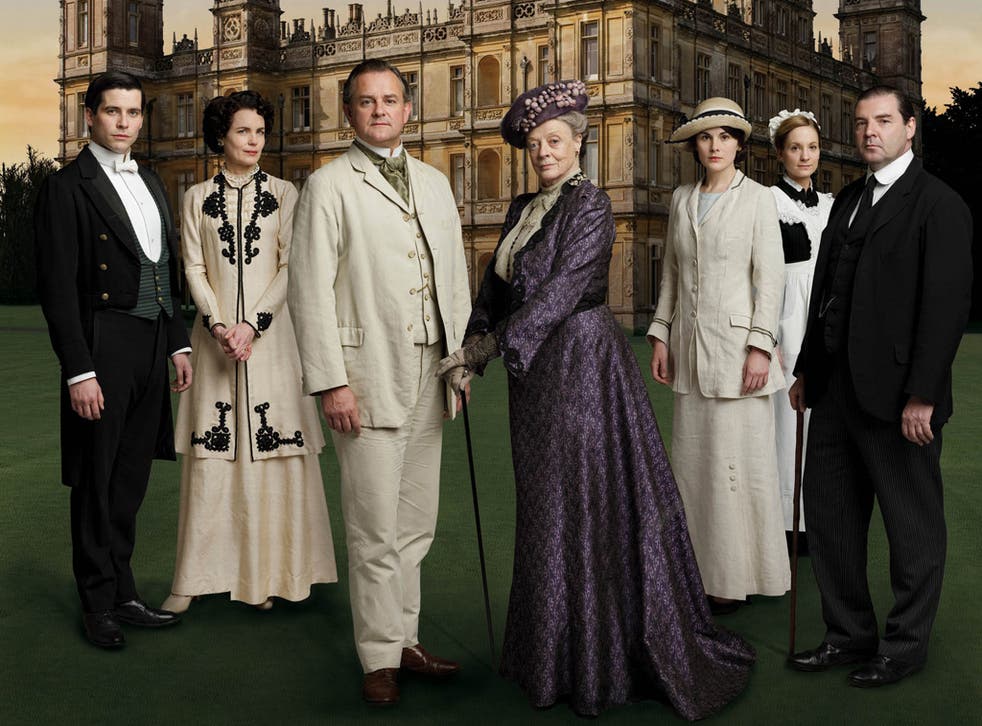 The plot lines
A) Who learns to drive a tractor?
B) In episode five, what does Mrs Patmore teach Lady Sybil to do?
c) How does former footman Thomas avoid serving in the trenches?
D) At which battle does Matthew Crawley get blown up?
E) Some critics said the plots in series two had become too fanciful, and claimed the plot lines were "jumping the shark"? What is the meaning and origin of this phrase?
Quotes round
A) To whom did the Dowager Countess of Grantham say the following, and why? "I hope it is not vulgar in me to suggest you find some way to overcome your scruples?"
B) "I'll tell you if I feel it again," says Matthew Crawley to his valet in episode six. What is the "it" to which he's referring?
C) One of Maggie Smith's lines from this series was called "the wittiest line in television history". Was it:
1) "What is a weekend?"
2) "War makes early risers of us all."
3) "A handbag?"
D) "Your lot buys it. My lot inherits it," said Lady Mary to Sir Richard Carlisle in episode six. Who is alleged to have said something similar in real life, and to whom?
E) Who said this in a newspaper article: "Downton Abbey glorifies an ordering of society that was hateful in reality. While the real-life aristocracy of Edwardian England lived in grandeur and expected other people to wait on them and attend to all their needs, the great majority of British people lived without sanitation, education or comfort ... The trouble with fantasies such as Downton Abbey is that its author has not thought through the implications of what he is writing."
Behind the scenes
A) Which major sponsor was forced to drop a series of morbid adverts after the first episode, because hundreds of viewers complained?
B) Which member of the cast complained in an interview that sexual equality has led to the demise of old-fashioned manners?
C) What has been the average viewing figure this series, to the nearest 100,000?
D) What was the budget per episode?
E) Who composed the music?
1) John Lunn.
2) John Barry.
3) John Tavener.
The ailments
A) What was wrong with Lang, Lord Grantham's valet, in episode two?
B) Which character suffers from gas poisoning?
C) Who develops a crush on a blinded lieutenant in episode two?
D) Why is the Canadian officer claiming to be Patrick Crawley in episode six hard to recognise?
E) What is expected to wipe out at least one character in tonight's episode?
The bloopers
A) What was odd about the trees in the scene set on Armistice Day?
B) Why did a viewer complain about hearing a chiffchaff singing in the background?
C) Thomas the footman used the phrase "get knotted" in episode three, and said "I am fed up seeing our lot get shafted" in episode four. In which decade are these expressions first thought to have been used?
Access unlimited streaming of movies and TV shows with Amazon Prime Video Sign up now for a 30-day free trial
Sign up
D) Which of these phrases has NOT been heard this series:
1) "As if!"
2) "You have been taking logic pills again."
3) "So everything in the garden is rosy?"
4) "Are you kidding?"
E) Which of these criticisms has NOT been levelled at Downton this series?
1) There isn't enough religion.
2) The servants have too much leisure time.
3) The characters spend too much time recapping the plot.
4)The ladies' dresses are historically inaccurate.
The characters
A) What is the relationship between Isobel Crawley and the Dowager Countess of Grantham?
B) Name the maid who gets pregnant by an officer.
C) Why can't Lord Grantham serve in the war?
D) What is Branson's job?
E) Who is seen in a heated discussion with Lavinia Swire in the rose garden?
Trivia round
A) In what month of what year did series two start?
B) And what year does it end?
C) What is an entail?
D) What's the name of the neighbouring house bought by Sir Richard Carlisle in episode six?
E) What is Julian Fellowes's full title?
Art imitating ...
A) In episode five, Matthew Crawley suffers a spinal injury which renders him impotent, putting the lineage in doubt. To which character in which DH Lawrence novel does this also happen?
B) Which racy plot line from series one did Julian Fellowes reveal was based on a true story?
C) Cora Crawley is a rich American heiress, whose fortune saved the estate. Into which wealthy dynasty did the real-life inhabitants of Highclere Castle, where Downton was filmed, marry at the end of the 19th century?
D) What was the name of the scandalous real-life chatelaine of Highclere Castle, who, according to a new book, had many affairs, was involved in money-laundering, and opened an abortion clinic?
E) What did Julian Fellowes NOT say when he was accused of plagiarism?
1) "Who can say what is lodged in one's brain?"
2) "Who cares, as long as it makes for good television?"
3) "Relax! All we get is this permanent negative nit-picking from the left."
4) "The real problem is with people who are insecure socially, and they think to show how smart they are by picking holes in the programme to promote their own poshness and to show that their knowledge is greater than your knowledge."
Etiquette round
A) Carson was criticised for wearing the wrong colour tie. What colour is correct for a butler wearing tails?
B) What garment was Lord Grantham wearing indoors, when officers usually discarded them at the door with their hats?
C) Where would Lord and Lady Grantham conventionally sit at the dining room table?
1) At opposite ends.
2) At the same end.
3) In the middle.
D) Filming was temporarily halted during a scene involving asparagus. What happened?
E) How should asparagus be eaten?
The Answers
The plot lines
A. Lady Edith. B. Bake a cake. C. He gets deliberately shot by raising his hand above the trench. D. The Somme. E. "Jumping the shark" is the moment at which a drama loses credibility by pushing the boundaries too far. It comes from an episode of Happy Days, in which the Fonz jumps over a shark while water-skiing.
Quotes round
A. She said it to the vicar while reminding him who pays his wages when he refuses to marry a dying William to the reluctant Daisy. B. The "it" was his virility, after he was thought to have been left paralysed from the waist down. C. 2. D. Alan Clark is thought to have said something similar to Michael Heseltine. E. AN Wilson.
Picture quiz
A. Dan Stevens as Nick Guest in The Line of Beauty, 2006. B. Samantha Bond as Miss Moneypenny in Tomorrow Never Dies, 1997. C. Maggie Smith as Charlotte Bartlett in A Room With a View, 1985. D. Hugh Bonneville as Bernie in Notting Hill, 1999. E. Penelope Wilton as Ruth in Calendar Girls, 2003.
Behind the scenes
A. Aviva. B. Michelle Dockery, who plays Lady Mary. C. 11.2 million. D. £1m. E. 1) John Lunn.
The ailments
A. He was suffering from shell shock. B. William Mason. C. Thomas Barrow. D. His skin has been burned off by a blast at Passchendaele. E. Spanish flu.
The bloopers
A. They were still in leaf in November. B. These migrating birds are not in Britain in November. C. 1960s. D. 4). E. 4).
The characters
A. They are cousins-in-law. B. Ethel Parks. C. He is too old. D. Chauffeur. E. Sir Richard Carlisle.
Trivia round
A. November 1916. B. 1919. C. It is a limitation on the current tenant's ownership of the estate meaning he cannot choose who will inherit. D. Haxby Hall. E. Julian Alexander Kitchener-Fellowes, Baron Fellowes of West Stafford.
Art imitating ...
A. Sir Clifford Chatterley in Lady Chatterley's Lover. B. The death of the Turkish visitor, Kemal Pamuk, in flagrante with Lady Mary, and subsequent smuggling of his body back to his own room. C. The Rothschilds. D. Almina, Countess of Carnarvon. E. 2.
Etiquette round
A. Black tie. B. His Sam Browne belt. C. 3). D. Nobody could agree whether they were eaten with cutlery or not. They got round the problem by slicing them up and pretending they were beans. E. With fingers.
Join our new commenting forum
Join thought-provoking conversations, follow other Independent readers and see their replies