Jessica Brown Findlay on her new role in ITV's Harlots, playing Ophelia in Hamlet and moving on from Downton Abbey
The actress plays Charlotte, an 18th-century courtesan, in ITV's new costume drama 'Harlots'and prefers not to be known primarily as Lady Sybil from 'Downton Abbey'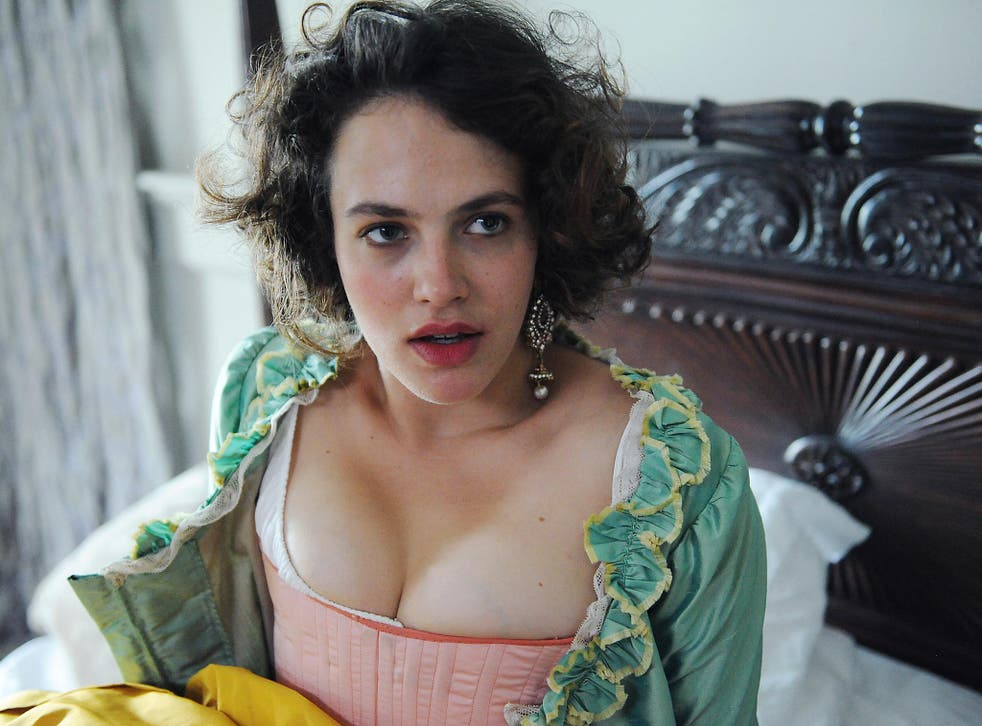 A man seeking the services of a prostitute in mid-18th-century London could consult a booklet that was a kind of sexual TripAdvisor of its day – Harris's List of Covent Garden Ladies. In an age when it's estimated that one in five women in the capital worked in some form of prostitution, the pseudonymous Harris (thought to be a Grub Street hack called Samuel Derrick) believed he was providing quality control, a discerning guide to...
"Vaginas," cuts in Jessica Brown Findlay, the actress who plays Charlotte, a "kept" courtesan in ITV's new costume drama about the booming sex trade of the period, Harlots. "Vaginas – hah – yes! Harris's List was incredibly popular and you'd find it in all manner of houses. It's really interesting how incredibly brutal some of the reviews are. We like to think we're developed in how we talk about things... you know, the internet goes mental over a nipple... you should read this book: it's insane."
A generously budgeted co-production between ITV and American streaming service Hulu, Harlots brings to life (in fictional form) some of the women advertised in Harris's List. The series is pretty much an all-female affair, written by playwright and screenwriter Moira Buffini (Jane Eyre, Tamara Drew), directed by Coky Giedroyc (What Remains, Penny Dreadful), and starring Samantha Morton and Lesley Manville as rival brothel-keepers, Margaret Wells and Lydia Quigley. Findlay plays the fashionable and beautiful Charlotte, Margaret's eldest daughter and the live-in courtesan of baronet Sir George Howard (played by Hugh Skinner, Prince William in Channel 4's The Windsors and general go-to actor for gormless toffs).
"Some men of a certain class with money would have a wife to have children with and a mistress to play with," continues Findlay. "And the two would be separate. If you signed a contract to exclusively belong to someone, if anything happened to the man you would be protected by law. You would get money if they died, have property and be safe. So it's very much within Charlotte's interest to sign this contract. But being an absolute legend and stubborn cow, she doesn't sign it. That's her brilliance and the thing that drives her mother insane."
Given the subject matter and hard-headed approach to prostitution (it's a job, and a job with better pay and prospects than most that were available to women at the time), Harlots might at first glance seem like a Georgian version of ITV2's Billie Piper series The Secret Diary of a Call Girl, but – thanks to the writing, cast and some painstaking historical research – it feels somehow different, less glossily exploitative. "Don't get distracted by the pretty dresses", agrees Findlay. "One in five women in London were involved in the sex industry at this time. That statistic seems quite shocking, but when you consider other options open to women, it's not so shocking. The age of consent was also 12. Which is a child.
"If you were married your body was considered the man's property, along with your actual property. So anything could be done to you because you were the property of your husband. That's not the world the harlots live in. Their property is theirs. It's their body. And they decide what happens to it, to a certain extent".
Prostitution as empowerment – it's the sort of line that Billie Piper (perhaps with less historical justification) might have uttered in The Secret Diary of a Call Girl. An additional angle in Harlots is provided by the hypocrisy of the age.
"London at the time was going through such a huge economic boom, and it was in some ways an incredibly liberal place," says Findlay. "And yet the protection and laws weren't there, and it was such a hypocritical world. The men who used these houses wrote the laws that made them illegal, and these women are having to learn the complexities of that while living and surviving. Every time you looked into the subject there was more and more to unravel. There's nothing clear cut."
Not that Harlots is po-faced. While Moira Buffini says prostitution is "the coalface of gender politics and that's where we wanted to put our female gaze – tt's a costume drama with its teeth sunk firmly in the modern world", she also delights in the humour of the women and the slang of the time, terms like "perty heavers" and "an easy keeper" (an undemanding regular). "Some of the slang for genitalia and sex is just amazing", says Findlay. "I totally want to bring it back."
Access unlimited streaming of movies and TV shows with Amazon Prime Video Sign up now for a 30-day free trial
Sign up
The 29-year-old actress was thrust into the limelight in 2010, playing the ill-fated Lady Sybil Crawley in Downton Abbey. She left Julian Fellowes's costume drama juggernaut after three series, Lady Sybil being written out after dying in childbirth – and she still bristles when she sees herself referred to, five years down the line, as "Downton Abbey's Jessica Brown Findlay".
"That still gets written all the time", she says. "But for me it's less about Downton Abbey as such, and more about being owned by anything or anyone. I'm my own person. It's a privilege to have it [Downton] on my CV but for my name to come first shows something. I'm a strident feminist – much like Charlotte Wells."
The last time I interviewed Findlay was at the time of BBC1's 2014 adaptation of Daphne du Maurier's Jamaica Inn – her heroine Mary Yellan barely off screen in a fine production that was unfortunately overshadowed by the complaints about the sound quality and actors' enunciation – the same sort of "mumble-gate" that recently broke out (with more reason) around BBC1's SS-GB.
"It must have been a slow news week: it was completely overplayed", she says. "Jamaica Inn was a brilliant sort of feminist piece of writing, and it was made in a really empowering way, and – ha! – rather typically it got silenced due to a mumble. It's very interesting, that."
Findlay originally wanted to be a dancer, and by the final year of school in Cookham, Berkshire, she was a veteran of the National Youth Ballet and an associate of the Royal Ballet, and had danced on stage at the Royal Opera House with the Kirov. And then, after three operations, she was told she'd never dance again. "I had heel spurs: my ankle joints were cutting away at my Achilles tendon," she says. "It was heartbreaking – I was so close to what I'd spent years training towards."
These days the nearest she comes to dance is to go bouldering – a form of indoor climbing without ropes that she describes as "like a dance up a wall". The total immersion of theatre is closer to ballet than filmmaking, she says, and she's currently playing Ophelia to Andrew Scott's Hamlet in a widely acclaimed production at Almeida Theatre in London, her hair bleach-blonde and cropped short when we meet – counter-intuitively you might, think, because Findlay's tresses were formerly as pre-Raphaelite as anything painted by John Everett Millais.
"There isn't a pre-Raphaelite reference in sight", she says. "The romanticism of that is not there. The mad scene.. there's nothing mad about her. I think it's maddening to be silenced or to be ignored, or to be told what you feel is wrong, that you can't mourn the death of your father and the absence of a brother, that's where Ophelia is coming from, I think.
"I don't read reviews, so I have no idea what they're saying, but fingers crossed it's okay. It's my first Shakespeare – I've gone from Aeschylus to Chekhov to Shakespeare, so I've dived straight in at the deep end; it's been incredibly fulfilling and exciting."
The period costume is more up to date in Steven, the forthcoming biopic about the pre-stardom Morrissey, Findlay playing the miserabalist singer's best friend, the Liverpool artist Linder Sterling, a key figure in the post-punk scene in Manchester. "She had exhibitions at the Tate in her own right," says Findlay. "A feminist artist."
In the meantime, this particular feminist will be back in corsets for a second series of Harlots should it receive the green light – a strong possibility, I would have thought, given the strength of the cast and writing. When she was in Downton Abbey, Findlay complained about the strictures of corset-wearing. Are the corsets in Harlots any less asphyxiating?
"The underwear is similar, the subject matter is not and the people wearing said underwear are different creatures", she says. "There is no comparison when it comes to a piece of work like Harlots, which is so exciting and progressive and complex and unapologetic, and so un-twee." Is she saying that Downton was twee? "No, it's just that Harlots and Downton feel incomparable. The edges of this are sharp. It's not apologising for itself in any way, not sugar-coating issues that are still incredibly relevant today. I love it for that."
'Harlots' begins on ITV Encore at 10pm on 27 March; 'Hamlet' continues at the Almeida Theatre in London until 8 April
Register for free to continue reading
Registration is a free and easy way to support our truly independent journalism
By registering, you will also enjoy limited access to Premium articles, exclusive newsletters, commenting, and virtual events with our leading journalists
Already have an account? sign in
Register for free to continue reading
Registration is a free and easy way to support our truly independent journalism
By registering, you will also enjoy limited access to Premium articles, exclusive newsletters, commenting, and virtual events with our leading journalists
Already have an account? sign in
Join our new commenting forum
Join thought-provoking conversations, follow other Independent readers and see their replies