Katherine Parkinson interview: Sherlock actress on likeability and being 'intimidated' by America
The Bafta winner stars in Channel 4's new drama Humans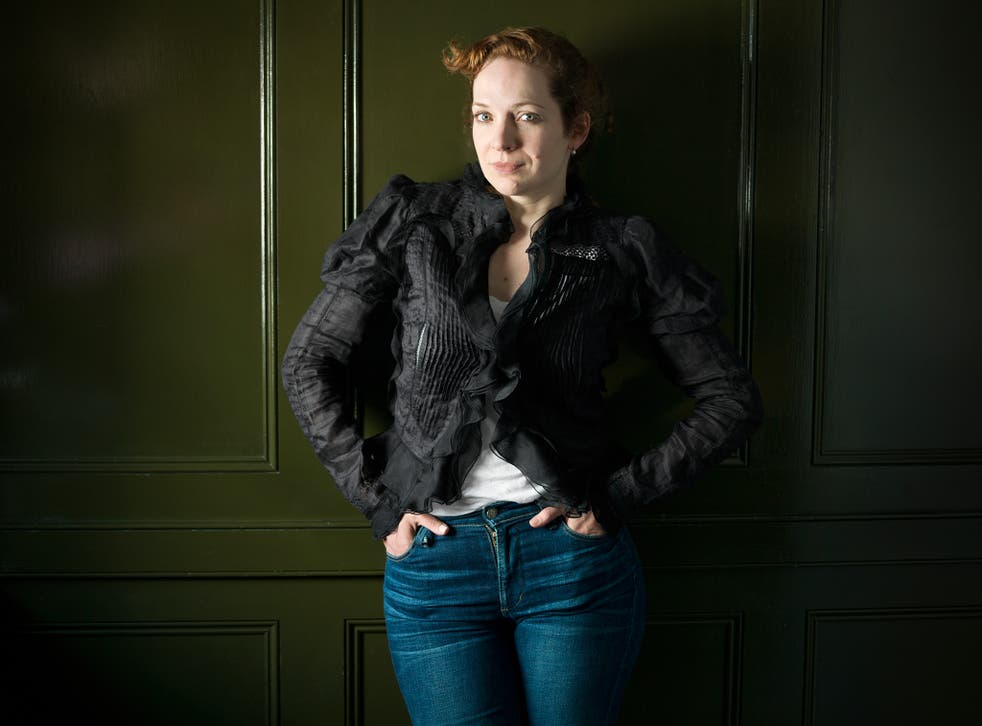 When a 27-year-old Katherine Parkinson, two years out of drama school and heavily in student debt, was offered the part of Jen Barber in The IT Crowd, creator and chief writer Graham Linehan told her that Jen – the sweetly ineffectual office manager in the Channel 4 sitcom – should be "likeable".
"Likeable isn't something you can actually play, so I struggled with that," she says. "I know what he wanted now – he wanted her to be the more normal person people could relate to."
But if Linehan thought he was employing a straight woman for her co-stars Chris O'Dowd and Richard Ayoade, he couldn't have been more mistaken, and Parkinson's shoulder-padded klutz generated an equal share of laughter from the live-studio audience, winning her a British Comedy Award in 2009 and (last year) a Bafta.
But then, perhaps Parkinson, now 37, didn't have to try too hard to be likeable. Clearly intelligent (she has a classics degree from Oxford) but warm and self-deprecating with it, she has just returned from a family holiday in Cornwall when we meet, the first break she's been able to take with her six-month-old daughter Gwen, who was born just five weeks before her mother started filming the new Channel 4 drama Humans.
An adaptation of the 2012 Swedish TV drama Real Humans, the series imagines a parallel present where the latest must-have gadgets are hyper-realistic consumer-level robot servants known as "synths", which take care of the cleaning, cooking and childcare; the show follows the effect on one typically time-poor middle-class modern family when they decide to buy a "female" synth called Anita. This android can not only knock up delicious suppers and read goodnight stories to the kids but is also a bit of a stunner (she's played by former fashion model Gemma Chan) – a fact not lost on the teenage son.
Parkinson plays the mother, Laura, a bread-winning lawyer, who is understandably the most resistant to having this pliant synthetic hotty around the house – or, as the actress puts it: "A cuckoo-in-the-nest situation.
"Like Laura, I would be inclined to resist and resist and, inevitably, like with an iPad, I'd end up getting one," she says. "I think Laura quickly realises she hasn't got a leg to stand on with Joe [her husband] because she is absent with her work and can't say, 'We don't need one.'"
With two infant daughters, Gwen and Dora, two, and with both Parkinson and her husband Harry Peacock in-demand actors, it sounds as though they could do with an Anita in their own lives. "I did think that when we were filming, because she is able to be a kind of synthetically affectionate presence with the children." But would she buy one that looked like Gemma Chan? "If I did get one, I'd go for one that looked like Dame Edna Everage." It's a scary thought. As it is, Parkinson and Peacock have reluctantly hired a part-time (flesh-and-blood) nanny at home in Blackheath, south-east London; some of the rest of the childcare comes courtesy of her (now retired) parents. Her father is the Northern Irish historian Alan Parkinson. "I proof-read one of his books, about Chaplin [Charlie Chaplin's South London], but he's also written about Ulster loyalism. Whatever he writes about, he gets it round to Northern Ireland."
Channel 4's Humans

Show all 9
Growing up with her two brothers (now a sports journalist and a civil servant) in the south-west London suburb of Tolworth, Parkinson can't recall any early yearnings to be an actor. "I grew up thinking I was going to fly to the Moon or be a diplomat and other ridiculous ambitions," she says.
Access unlimited streaming of movies and TV shows with Amazon Prime Video Sign up now for a 30-day free trial
Sign up
She did, though, get to play Puck at her grammar school, and remembers thinking how "extremely comfortable" she felt on stage. "And I just had this absolute determination to go to Oxford," she says. "I'm no intellectual – I don't seem to have that lust for knowledge that the best Oxford students have – I just wanted to go to Oxford because I knew you could act there."
Parkinson studied classics at St Hilda's, but spent more of her time in the Oxford Revue, along with Jack Williams, who went on to write last year's hit BBC1 mystery drama The Missing, and Peter Harness, whose adaptation of Susanna Clarke's Jonathan Strange & Mr Norrell will compete with Humans for Sunday-night viewers. "I feel sort of proud to see them all doing now what they loved doing then," she says.
Having crammed enough ancient Greek and Latin to pass her finals, Parkinson applied to just one drama school, Lamda, because its relatively short, two-year course meant she wouldn't be "too ancient" when she graduated. In the event, having been cast in a play – Frame 312 at the Donmar – she was invited to leave after four terms, having made friends with her future IT Crowd co-star Chris O'Dowd, and her BFF, the comedian Katy Brand.
Parkinson spent three series playing Martin Clunes's receptionist in Doc Martin and says she is recognised far more often for that than for The IT Crowd – which isn't entirely surprising, given the ITV show's devoted audience. "Also, I think it's my hair, because I'm a curly top in real life," she says, referring to the fact that Jen in The IT Crowd has straight hair, while Pauline's barnet in Doc Martin is of the less ruly persuasion. "I look like Ronald McDonald when I've been sleeping."
I remark that her IT Crowd co-star Richard Ayoade seems surprisingly spiky now that he has emerged from the socially inept character of Maurice Moss and gone on to enliven panel shows with his sardonic humour – but Parkinson is having none of it: "He's actually very soft as a man, so I would say that's more of a persona."
Unlike Ayoade, and despite an appearance on the BBC's Would I Lie to You?, Parkinson doesn't do much in the way of comedy panel shows. "I say no to them generally just because I think, as an actress, you don't want to be a personality. And as for Have I Got News for You, I don't want to be exposed as somebody who knows very little about politics."
In fact, Parkinson doesn't think of herself primarily as a comic actress – even if that is how she is perceived thanks to The IT Crowd and despite appearing as a tabloid journalist in Sherlock and her decidedly un-comic turn as Maggie Gyllenhaal's sister-in-law in The Honourable Woman, not to mention playing Chekhov at the Royal Court alongside Kristin Scott Thomas.
As for her future, she says she has no interest in breaking America. "I had an opportunity to go to LA when I was about five weeks' pregnant [with Dora] and I was delighted to have an excuse not to go," she says. "I'm a bit wary of it… it's childish of me, but I just find it all a bit intimidating. But I am going to America to do publicity for Humans [which is co-produced with AMC, which made Mad Men] and will probably bite the bullet at some point. I'm sure the money is life-changing, but tastewise I don't think I'm quite motivated enough; I admire a show such as Friends without wanting to be in it. I aspire to something more like Butterflies," she says, referring to the Carla Lane sitcom starring Wendy Craig as a dissatisfied suburban housewife that ran on BBC2 between 1978 and 1982.
As it happens, her latest project is set in that very 1970s suburbia. The Kennedys is a multi-generational BBC1 drama based on the writer Emma Kennedy's The Tent, the Bucket and Me, her memoir of growing up in the aspirational New Town of Stevenage. Parkinson plays the mother of the 10-year-old protagonist, while her real-life husband plays a lecherous, alpha-male neighbour. "He has to perv over my character, which is quite peculiar."
The couple met in 2003 while workshopping Mikhail Bulgakov's Heart of a Dog at the National Theatre Studio. "It was for an old university friend, Nina Raine [poet Craig Raine's theatre-director daughter]. I was going out with somebody she thought I shouldn't be going out with, so she thought it might take my mind off him."
Not that the course of their romance was entirely smooth. "Harry texted, 'Do you want to go to the cinema tomorrow?' but he put too many m's in 'tomorrow', and I thought I could never go out with somebody who put too many m's. But, then, I did…" she says, with the sort of coda that, I realise, is trademark Parkinson.
'Humans' airs on Channel 4 from Sunday 14 June
Katherine Parkinson was photographed at Quo Vadis Soho.
Join our new commenting forum
Join thought-provoking conversations, follow other Independent readers and see their replies