Lena Dunham: 'I don't see sex as glamorous'
Outrageous comedy Girls is back, more risqué than ever. The show's creator, Lena Dunham, is keen to keep it feeling real. Sarah Hughes meets her
Lena Dunham: 'I don't see sex as glamorous'

Show all 2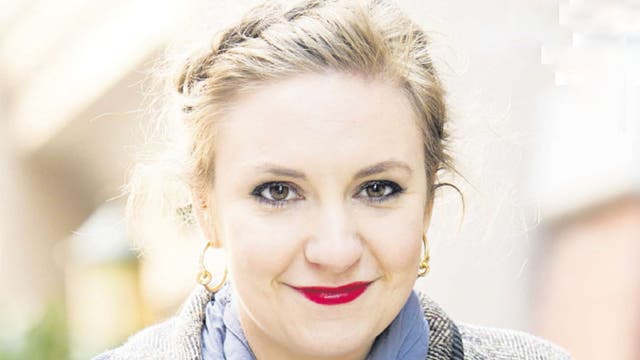 To her fans Lena Dunham, at 26, is the future of comedy, the clever, dry creator of the acerbic and honest Girls, a show about four twentysomethings in Brooklyn that has been hailed as "like nothing else on television right now" and which begins its second season on Sky Atlantic tonight.
Now she has announced that she will publish her first book, Not That Kind of Girl: a Young Woman Tells You What She's Learned ,"a frank and funny collection of advice and anecdotes", which was bought by Random House for $3.7 million, later this year.
To her detractors, however, Dunham is an inexplicably ubiquitous presence and her show a self-indulgent exercise in navel-gazing. Her book proposal was attacked on Gawker, a cheeky video she made in support of Barack Obama comparing first-time voting to virginity loss drew outrage from conservative pundits, and she receives as many online brickbats as she does bouquets – one particularly poisonous recent review branded her a "pathological exhibitionist".
Sitting in HBO's offices in midtown Manhattan, Dunham, dressed in a smart black suit and lace top, her dark hair cropped in a flattering elfin cut, seems both remarkably poised and understandably bruised by her year in the spotlight. "It's pretty unreal," she admits. "You kind of can't believe people understand you enough to even skewer you."
The daughter of two New York artists (her mother Laurie is a photographer and designer, her father, Carroll a painter), Dunham grew up in Manhattan's trendy Tribeca, attended Brooklyn's bohemian St Ann's School and went to university at the equally artsy Oberlin in Ohio. It was a privileged upbringing, although her parents would only be considered famous "if you're into the downtown art scene".
Even by Hollywood standards her rise has been meteoric. At 23, she directed her second film, Tiny Furniture, a clever low-budget tale of family relationships largely starring her own family and friends. It won the South by Southwest Festival's Best Narrative Feature Award and led HBO to offer her a writing deal. The result was Girls, a raw and very funny look at a group of friends trying to get by in New York, which, in a further stroke of good fortune, Judd Apatow, Hollywood's reigning comedy king, agreed to executive produce. "I wish I could say that I knocked on HBO's door for 10 years and it all paid off," Dunham says. "I got lucky. It was a real right-time, right-place scenario." As for Apatow's involvement (in addition to working on Girls she has a cameo in his most recent film This Is 40): "I'm so proud to work with him and love him so much. He's given me such a safe experience."
She has been ridiculed for everything from her less-than-perfect body and her penchant for shorts to her presumed privilege and political beliefs but appears unfazed by the personal nature of some of the attacks. "When you get criticism of the show you really have to think about it and take it seriously," she says. "But when you get criticism of your Obama video by deranged conservatives then you really don't."
That said, Girls' second season doesn't so much answer Dunham's critics as meet them head on. Early on in the opening episode, we meet Sandy (played by rising comedy star Donald Glover) a black Republican law student with whom Hannah is having a fling, a piece of casting that appears to be a direct answer to complaints about the show's overwhelming whiteness.
"We always wanted to use Donald and it was a chance to have a unique conversation," says Dunham. "I think it was always something we were going to address, our show was not about ignoring the realities of being a young person in America right now, but maybe some of that was on my mind sooner than it might have been because of the dialogue that sprung up around the first season."
As an answer it sounds a little more PR-driven then Dunham's usual responses but, whatever the reason, the scenes between Glover and Dunham are among the show's most squirm-inducingly funny. In one of the best moments, Sandy and Hannah clash about his political beliefs versus her assumptions of how a black man should think. It's a hard-to-watch yet horribly believable scene culminating in an aghast Sandy sighing: "You just said a Missy Elliott lyric at me" and it works because the audience is fully aware of how awful Hannah is being.
"I've always thought Hannah was the person who would have that crazy conversation," says Dunham. "When I talk about race or sexuality I want to have a fully formed cogent argument but Hannah thinks she can just doodle around about it, and you can't." She pauses, before adding: "And that's the complicated part."
The differences between Dunham, the creator of Girls, and Hannah, the character, has clearly been on her mind of late and it's true that the intensely personal nature of Dunham's work makes it hard for people to separate the two.
"It truly doesn't bother me when people mix me up with Hannah because I understand it's a blurry line – it's a blurry line for me as well," she says. "The thing is it's a constantly evolving thing, sometimes I feel like we're totally indistinguishable and some days I feel like I couldn't be less like her. I think people who know me understand where I stop and she starts."
A self-confessed control freak who grew up worshipping the witty likes of Elaine May, Nora Ephron and Saturday Night Live star Gilda Radner, she admits to having always felt like "too much of a weirdo" to have mass appeal and remains endearingly enthusiastic about everything from finally moving out of her parents' Tribeca loft to an apartment in Brooklyn Heights to her love of medical soap Grey's Anatomy. Yet it's also obvious her life has changed a great deal in the past year. She doesn't discuss her low-key romance with Jack Antonoff, the guitarist in indie band Fun (the couple were recently pictured kissing in Los Angeles) but admits it's no longer so easy to simply hang out whether with friends or by herself. "One of my great pleasures used to be just being alone in the coffee shop or going to movies by myself and maybe that's less comfortable now."
Her sudden ascension to stardom has also brought with it a hard-won self-awareness. "When you're in a situation where you tweet something and a lot of people see it or when you say something on a show and a lot of people analyse it you definitely want to consider what you're saying," she admits. "But you also don't want it to impinge on your creative freedom so it's all about threading the needle between those two points, between understanding that you have this unique position and trying to be as free as you ever were in your expression."
To this end, the second season of Girls takes more risks than the first. The show is now more of an ensemble effort, the male characters written with more depth (the original star of Book of Mormon, Andrew Rannells is particularly eye-catching as Hannah's ex-boyfriend-turned-gay best friend Elijah) and the jokes cut ever closer to the bone. Most notably the opening episodes edge towards Peep Show- levels of darkness, filled as they are with depressing parties, failed sexual encounters and varying degrees of self-loathing.
"It's hard for me to write from a place of fantasy to see sex as glamorous," Dunham says. "I think it can be kind of a battleground. We're always trying to make sure that a sex scene is informative character-wise and not just some sort of nudity thrown in there."
She thinks that Girls divides audiences because "so much TV is kind of devoted to characters you're supposed to love and people aren't really used to characters that you're not", enjoys writing about Hannah's misadventures because she is both "an underdog" and "a little asshole", and is as interested in the show's smaller, more tender moments as in chasing the big laughs.
Her chief concern, however, is ensuring that each episode feels real. "I don't think I write thinking 'yeah I'm really going to show people the truth of a situation' but I definitely think about how lucky I am to discuss these things that are not normally seen in a television world," she says. "The fact that watching Girls could make people feel a little less alone is totally meaningful to me."
And for all her growing fame, Dunham is sanguine about how the new season will be received: "Honestly, the bottom line is if you liked what we were doing last year then hopefully you'll continue to like this," she says, and then laughs: "And if it made you insane then it will still do that too."
'Girls' starts tonight at 10pm on Sky Atlantic. The first season is out on DVD, Blu-ray and digital download from 4 February from HBO Home Entertainment
Join our new commenting forum
Join thought-provoking conversations, follow other Independent readers and see their replies