Lesley Manville interview: Mike Leigh's favourite actress will be all over our screens in the months ahead
The multi-award-winning Lesley Manville, star of many Mike Leigh films, is heading for prime time in a new TV version of 'The Go-Between', LP Hartley's tale of deceit and betrayal. But she still likes to be anonymous, she tells Gerard Gilbert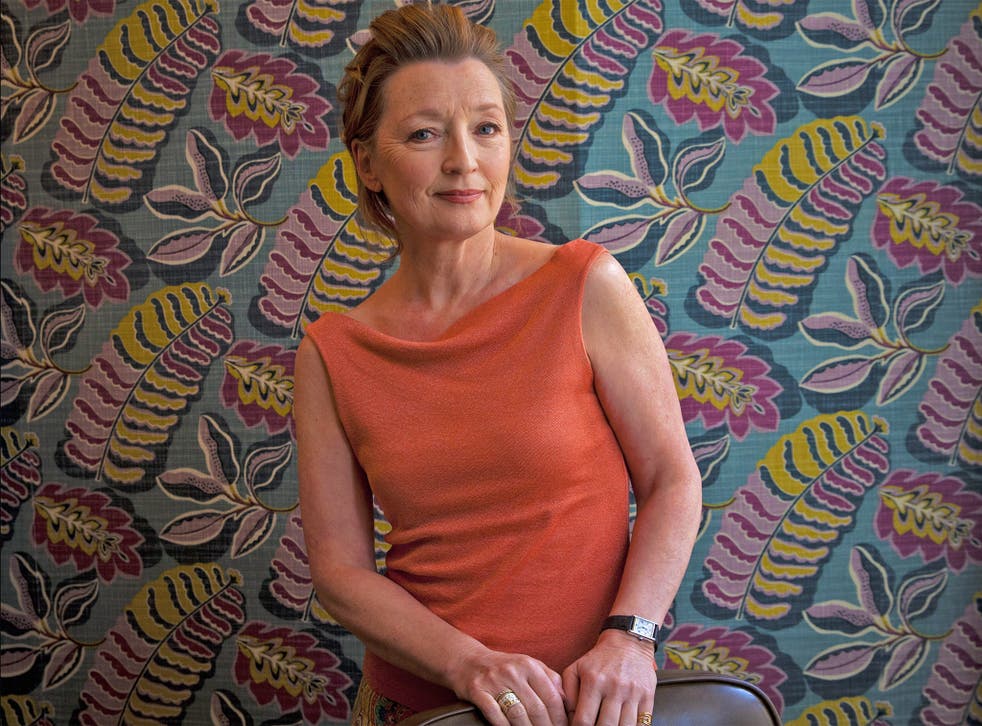 Lesley Manville has worked with Mike Leigh on 11 projects, making her the director's most frequently cast actor – more often even than Timothy Spall. On stage with the Royal Court during the Eighties she was in such celebrated productions as Caryl Churchill's Top Girls and Serious Money and Andrea Dunbar's Rita, Sue and Bob Too, while she starred in As You Like It and Les Liaisons Dangereuses with the RSC. And she has been appearing on television, from Cranford to The Queen (in which she played Margaret Thatcher), and Softly, Softly to Silent Witness since a time in the mid-1970s when Emmerdale was called Emmerdale Farm and she portrayed troubled teenage farmhand Rosemary Kendall.
One year short of her 60th birthday she was recently awarded an OBE, so why isn't Manville more famous? Was I correct in detecting a certain ambivalence when she was quoted as saying that she "quite liked" being able to travel on Tubes and buses without being recognised?
"I think, ultimately, probably no," she says when we meet in a London hotel to discuss her role in a new BBC adaptation of LP Hartley's novel The Go-Between. "If people watched The Go-Between and said 'oh, that's her from whatever', I'd hate that, because then I wouldn't be able to capitalise so much on this chameleon career that I feel I've got. Although sometimes I think 'why don't they know my name?'."
She speaks with the crystal-clear enunciation of a stage actor used to pitching to the upper circle (and which is a joy to transcribe). Indeed, it is at the theatre that Manville is most likely to be recognised. "It's when I'm at the National in the audience, or at the Almeida, because you are with an audience who have seen me in lots of things. Maybe that'll change now I'm going to be on the telly quite a lot."
Manville is in three BBC productions this autumn, starting with The Go-Between, in which she plays Mrs Maudsley, the mother grimly determined that her daughter Marian (played by Joanna Vanderham) will marry the titled but disfigured Viscount Trimingham (Stephen Campbell Moore) rather than dallying with hunky local farmer Ted Burgess (Ben Batt).
In Joseph Losey's classic 1971 film these roles were respectively taken by Margaret Leighton, Julie Christie, Edward Fox and Alan Bates. Manville agrees that these are big shoes to fill. "A very eminent friend of mine, who has to remain nameless, said, 'Oh my God... you're going to play the Margaret Leighton role, well, good luck with that.' She was so bloody fantastic..."
It is typical of Manville that she wanted to make Mrs Maudsley more than a one-dimensional late-Victorian monster – Lady Bracknell without the gags. "I wanted to tell the private story of what she's doing, otherwise she's just this blanket hard-nosed bloody mother," she says. "[There are] certain shots at certain times when you could see that it was painful for her."
After so much improvisational work with Mike Leigh, I wondered whether Manville felt constrained by conventionally scripted drama. "The misconception about Mike's work is that when you film it you are improvising and you're not," she says by way of reply. "The improvising only comes after many months of creating the characters and their histories, but you're never improvising on camera. Not all actors like it but I thrive on it."
Born in Brighton to a former ballet dancer and a taxicab driver father, Manville was a promising child singer, twice an under-18 champion soprano for Sussex, resulting in a place at the Italia Conti academy in London at the age of 16. She met Leigh when she was 22, while working at the Royal Shakespeare Company.
Access unlimited streaming of movies and TV shows with Amazon Prime Video Sign up now for a 30-day free trial
Sign up
"Mike was asked to go to the RSC to do a play but for economic reasons he had to cast from within the current company," she says. "So he did a session with me, and I was famously bad – I was a bit of a jazz-hands performer and of course he was looking for the opposite. He sort of said 'no, not really', but he literally was forced to take me on. And now I'm the person who has worked with him the most..."
Manville was part of Leigh's repertory in High Hopes (1988), Secrets & Lies (1996), Topsy-Turvy (1999), Vera Drake (2004) and Mr Turner (2014), while leading roles in All or Nothing (2002), in which she was heartbreakingly vulnerable as the unhappy wife of Timothy Spall's minicab driver, and winning multiple awards for her lonely divorcée in Another Year (2010).
Her career-changing involvement with Leigh coincided with a string of stage hits in the Eighties. She met Gary Oldman at the Royal Court while they worked on Alan Clarke's The Firm, the couple marrying and having a son, Alfie, only for Oldman to leave her when Alfie was three months old. "The great thing in hindsight was that up until Alfie was three I only did plays, which was great for him because I could be with him all day and then go and do the play at night," she says. "But of course I was a wreck because I was up with this baby in the night, I was up at six and then at half past five the nanny would come and I'd go and do a light play like Miss Julie..."
Alfie is now 27 and working his way up through the camera-crew – currently employed as a "loader" on BBC1's Silent Witness. Is Oldman still a part of their lives? "Absolutely he is, yeah, my son's just been there in LA having a holiday." Manville becomes animated when discussing actors of her son's generation. "I've got young friends in their twenties who are actors, quite successful actors, they spend their life auditioning on the phone, doing self-tapes, so they don't even get to properly meet people to chew something over," she says. "And they're all programmed to think that where they need to go is Hollywood... making movies in LA... and it's a tragedy. They look at theatre as a kind of 'do I really want to do it because there's this pilot in America?' and then they say 'your career, Lesley, has been great'. It's been great because it's got a backbone to it – knowing how to rehearse, and you only get that in the theatre."
Manville's stage career will continue next year as the morphine-addicted mother in Richard Eyre's production of Eugene O'Neill's Long Day's Journey into Night, while there are two more BBC shows this autumn, River and Mum. In River – a refreshingly unconventional take on the police procedural – scripted by Abi Morgan (The Hour, The Iron Lady), she is the boss of a troubled copper played by Swedish actor Stellan Skarsgard (Martin Vanger in The Girl with the Dragon Tattoo). "Abi Morgan absolutely didn't want to write a detective series, Stellan didn't want to be in a detective series... none of us really wanted to be in a classic detective series," she says.
Mum is a new BBC2 comedy from Stefan Golaszewski, the creator of the brilliant and only belatedly recognised BBC3 sitcom Him & Her. "It's about a very ordinary lower-middle-class... working-class, really... woman who is recovering from the death of her husband. But it's a comedy..."
Nearing 60 and dodging typecasting like the trap that it so often is, Manville's career is in rude health. In the flesh she looks younger than her years. "But it doesn't look that way when you see yourself on screen," she says. "It's very brutal this hi-definition... Oh God! It's an actress's nightmare. But I'm certainly not going to start injecting my forehead, or having somebody cut my eyelids open and sew them up again."
Despite her enviable longevity, Manville retains the actor's perennial insecurity, so that when her agent phoned with news of her OBE, and started with the words "It's not about work", Manville's first thought was the agent was going to fire her.
"Apparently now I can get married in St Paul's, and so can my son," she says of the honour. "I hold out more hope for him than me. Anyway, I suppose with my Royal Court background I should have turned it down."
One offer she did turn down as a teenager was choreographer Arlene Phillips' invitation to join her new dance troupe, Hot Gossip. "I must have had my head screwed on that day," she says. "I'd like to say that it was because I thought that a dancer's career is a short one, but the truth is that Arlene Phillips made it very clear to me that it would be quite raunchy, it wasn't going to be Pan's People. I thought I can't let my dad watch it and all his friends, it would be embarrassing. Where could I have been if I'd said 'yes' to Hot Gossip? It doesn't bear thinking about?" µ
'The Go-Between' is on BBC1 at 9pm on Sunday; 'River' begins on BBC1 in October
Join our new commenting forum
Join thought-provoking conversations, follow other Independent readers and see their replies