Life in Squares: Were the Bloomsbury Group sexually incontinent snobs or the free-thinking 'punk rockers' of their generation?
'At the moment, Virginia Woolf, especially, seems to be in tune with the zeitgeist in some way'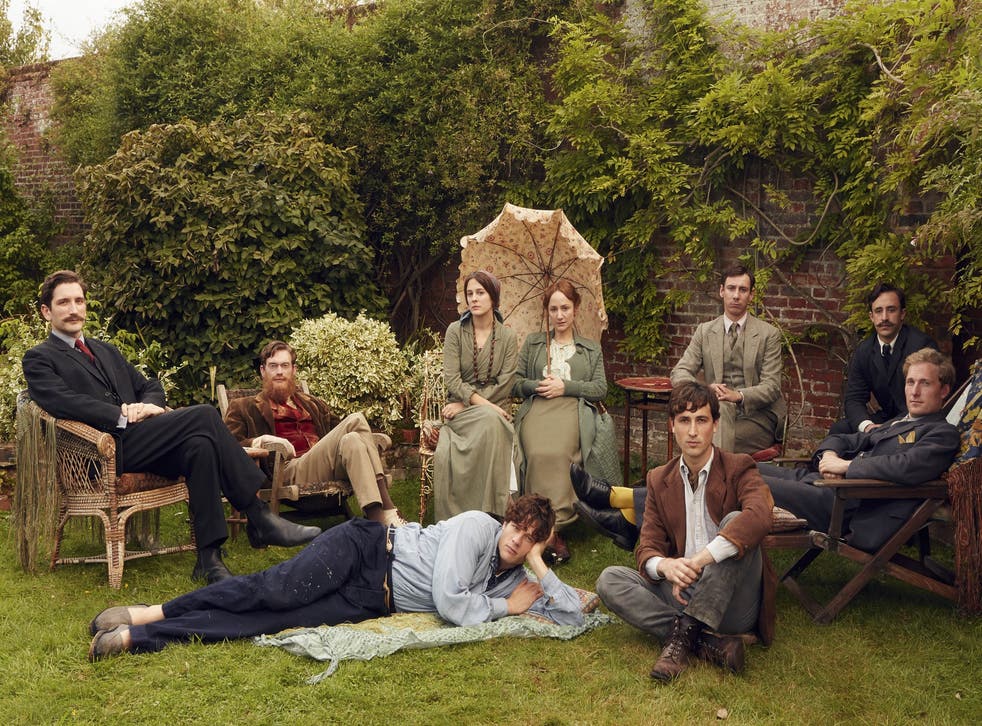 It's a hot, still summer's morning in the walled garden at Charleston Farmhouse at the foot of the Sussex downs – the former family home of artists Vanessa Bell and Duncan Grant and Bell's art critic husband Clive Bell, which is now lovingly preserved the way they lived and painted in it.
Bloomsbury had its rural outpost at Charleston, and the group that had coalesced around the sisters Virginia Woolf and Vanessa Bell and their husbands, lovers and lovers' lovers (Roger Fry, Maynard Keynes, Leonard Woolf, Vita Sackville-West and Lytton Strachey to name but a few) were either an influential group of sexually permissive writers, intellectuals and artists who introduced bohemianism and modernism to Britain, or an inward-looking, sexually incontinent clique of snobs whose self-esteem and knack for self-publicity (or at least self-publishing) far outreached their collective talents.
In her search for a clearer understanding, the Bafta-winning screenwriter Amanda Coe (Room at the Top, Filth: The Mary Whitehouse Story), has attempted to simply tell the interweaving stories of the groups' members, her three-part drama, Life in Squares, takes its title from Dorothy Parker's quip on Bloomsbury, that they "lived in squares, painted in circles and loved in triangles".
"Bloomsbury is a loose label," says Coe. "You kind of know what it means but we wanted to bring it alive again. Our aim was to strip back all that Bloomsbury mythology and to approach it as a story about a time and place and make it as intimate as possible... to tell the human stories behind it."
Coe's drama is set in two distinct periods – the first two decades of the 20th century when the group of (mainly) Cambridge-educated friends are taking to gathering at the London home of Vanessa and Virginia (played in their younger incarnations by Phoebe Fox and Lydia Leonard), and busily shaking off Victorian attitudes and exploring new ways of working and living.
How this modus vivendi worked out is the subject of the final episode of Life in Squares (with Eve Best and Catherine McCormack as Vanessa and Virginia), which is set amid the tangled boho-domesticity at Charleston.
"The decisions you make in your 20s are very different once you reach middle age," says Coe. "And in the case of Bloomsbury, a lot of chickens came home to roost."
And there were secrets and lies, most famously Vanessa's daughter Angelica Bell, who was only told on her 17th birthday that her father was not, as she believed, Clive Bell, but that she was the product of her mother's brief sexual relationship with the largely homosexual Duncan Grant. Furthermore, Angelica went on to marry the much older David "Bunny" Garnett (the author of Aspects of Love) unaware that Garnett had also once been Grant's lover.
Filming at Charleston meant that the production was able to use the places where key scenes actually took place. "Things like Eve Best and Lucy Boynton as Vanessa and Angelica doing the scene in the garden room at Charleston where Vanessa is telling Angelica that Duncan's her father," says Coe. "That's where it really did happen."
Access unlimited streaming of movies and TV shows with Amazon Prime Video Sign up now for a 30-day free trial
Sign up
Back in the walled garden, Best and McCormack, dressed in long, flowing 1930s skirts and cardigans, are reflecting on their surroundings. "Being in Vanessa's studio among her old paint and easels which were completely untouched, as if she'd just put down her brush and nipped out for a cup of tea, was very special," says Best. Adds McCormack: "Even if you're not a method actor, you can't help but be affected by your surroundings. The River Ouse, where Virginia killed herself, is not far away."
For the younger cast members, Phoebe Fox, Lydia Leonard and James Norton (who plays the younger Duncan Grant), who shot their scenes in London, a later visit to Charleston evoked very different emotional responses. "James thought it was wonderful and lovely," says Leonard, who played Anne Boleyn in the RSC's adaptation of Wolf Hall and Bring Up the Bodies. "But it made me feel really quite sad because I find Vanessa's life sad, especially towards the end."
"I've had a lot of shagging to do," Norton (Grantchester, Happy Valley) says cheerfully – his costume trousers held up with a length of rope, just as Grant's used to be. "Someone defined the Bloomsbury Group as what united them was this shared love of Duncan Grant."
Aside from his affair with Vanessa, most of Grant's lovers were male – most famously the biographer Lytton Strachey. "I'm a straight guy kissing guys, which I wouldn't normally choose to do," says Norton. "But in a strange way – because it's so alien to you – you're almost taken on a bigger journey as an actor."
We're joined by Rupert Penry-Jones (Spooks, Silk), his blond hair dyed brown, who plays the older Duncan Grant. "By the time it gets to my part of the story, it's very much about his relationship with Vanessa," he says. "It must be strange for her being in love with somebody and living with somebody who wasn't in love with her." Penry-Jones reckons that the Bloomsbury Set were the punk rockers of their generation, or the original hippies. "Sitting in the garden, drinking lemonade and discussing philosophy – people don't do that any more. How much of this would have been done if they'd had TV sets or the internet?"
Or if they hadn't had servants and inherited money? In her recent BBC4 series How to Be a Bohemian with Victoria Coren Mitchell, the broadcaster concluded that the Bloomsbury Group didn't qualify as bohemians because they were upper class and therefore used to doing exactly as they pleased. Amanda Coe thinks this unfair.
"There's no doubt that they came from quite privileged backgrounds," she says. "But in terms of the Stephens, who were Vanessa Bell and Virginia Woolf's parents, they were very much a liberal intellectual family who all worked; there wasn't the sense that you just inherited the family pile and had a lovely time."
As for the question of the Group's oft-remarked anti-Semitism – even from Virginia, who was married to a Jew – Coe thinks it typical of their generation. "I'm not going to try and endorse them as shining beacons of contemporary liberal thought," she says. "But they were very much a product of their time."
Attitudes towards the Bloomsbury Group itself have always been decidedly mixed, even in their prime, championing Post-Impressionism by exhibiting Gauguin, Matisse and Van Gogh, or publishing TS Eliot and EM Forster through the Hogarth Press, while for a period between the Second World War (during which Virginia Woolf committed suicide and this Coe drama ends) and the 1960s they even fell completely out of fashion.
"At the moment, Virginia Woolf, especially, seems to be in tune with the zeitgeist in some way," says Coe. "There's been an exhibition last year at the National Portrait Gallery [Virginia Woolf: Art, Life and Vision], the Wayne McGregor ballet Woolf Works, and at least two novels published about Virginia Woolf in the past six months.
"It's an intangible thing how they affected society but they seemed to foreshadow the way a lot of people live their lives now, and I think that's part of what makes their story so accessible."
'Life in Squares' begins on 27 July on BBC2
Join our new commenting forum
Join thought-provoking conversations, follow other Independent readers and see their replies