The People v OJ Simpson: How the trial of the 20th century became the TV event of 2016
After the success of 'The People v OJ Simpson', two more TV projects about the notorious 1995 murder trial are in the works – one claiming that OJ's son was the guilty party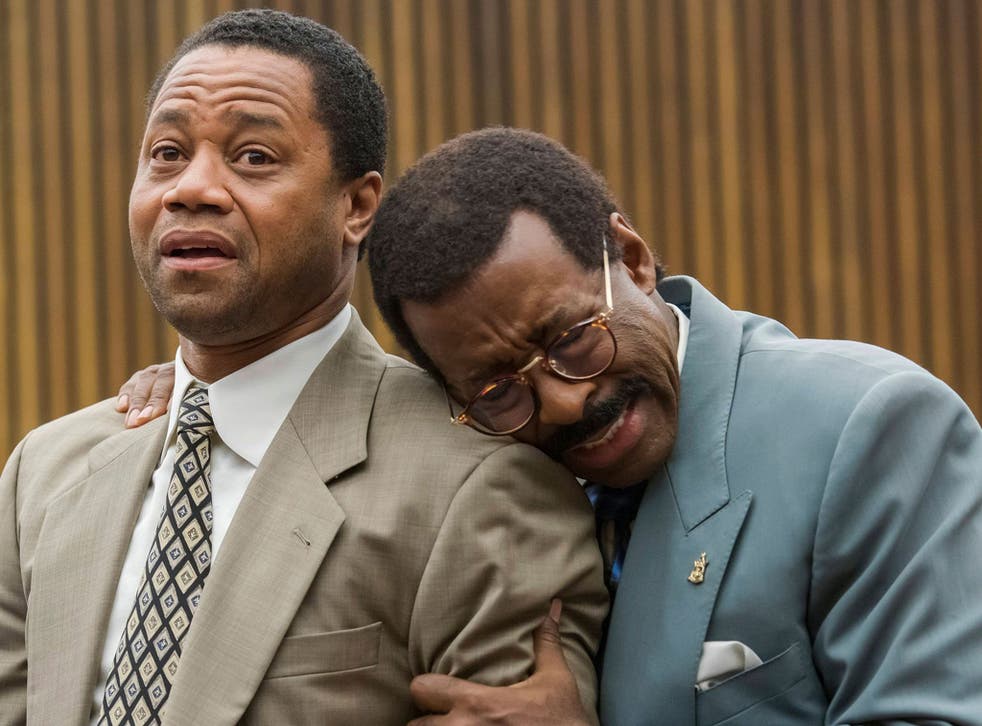 The trial of the 20th century has become the TV event of 2016. The People v OJ Simpson, a dramatisation of the football star and actor's 1995 trial for the murder of his ex-wife Nicole and her friend Ronald Goldman, was the most acclaimed show on US screens this year. Now, as the mini-series ends its broadcast run on the BBC, at least two more OJ-related projects are in the works.
In June, ESPN will debut its five-part documentary series about the case and its historical context, OJ: Made in America. Directed by Ezra Edelman, the series premiered at the Sundance Film Festival in Utah, where it was hailed as the equal of other recent, celebrated true-crime series such as HBO's The Jinx and Netflix's Making a Murderer.
More controversially, the true-crime cable channel Investigation Discovery has commissioned a separate, six-part series that will re-investigate the Simpson case. As the show's working title suggests, the producers of Hard Evidence: OJ is Innocent claim to have uncovered compelling evidence of a new theory about who killed Nicole Brown Simpson and Ronald Goldman.
OJ Simpson, star of the American football field and, later, the Naked Gun movies, was found not guilty of the 1994 murders despite a trove of evidence and the apparent absence of any other viable suspect. His televised trial gripped the public across the US and beyond, exposing and widening the deep fissures in US race relations. It also showed how far feminism still had to go in defeating ingrained misogyny, and arguably gave birth to the reality TV era. As the success of The People v OJ Simpson demonstrates, all three themes still resonate today.
That series boasted an all-star cast including John Travolta, David Schwimmer and Sarah Paulson, with Cuba Gooding Jr as Simpson. Hard Evidence also has star backing: Martin Sheen will act as both its executive producer and narrator. And the show's hypothesis will come as a surprise to many who believe the case was closed in 1995.
The new documentary is based on the work of Texas private investigator William Dear, who has spent more than 20 years compiling stacks of evidence which, he says, support his allegations. And – dismissing the recent discovery of a knife that was alleged to have been used in the killing but proved otherwise – he claims to have seen another that he believes was the murder weapon.
Dear is convinced the real killer was Jason Simpson, OJ's son from his marriage to his first wife, Marguerite, and that OJ helped Jason to cover it up. Dear has self-published two books on the subject, including his 2012 tome OJ is Innocent and I Can Prove It. He argues that Jason had both the means and the motive to commit the murders. Yet when journalist Tony Ortega studied Dear's theory, he concluded it was "horseshit". Ortega interviewed Dear for a 2001 piece in the New Times Los Angeles, republished in 2012 by the Village Voice. Dear failed to explain why OJ's blood was all over the crime scene, and presented a timeline for the cover-up that was "a complete farce", Ortega wrote.
When the docu-series was announced last month, Marcia Clark, the prosecutor at Simpson's 1995 trial, described the project as "offensive". Dear's theory, she told ABC's Today, contained "no real logic…no evidence." Jason Simpson, she added, "can't defend himself: what is he going to do? 'It's not me, it's my dad'? What a hideous thing for them to do".
Martin Sheen met Dear through his own son, Charlie, who befriended the investigator several years ago after becoming fascinated by his theory. Speaking to Entertainment Tonight, Sheen urged Clark and other sceptics to "reserve judgement" on the series. "There's a lot of information and a lot of evidence that has never been uncovered before, so, we're just going to present some questions pertaining to the evidence and see where it lies – that's all," he said.
Access unlimited streaming of movies and TV shows with Amazon Prime Video Sign up now for a 30-day free trial
Sign up
Dear, meanwhile, said he was excited that he will finally see his theory given serious screen time when the series premieres on Investigation Discovery early next year. "I'm hoping that… the evidence should be more than enough to get a grand jury indictment," he told the Hollywood Reporter. "If I accomplish that, I will have accomplished a great deal in my life."
Join our new commenting forum
Join thought-provoking conversations, follow other Independent readers and see their replies