The role of race in the life and literature of Alexandre Dumas: The episode that inspired the man behind the Musketeers
A new adaptation of Dumas' classic tale is set to screen on the BBC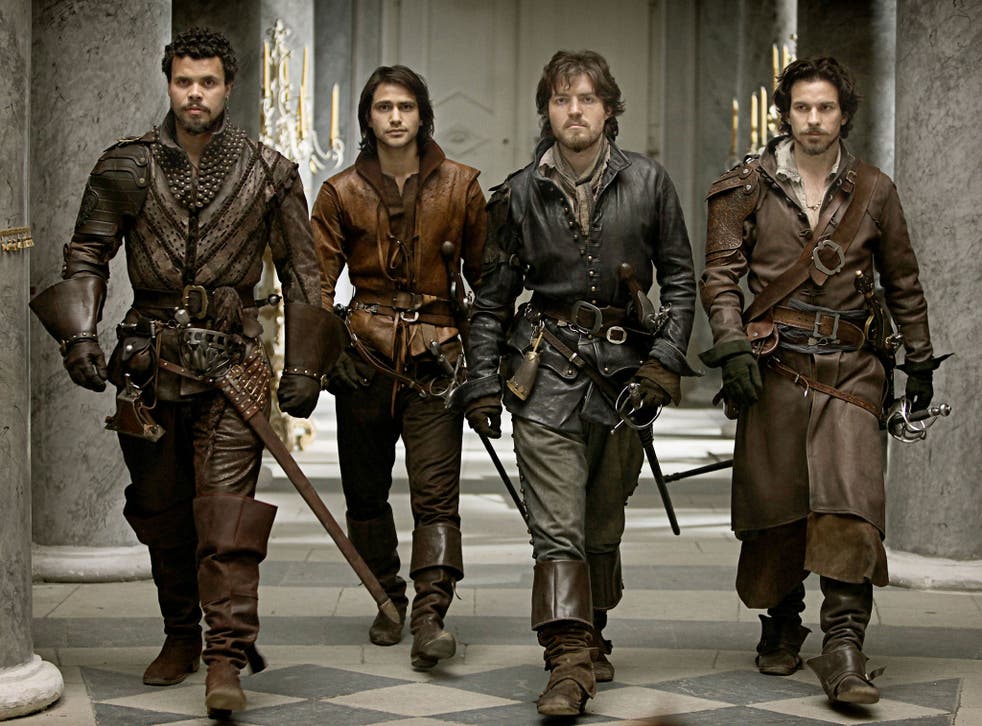 In September 1784, an unpleasant incident took place at M. Nicolet's fashionable theatre in Paris. A young, aristocratic man-about-town, born in the French colony of Saint-Domingue (now Haiti), had escorted to the play an elegant lady whose family also came from the West Indies. Dashing, handsome, the son of Count Davy de la Pailleterie might have seemed the ideal squire for the evening. Save, in many eyes, for one thing. He was black – notably dark-skinned, the mixed-race youth had a slave mother – and his companion white.
At Nicolet's, a white West Indian officer, Jean-Pierre Titon de Saint-Lamain, decided that it would be good fun to insult the count's black son. First, he pretended to mistake the young man of colour for the lady's lackey. Then, after an affray, Titon's henchmen forced the victim to kneel in front of his assailant and ask for pardon. Soon the police arrived and took both men into custody. Statements were taken, but no further action followed. In 1786, the humiliated colonial boy forsook his life of leisure to embark on a military career. He enrolled in the Queen's Dragoons under a surname not his father's. Instead, he chose the identity of his slave-born mother: Marie-Cessette Dumas.
General Alex Dumas (as he became) joined the French revolutionary armies at the moment when it looked as if the upheavals of 1789 would usher in a golden era of racial equality. He served, with distinction, in Italy and Egypt and rose to command forces 50,000 strong. For a while, this 6ft 2in black "Hercules" embodied all the nobility and idealism of the revolution. He had married a Picardy innkeeper's daughter, Marie-Louise-Elizabeth Labouret. In 1802, they gave his forename to their third child and only son.
By the early 1850s, this Alexandre Dumas had become not only the famous novelist but, arguably, the most famous Frenchman in the world. At this point, garlanded with international fame and quickly spent riches, he wrote his memoirs. Dumas the novelist adored and hero-worshipped his father, who had died in 1806 but left indelible memories. The first 200 pages of My Memoirs deal with General Alex; in fact, Dumas abandons the narrative of his own life at the age of 31. But in his version of the contretemps at Nicolet's, the strapping young Alex picks up Titon and chucks him into the orchestra pit. This is a feat of derring-do worthy of... well, worthy of a musketeer.
Dumas says nothing of the racial abuse directed at his father; nor of the forced submission. Thanks to the researches of Tom Reiss, whose terrific, Pulitzer-prize-winning biography The Black Count reveals the story of General Alex Dumas, we know what had really happened. As Reiss argues, that evening at Nicolet's feels like the psychological DNA of one of the most successful careers in all literature.
Time and again, the child of the mocked and dishonoured man of colour would invent sons who valiantly keep faith with slighted fathers; victims of gross injustice who pursue vengeance and vindication; short-fused warrior heroes whose swords jump from the scabbard at the merest whiff of an insult. At the start of The Three Musketeers, d'Artagnan's father tells his son, "never submit quietly to the slightest indignity", for "it is by his courage alone that a gentleman makes his way nowadays… Have no fear of many imbroglios, and look about for adventures". He, and his creator, did exactly that.
The avenging of racial insults explicitly propels the plot of Dumas's novel Georges, published in 1843. By then, the super-productive playwright, revolutionary and all-round Romantic celebrity had begun to shift his attention from the theatre to lucrative serial fiction – feuilletons – for the new mass-market Parisian press. In that book, Georges, the son of a mulatto planter on Mauritius, seeks retribution for his brave but scorned father. Later, he leads a slave revolt. In the other novels of the 1840s that turned Dumas into a global superstar, the outsider-avenger loses this racial identity. D'Artagnan himself is a Gascon, swarthy, proud and touchy – the Scots of France, in Dumas's words.
The Three Musketeers, which this week inspires yet another spin-off set of adventures in the form of a BBC series devised by Adrian Hodges (which will be broadcast on BBC1 at 8pm on Sunday), first ran as a serial in Le Siecle in 1844. Soon Dumas, working as often from the basic plot "treatments" supplied by his collaborator Auguste Maquet, would follow it up with Twenty Years After. By 1850, he had extended the adventures of the Musketeers to the 1660s with the enormous trilogy The Vicomte de Bragelonne – now best known for its concluding section, The Man in the Iron Mask.
In late 1844, however, another plot captured the imagination of this absurdly prolific author. (Dumas was accused of running a "fiction factory" staffed by ghost-writers; in reality, it was mostly poor old Maquet, cranking out synopses and sketches that the boss would bring to life.) He interrupted the Musketeers sequence to pen the novel that most perhaps directly bears on his family history: The Count of Monte Cristo. After escaping the Chateau d'If, its wronged protagonist Edmond Dantès doggedly goes about Europe wreaking revenge on the enemies who put him there. Once again, a Dumas plot that mesmerised the literary world seems to have grown out of a very private wound.
By the late 1790s, Alex Dumas had matured into the revolution's poster-boy, attractive, intrepid and invincible. When the French invaded Egypt in 1798, local people hailed the dark-skinned, god-like "centaur" who – so they thought – led the foreign army. The Egyptians also noticed another officer, a "short and skinny" weakling in comparison. The shrimp was Napoleon Bonaparte.
Soon enough, Bonaparte's rivalry with – or envy of – the charismatic West Indian would have deadly consequences. When Alex fell into enemy hands on the return from the Egyptian expedition, the French high command left him to rot for two years in a Neapolitan fortress. His health broken, he died a few years later. The new Emperor Napoleon, meanwhile, had expelled black officers from the armed forces and reinstituted slavery in France's overseas possessions. Unlike Dantès, General Alex could never find redress for himself or the countless people of colour whose revolution proved a false dawn.
Although shorn of any racial dimension, so much of the galloping melodrama that still enthralls readers and viewers (The Three Musketeers alone has spawned 100 film versions) sounds like filial wish-fulfilment. Often, Dumas stages a sort of fantasy justice brought about by flashing blades, cunning ruses, last-gasp duels, against-the-odds skirmishes, and retributive traps that spring shut on perpetrators who believe that they have got away with dastardly crimes. Dumas was proud of his African ancestry – as proud as d'Artagnan is of being a Gascon. After Georges, though, it vanishes as an overt theme in his work. For hostile critics and caricaturists, nonetheless, racially aggravated mockery routinely served as a stick with which to beat the uppity bestseller.
Athos, Porthos, Aramis and d'Artagnan (who only formally joins them at the end of The Three Musketeers) are gentlemen at arms in the strife-ridden France – and England – of the early 17th century. They dedicate their swords to an ideal of their homeland more than to the scheming statesmen and wayward monarchs who really govern it. This self-fashioned patriotism, immune to the misdeeds of the powerful, feels very close in spirit to the career of the author's father. He was a man betrayed by his superiors, but not by his idealised patrie.
In the novels, the chief ministers – Richelieu and Mazarin – try to thwart the gallant company at every turn. Queen Anne, focus of the Musketeers' loyalty, does precious little to deserve it. King Louis XIII is no more than a cipher. In defiance of history's adverse judgment, Dumas dares to make the only politician to merit their respect and allegiance an Englishman. The Duke of Buckingham, deeply resented favourite of James I and Charles I, is transformed by fiction's magic wand into "an astonishment to posterity… the handsomest man, and the most complete gentleman, of France or England". You wonder how much the companions' free-floating chivalry, which bows to personal distinction far more than to court hierarchy, owes to memories of the black soldier who served an imaginary nation only to fall foul of the actual state.
Readers new to the novels may be surprised that this most French of cultural exports depends so much on the high politics of England. From Buckingham's botched raids on the Protestant stronghold of La Rochelle in the 1620s, through the trial and execution of Charles I (which the Musketeers, Zelig-style, attend and do their damnedest to prevent) to the Restoration of Charles II (thanks to Athos and chums), cross-Channel intrigue repeatedly lends the plots their spine. The entire sequence tracks, at one remove, the long crisis of the Stuart monarchy and its destabilising outcomes across Europe. For Dumas and his audience, living through post-revolutionary decades when monarchists and republicans battled for the soul of France, the age held up a mirror to their own.
But forget weak kings and wily courtiers. Dumas furnishes the Musketeers with a sworn enemy who stands in the first rank of literary villains. Milady de Winter, Richelieu's spy and Buckingham's foe, threatens them with a venomous and spiteful cunning that no amount of acrobatic swordplay can vanquish. From the first time that d'Artagnan spots the "pale, fair person" in her carriage, "with long, curling hair falling on her shoulders, large blue languishing eyes, rosy lips, and alabaster hands", he is both smitten and scared by a dangerous beauty "completely different to that of his own southern country".
This blonde bombshell, perhaps the most memorable of all 19th-century femmes fatales – appears to be English. Only at the novel's very end do we discover that the murderous Milady is a seductive ex-nun called Anne de Breuil who – horror of horrors – has turned herself into an Englishwoman. Her "almost infernal genius" frightens even her patron Richelieu. During one fateful encounter in Paris, d'Artagnan watches in awe as Milady switches between charming refinement and terrifying "ferocity". At one point: "She tore her handkerchief to pieces with her teeth." Has any historian of European disputes in the 1980s speculated that when senior French diplomats and politicians witnessed Margaret Thatcher in full flow, they might well have summoned youthful memories of the fearsome Milady de Winter?
Dumas made up Milady. Throughout the Musketeers cycle, he weaves fictitious characters around real events and historical figures. D'Artagnan he did not wholly invent, although the actual Charles de Batz-Castelmore, seigneur of d'Artagnan, sounds like a low-profile plodder. As for multi-media adaptations and re-tellings, he played fast and loose with his own creations and so licensed later plunderers to do the same. The first stage Musketeers began to swashbuckle in October 1845. By 1849, the imagined youth of the quartet had reached the stage. Fresh adventures of the sort that Adrian Hodges has manufactured have a pedigree almost as long as the books themselves. And their creator would surely have greeted with a knowing smile the news that Hodges's Porthos (played by Howard Charles) will be black.
The least "pure" and most generous of artists, Dumas would surely have smiled at each new incarnation – even the animated Dogtanian and the Three Muskehounds. No silly cartoon – or misbegotten movie – can crush d'Artagnan and his friends. "For what Dumas describes is a Homeric clash of Titans," as his editor David Coward puts it, "and his characters are gods."
Dumas relished his life, and the privileges and pleasures that his mythic tales earned. He made and lost fortunes as quickly as he wrote bulky novels. He meddled in revolutionary politics first in France and then in rebellious Italy (where he founded a paper called The Independent). He ran through perhaps 40 mistresses and sired (at least) seven children with them. His published works comprise 300 volumes and 100,000 pages. After packing around five lives into one, he died after a stroke in 1870 – the same year as Charles Dickens, whose A Tale of Two Cities pays its own tribute to the style of the comrade with whom he dined in Paris. If living well is the best revenge, then Alexandre made the bigoted society which had tried to humble General Alex kneel to him.
Join our new commenting forum
Join thought-provoking conversations, follow other Independent readers and see their replies