The Undateables: Freak show TV or challenging prejudice?
Channel 4 defends series that finds dates for disfigured and disabled people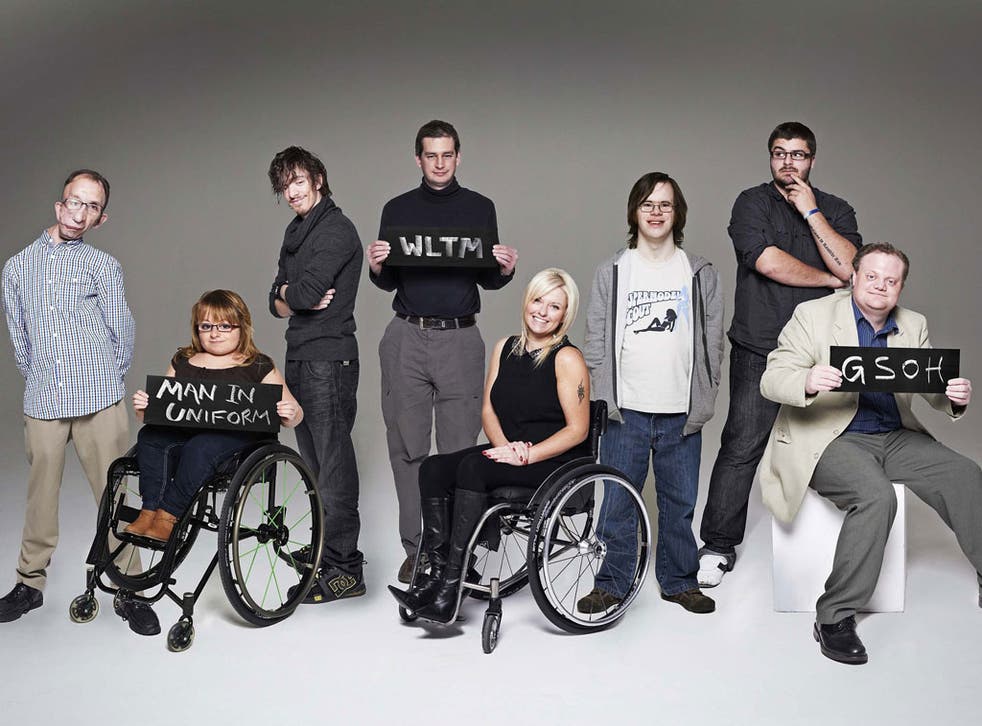 The show has not even aired yet, but the backlash has begun. Six people with facial disfigurements or physical or developmental disabilities are plastered across Channel 4's latest advert, which brands them "The Undateables".
Or so it seems. While critics attack the marketing of the new prime-time reality TV show as "sensationalist", "harmful" and akin to exploitative Victorian "freak shows", Channel 4 argues that the campaign and title of their new series, to be aired next month, is a reflection of society's own prejudices. The nine people featured looking for love on air have a range of conditions – from autism and Down's syndrome to learning disabilities or physical impairments – but ultimately, the show's producers say, the three-part series explores the "universal desire to find love". Episodes begin with Cupid's arrow cutting through the "Un" of "Undateables".
For some, this is hard. Seventy per cent of Britons would not consider having sex with someone who had a physical disability, according to the most recent survey of the nation's opinions on sex. Just over one in four would not rule out the possibility, while only 4 per cent have had sex with someone with a physical disability. The Undateables sets up disabled people with able-bodied matches and does not sugar-coat it: it can be difficult. Richard, a man with Asperger's, is dumped halfway through his first date when he starts snacking off his companion's plate.
For those with less obvious conditions, things get even more complicated. Stars in the Sky, a dating agency set up by two women with learning disabilities solely for people with learning disabilities, has anywhere between 150 to 400 people on its books at any one time. They set up chaperoned dates for some of the contributors; Sam, a man on the show with Down 's syndrome, found a girlfriend. They are still dating.
Asked why the agency caters only for those with learning disabilities, its administrator, Lydia Jones, said: "It's difficult to have relationships where one person doesn't have a learning disability, because the power always shifts to the [non-disabled] person."
The disability charity Mencap worries that the packaging of The Undateables could "be seen to do more harm than good", portraying people with disabilities in an "unflattering" way. But all the participants in the show who spoke to The Independent on Sunday were happy with it. Justin, 39, from the Midlands, has a facial disfigurement, and was seen as one of the most "challenging" dating assignments on the programme. He says of the title: "Maybe it could have been a little kinder, a little more considerate. But this little controversial headline means people go to the website, write and talk about it. All those people slagging it off? You can bet your bottom dollar they'll be watching it."
Justin Coling, 39, from Rugby, Warwickshire
Justin, a stock assistant, has neurofibromatosis, a condition that causes tumours to grow on his skin. He had never been on a date before appearing on the show, but said he would never blame his condition for not finding love.
"When I was told the show was called The Undateables, I did take a deep breath in. I wasn't sure about it. But the whole point of it is so that people with disabilities can date. I don't suppose anybody is easy to find a date for, but mine went really well. I heard she wasn't found through the dating agency, but from another source. I didn't mind that, but I did ask for someone local and she lives 179 miles away.
"The female population has never really shown any affection towards me and I've never really pushed it or pursued it. I'm not looking for sympathy – there have just been extra challenges. I've learnt if I'm going to meet someone, I need to get up and go out. I've registered on another dating site and I am on the lookout. She has got to be kind, considerate, thoughtful and understanding."
Access unlimited streaming of movies and TV shows with Amazon Prime Video Sign up now for a 30-day free trial
Sign up
Haydn Clark, 24, from Milton Keynes, Buckinghamshire
Haydn has Crouzon syndrome, a genetic condition which interferes with the growth of the skull. He has already had 40 operations, spent half his life in hospital and is partially deaf. Originally applying for Channel 4's controversial Beauty & the Beast, Haydn is matched with 22-year-old Charlotte on The Undateables. He decided not to follow the date up, because he says they did not share the same chemistry.
"It was a nice day, despite the fact I had bad hearing at times; it was fun. But we didn't share that connection. I have had a couple of experiences in the past where I have been rejected and that put me down a lot. When it came to women, I didn't think it would work out. I've realised now I've got to go and look for them. The way the billboard was done does seem a tiny bit offensive, but the heart's in the right place. People might criticise the show, but they need to sit down and watch it. I think they'll be smiling by the end. It has made me more confident. I am single, but I might start looking again."
Luke Montegue, 23, from Southport, Merseyside
Luke is a stand-up comedian who has Tourette's syndrome. He hasn't had a serious girlfriend for a few years and says his condition makes it extra challenging to date. While he asked the show's producers if they could change its title when he first heard it, he says he never, at any point, felt as if he was being ridiculed. After going on two dates with 21-year-old Lucy, they remain in touch and are good friends.
"I'd rather take on 500 people in a room than one girl. At least if you tell a bad joke, you can work on it, and there's always the chance to do it again on stage. You only get one chance to make a first impression. When I get really nervous, I pull facial tics and make sudden movements. I can look a bit mental. Then I tic more, and girls probably think I'm a bit weird. I'm sure it's more than the Tourette's, though, but it doesn't help.
"I definitely think there should be more people with disabilities on TV. Why do they use fit models and normal-looking people, when they could use me or others? It's about making everyone feel equal."
Join our new commenting forum
Join thought-provoking conversations, follow other Independent readers and see their replies