A Very English Scandal: Why sex and politics are natural bedfellows in TV drama
As Hugh Grant stars as the disgraced Liberal Party leader Jeremy Thorpe in a new BBC drama, we look back at how political sex scandals make it to the small screen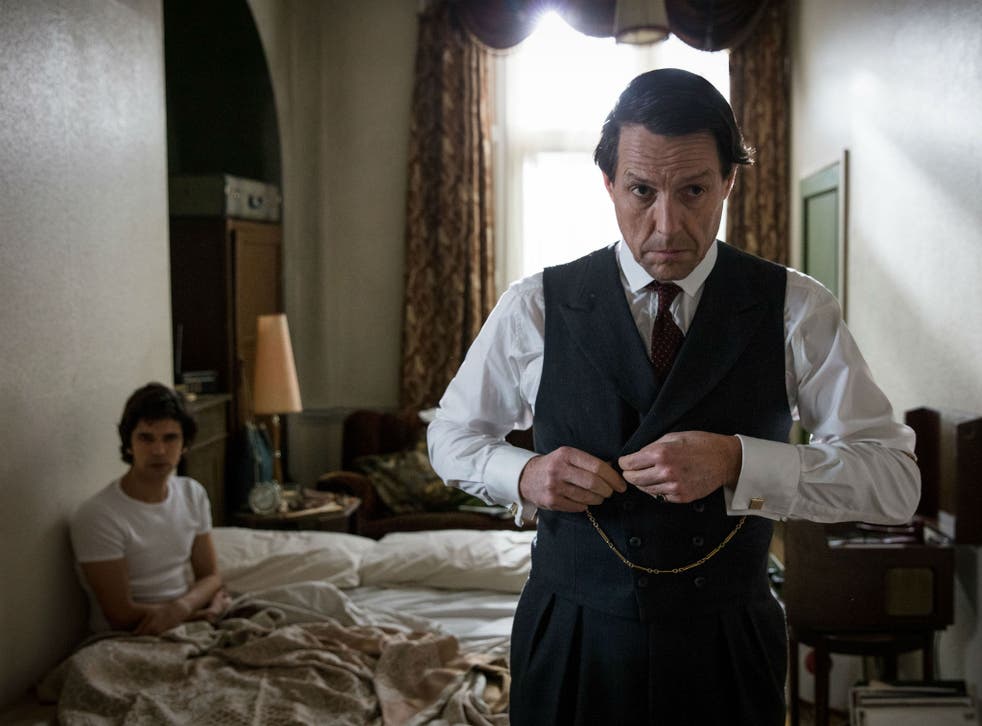 The two most infamous British political sex scandals of the past 70 years were the Profumo affair, and the events preceding the Jeremy Thorpe "trial of the century".
The high society sex-and-spies Profumo affair of the early 1960s almost brought down Harold Macmillan's Conservative government, while by 1976 Liberal Party leader Jeremy Thorpe's career was approaching its eventual disintegration due to his alleged involvement in a conspiracy to murder his one-time lover Norman Scott.
Both the Profumo and the Thorpe scandals are to be the subject of TV dramas. This month sees a three-part drama, A Very English Scandal – based on the latter – air on BBC1 while The Trial of Christine Keeler has also been commissioned by the BBC for next year.
Christine Keeler was at the nexus of the Profumo affair, having slept with both the British war minister Jack Profumo and Russian spy Yevgeny Ivanov. Written by Apple Tree Yard's Amanda Coe, the six-part drama will – according to co-producer Kate Triggs – "put the young Christine Keeler at the heart of the story and explore how her sexuality is a currency for rich and powerful men resonates into the world we're living in today".
It's not the first time the Profumo affair has caught the eye of the adaptor. And if the case is the better known of the two today, that's in part because it's already been the source material for a film (Scandal, 1989) and a musical (Andrew Lloyd Webber's Stephen Ward, 2013), and recently featured in season 2 of The Crown.
This is, however, the first time that l'affaire Thorpe has been the subject of a TV drama. The show concentrates on the relationship between the Liberal leader and Norman Scott, and the tumultuous events that led to Thorpe's trial for plotting to murder his lover in 1979.
The trial was something of a target for satire at the time though – most famously, Peter Cook's masterful nine-minute demolition of the Thorpe trial Judge Cantley (who famously described Scott as "a crook, an accomplished liar, a fraud, a sponger, a whiner, a parasite") in 1979's Amnesty International fundraiser The Secret Policeman's Ball.
The satire even spilled back into politics.
Norman Scott's Great Dane Rinka was shot in what he claimed was an effort to silence him ('Rinkagate'), which led to famed Private Eye diarist Auberon Waugh standing for parliament against Thorpe in the May 1979 general election as a candidate for the Dog Lover's Party.
Waugh polled only 79 votes, but Thorpe lost to the Tories. In the trial that followed a few days after his election defeat, Thorpe was acquitted, but he never returned to politics, despite a number of doomed attempts to re-enter public life. He died in 2014.
Access unlimited streaming of movies and TV shows with Amazon Prime Video Sign up now for a 30-day free trial
Sign up
A Very English Scandal uses a stellar cast to tell this story, with Ben Whishaw as Scott, and Hugh Grant as Thorpe, in his first major UK TV role since 1991's The Trials of Oz for BBC2. This too was based on real-life events: the Oz magazine obscenity trial, with Grant playing editor Richard Neville.
Grant, who has grown visibly bored with the slew of mediocre romcoms he has mainly churned out since he became a star in 1994's Four Weddings and a Funeral, now appears willing to stretch his acting chops in more challenging character parts.
At a Bafta talk last December, when discussing the challenging role of Thorpe, Grant cited it as evidence that he is "better" at acting these days: "I've been acting about 34 years and I think I was s*** for 17, and then better for 17."
Plus the actor is no stranger to a sex scandal himself: in 1995, Grant was arrested in LA for "lewd conduct in a public place" along with Estella Marie Thompson, a sex worker using the name Divine Brown; he was dating the actress Liz Hurley at the time.
Behind the camera, the BBC have secured talent that should be well-suited to the material, with writer Russell T Davies (who penned seminal gay drama Queer as Folk and comedy Cucumber) and veteran director Stephen Frears.
Frears is well versed in translating real-life events into drama, having helmed Blair/Brown pact drama The Deal (2003), The Queen (2006) and the Lance Armstrong biopic The Program (2015).
British political sex scandals have a long history in UK TV drama, although libel laws are probably what has often steered the subject into the realm of fiction.
These included prestige dramas such as The Politician's Wife, in 1995, followed by The Politician's Husband a whole 18 years later, which dealt with betrayals emotional and political.The little-seen ITV two-part drama Faith (1994) cast the reliably morally ambiguous Michael Gambon as a high-ranking government official with a double life.
Satire is often the preferred approach, however – we love to laugh at those in power when they get in a pickle (especially if it involves embarrassing sex).
Think of 1985's Blott on the Landscape, which features a bumbling, corrupt MP, a formidable wife and an incompetent dominatrix; 1989's Blore MP, a farce where a British politician gets caught up with a Russian, or The New Statesman, the Eighties sitcom starring Rik Mayall as Alan B'Stard, an oversexed, sleazy, thoroughly nasty Tory MP.
Indeed, there has been talk of B'Stard returning to our screens (albeit with a new lead actor in place of the late Mayall). The writers Laurence Marks and Maurice Gran are developing a show, The B'Stard Legacy, that will follow his son Arron who, alarmingly, they claim has "the same hair-trigger penis". Let's hope they've been paying attention to the #MeToo developments…
More recently, on our screens we've had the spoof-noir The Hunt for Tony Blair, where Stephen Mangan as the PM tried to evade the police after bumping off his former foreign secretary Robin Cook, and the notorious Black Mirror episode "The National Anthem". No one has yet forgotten, surely, how life turned out to have (allegedly) imitated art when it comes to prime minsters and pigs.
Many of these fictional dramas have woven real life incidents and gossip into their storylines, avoiding any possible legal entanglements by not naming their targets explicitly. Of course, this was not something the satire Jeffrey Archer: The Truth (BBC2, 2002) had to worry about, due in part to Archer's previous convictions for perjury and perverting the course of justice.
Archer, of course, was the author of 1984's political pot-boiler First Among Equals, made into a successful TV series by ITV two years later – his protagonists all tinged by scandal in some shape or form.
Even the name of A Very English Scandal lightly recalls a previous sex scandal drama: A Very Social Secretary, the 2005 comedy drama about David Blunkett, and the former home secretary's affair with journalist Kimberly Quinn. The show was both broad and brutal in its lampooning.
By comparison, former Labour deputy PM John Prescott got off relatively lightly when ITV sent his antics up in 2007's "saucy" Confessions of a Diary Secretary. Daybreak Pictures, who made the show seemed to have a cottage industry in political drama, having also produced the aforementioned A Very Social Secretary, as well as The Trial of Tony Blair, The Government Inspector (about the late Dr David Kelly), The Politician's Husband and Churchill's Secret.
If successful, A Very English Scandal might spur interest in other political sex disgraces that hit the headlines over the years. These could, perhaps, include The Cecil Parkinson Affair (1983), Harvey Proctor's Rent Boy Furore (1986), Ron Davies's "Moment of Madness" aka Watching Badgers on Clapham Common (1998). More recently, they might look to Liberal Democrat MP Mark Oaten's "three-in-a-bed" male escort episode (2006), or Keith Vaz's more recent travails in a similar vein (2016).
Looking at A Very English Scandal, there's no guarantee that audiences will have the appetite for three episodes of this particular story, which may be better suited to the single film format. But if the show succeeds, expect the production companies to be raiding the political scandal larder for further tales of sex, sleaze and criminality.
'A Very English Scandal' is on BBC1 from 20 May
Join our new commenting forum
Join thought-provoking conversations, follow other Independent readers and see their replies