The Walking Dead season 7: Abraham actor Michael Cudlitz tells us which alternate character's death scene was the most disturbing
The actor behind one of Negan's victims reveals all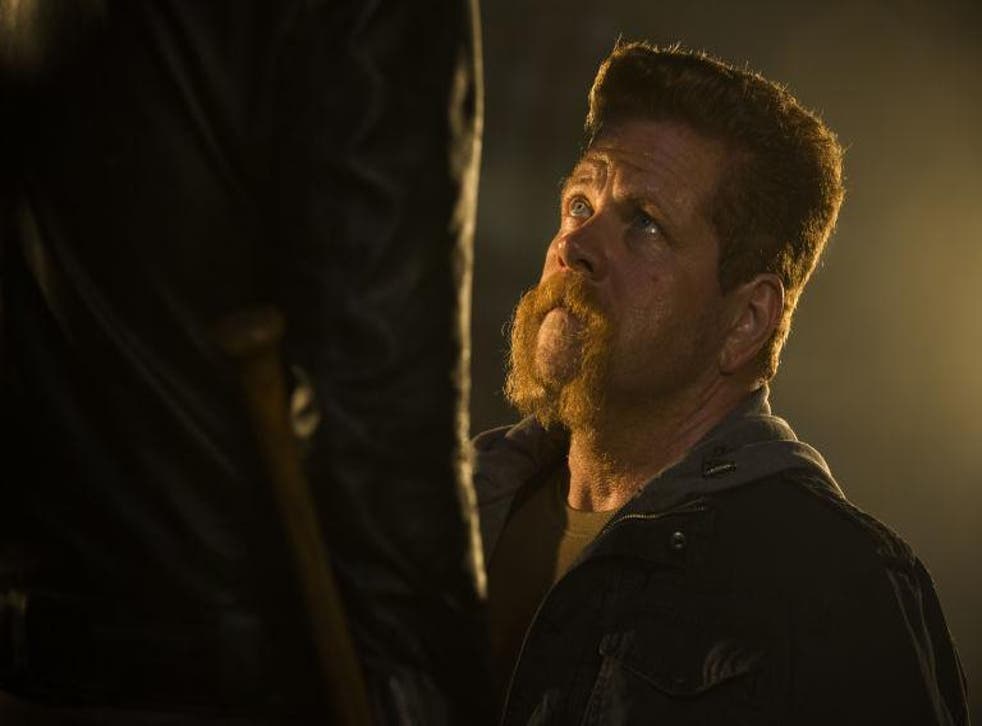 The Walking Dead season 7 opened with the brutal deaths of two main characters - Abraham (Michael Cudlitz) and Glenn (Steven Yeun) at the hands of the fearsome antagonist, Negan (Jeffrey Dean Morgan) and it fast cemented itself as one of the most distressing hours of TV.
Now over a week has passed since the episode aired we were granted the opportunity to speak with Cudlitz who was more than happy to reflect upon his time filming the moment that's been on everybody's lips.
We discussed which character's alternate death scene was more disturbing than his own, those final words and just how he found out he'd be the one on the receiving end of Negan's bat.
Abraham's final words were probably the best in TV history ["Suck my nuts"].
Right? How cool was that?
Just the greatest. Was that your choice or was it scripted?
Oh, it was scripted. I wanted to do one take where I said: "Suck my red nuts." But we didn't get there. When we knew we'd got it, we just moved on. I almost had to do it again but they would have to re-set it with all the blood, etc. - it was such a major deal. It will always be in my mind, though: "Suck my red nuts."
I know that they filmed alternate death scenes for all the other characters - did they each have their own words to say or action to do after the initial whack on the head? I know in the leaked Maggie version she spits blood at Negan.
I think so. Everything was a hit and then a reaction, followed by a reaction from Jeffery. That was the only way it worked - to be efficient and not create other actions so each of them could be used for getting hit. They could have plugged anyone's death in there - they could have changed their mind over hiatus.
Was anyone else's as memorable as yours?
I don't remember what everyone did. I remember Josh [McDermitt, Eugene] - he had something where he couldn't get even a word out but he was trying to. I remember it being really really just horrible. It was literally like [murmurs] and then Negan just fucking hit him again. Yeah, it was bad. It was bad.
As you're about to die, you give the peace sign to Sasha [Sonequa Martin-Green]. Did she signal anything to you in her particular scene?
I don't know if they did a hit on her. They were mostly done so they had the footage floating around to confuse fans.
What was your favourite fan theory?
The internet was saying it was everyone but there was a whole Michonne [Danai Gurira] theory that they'd taken all the way back to the beginning of the episode when they're looking out the back of the van - it was her POV. They also thought she was the only one they didn't do any coverage on - there was something that kept bringing everything back to Michonne. I loved it because it confused everybody; nobody knew what was going on. I bumped into another guy at one of these conventions and he was 100 percent convinced it was Michonne - he said the whole show was designed so that Rick was in some kind of purgatory and the show was designed to torture him; everything that happens in the show takes something away from Rick. It was intense. I don't know if that's being processed by [Robert] Kirkman but this guy had a great theory.
Is Negan still out for blood?
I don't know. I think he's made his point. I don't know if there's anything to be gained by staying in that mode. He doesn't have to go into that mode often but he's obviously shown he will if he has to. Our group is a group of leaders and most communities are a group of followers so if you walk in somewhere and you shoot somebody, everybody goes: "Woah, what?" That wouldn't have worked with us - he knew that. He saw what we were capable of, he gauged everyone when he was talking to them and sticking the bat in their face Even with his little interactions he figured that Carl was Rick's son, he found out that Rosita was connected with me - it was all non-verbal; he's a really really smart guy.
Were you honoured to go out in the same episode as Glenn?
Oh yes, absolutely. My biggest fear was detracting from his death because I was a fan of the show as well. We had numerous discussions about this. The deaths are filmed in such a way that they are very different even though they both die in the same way - they each have their own weight and their own pace in the narrative. I was very honoured but I was also very hesitant early on because I wanted to make sure it was handled properly.
The Walking Dead season 7 episode 3 clip unveils yet another new destination
Did you get told straight away?
We were both told at the same time. We knew that it was sort of contingent on how the broke up the episode between the season finale last year and the season 7 premiere this year. We weren't sure exactly when it was going to happen but we were told it was going to be either/or and to expect it.
The outpouring of love for Abe must have felt pretty special?
it's been insane - in a really good way. Just really really overwhelming
Which past characters do you wish you could have worked with?
Oh my gosh, all of them? Jon Bernthal [Shane] - fucking powerhouse actor; Scott Wilson [Hershel] - amazing; Chad Coleman [Tyreese] - crazy awesome. I would have loved to have killed the Governor [David Morrissey]. I've got to know these people at conventions and stuff - we all have this universe that we all live in through the fans.
The most shocking Walking Dead moments

Show all 10
If you could be reincarnated as another character - male or female - which would choose?
I'm going for the easy one: baby Judith.
What would you bring to the little ass-kicker?
You wouldn't have to - everyone brings you everything! They feed you, they protect you, you don't really know what's going on. I want that job.
The Walking Dead continues on Mondays at 9pm on FOX. Here are our reviews of episodes one and two.

Join our new commenting forum
Join thought-provoking conversations, follow other Independent readers and see their replies