The Walking Dead's Lauren Cohan: 'I'd rather have the validation of fans than awards'
Cohan has appeared as Maggie Greene in the popular US series since its second season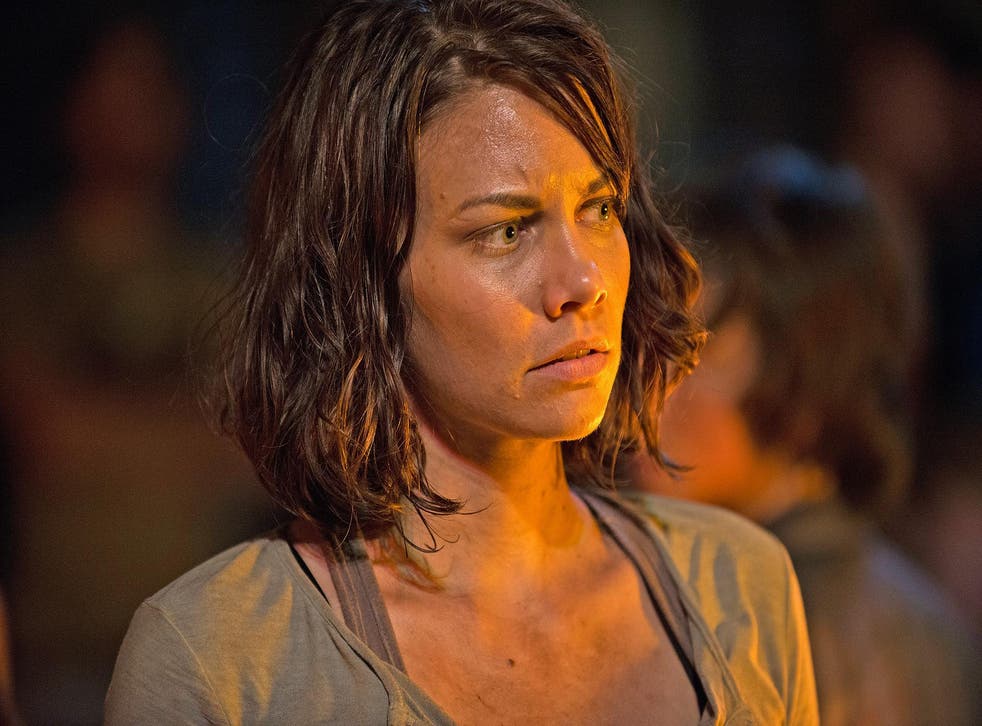 Lauren Cohan could be the closest The Walking Dead has to a female lead. Having made her debut in the US drama's second season - character Maggie Greene is the daughter of farmhand Hershel (Scott Wilson) - her character has grown in stature as well as popularity. Quite honestly, it's hard to recall she hasn't been there the whole time.
Maggie is one of the characters who finds themselves at the mercy of Jeffrey Dean Morgan's new antagonist Negan in the closing moments of season 6. Naturally, this means a lot of topics are no-go areas. While some actors may seem pernickety when journalists try to - let's not sugarcoat it - dig for scoop, Cohan takes it in her stride.
"Where in the world are you?" I cheekily ask her over the phone. "I can't tell you that," she chimes humorously, at once making it clear she's a whole lot more laidback than her on-screen counterpart Maggie. Then again, she doesn't have to kill the undead every day.
The Walking Dead season 7 trailer
Going by the much-discussed season 6 cliffhanger, you're an extremely brave woman doing these interviews…
Yeah, I know, believe me. This morning I was like, 'wait, what am I doing?!'
Why do you think The Walking Dead is such a success with fans?
It's just the passion for the show, it's a tribute to what it represents: people living and dying to protect each other and creating something worth living for. That is such a simple idea. Andy [Lincoln, Rick Grimes] is a pure person and from the beginning, everyone in the show has kept it real. The people who watch the show, including latecomers, figure that out - it's not just zombies and horror, it's being a part of something. I just love that that's the core of the show.
Do you and your cast mates live in fear over getting told your character might be the next to get killed off?
No, you can't live in fear. You just have to stay in the moment and trust in the story. There's never been a time when the writers have written a story that doesn't propel more stories and bring you to the right emotional place. In the beginning, when it's a new job, you go 'oh, I haven't really experienced it' and then you come to understand that everything that happens is happening just the way it should. You just have to be at peace with your part of the puzzle and just do service to that.
Do your friends and family dig for info over what's to come?
Oh God yeah, they all do. The thing is, the way the show is, characters always have episodes off so there's always time to constantly squeeze in other work. There really aren't many clues because the structure isn't that different whether it's because you're not on the show or whether it's because you have a break. I hate to break it to anybody but there's really no clue about what's to come.
What was it like filming season 6's climactic scene?
It was brutal filming the finale as you can imagine. Jeffrey's such a great actor and we're lucky to have someone so dynamic playing such a baddie - Negan really is just the worst The Walking Dead has had. He's written in the comics as such a dark character and Jeffrey is definitely able to bring that. He's a teddy bear as a person. It's good to all go to that place together and to play the crazy interactions that he has with the group. It's difficult for him because he's acting thees things and he doesn't really get the emotional relief while our characters show how painful it is.
Access unlimited streaming of movies and TV shows with Amazon Prime Video Sign up now for a 30-day free trial
Sign up
Do you follow the comic books?
I do. I didn't always but I do now.
What made you change your mind?
There's an introduction of so many new worlds now so it's easy to get lost and enjoy the story. Sometimes, I think when the whole thing focuses on your group, you blur the lines between show and comic. With all these new characters being introduced, I feel like I can get lost in it like a separate reader. Now I also understand we don't follow everything from it, I can also enjoy reading the comic book as its own entity. It's also nice for me on a visual level to see how the show will pay tribute to the frames of the comic.
If you could play any other character for one day only, who would you pick?
[laughs] Eugene! If I could nail all that dialogue. Josh [McDermitt] is so good at learning those lines.
How long do you see the show lasting for?
There are a lot of stories to go - and there's definitely a lot more to come with Negan; the show could go a while, as long as you don't have to repeat anything - which we haven't yet. Scott Gimple has a very very genius brain so between our source material and him I'm sure there's a lot to come.
The most shocking Walking Dead moments

Show all 10
The popularity of Game of Thrones is backed up by plenty of awards recognition [it recently won the Outstanding Drama Series Emmy for the second year running). Why doesn't The Walking Dead reap the same awards success?
You know I don't understand it. My only explanation is that people don't watch it. I look at Melissa [McBride, Carol Peletier] and I look at Andy and I think how can they not be recognised. I'm not mad about it, I just think I'd rather have the validation of people and the fans, and I know how much the show moves people - and how it moves me - so I don't need those things. Being deemed the most successful at prom does not mean you're gong to do the best in your life. I don't need to understand it - it doesn't stop us from doing our work. Maybe there's some deeper gift in it, I don't know.
Maybe they're waiting until the final season to award it everything.
I just hope that they watch the show because it's so good!
The Walking Dead season 6 is now available to own on DVD and Blu-ray on 26 September. Season 7 will air in the US on 23 October followed by a UK premiere the following evening at 9pm on FOX.
Join our new commenting forum
Join thought-provoking conversations, follow other Independent readers and see their replies