The war story that inspired Birdsong
More than two decades ago, Sebastian Faulks wrote for The Independent about a group of First World War veterans searching for the burial places of their fallen comrades. The experience lingered – and ultimately led him to write a novel beloved of millions, now a major BBC drama. This is the piece that inspired a modern classic
The war story that inspired Birdsong

Show all 3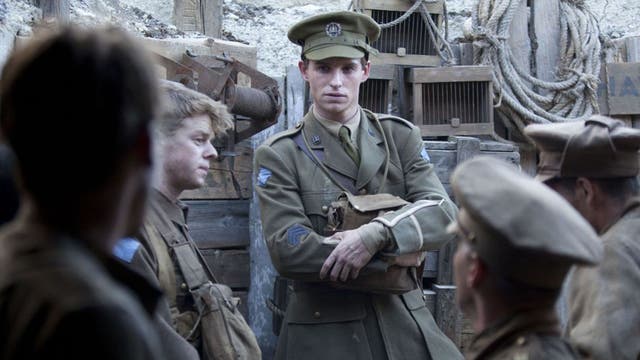 If there is one thing a First World War veteran likes, it is a nice cup of tea. When a group of ten old British soldiers arrived at a modern hotel outside Béthune in Flanders on Wednesday afternoon, they and their friends swiftly downed half a dozen two-litre Thermoses beneath the disbelieving eyes of the hotel's middle-aged Madame.
Béthune was rather popular with the troops during the war. It was a few miles from the front, it was not shelled by the Germans, and the women were prepared to give the boys what they wanted, at a price. In other towns the local business sense extended even to the control of water: the handles were removed from the outside pumps, and would only be replaced for a consideration.
Such memories were not what preoccupied 94-year-old Dr Arthur Wilson MC over dinner. After roast pork and Brussels sprouts, which appeared to have been simmering since just before the Armistice, Doc Wilson recalled a day at the battle of Aubers Ridge, a few miles down the road.
"It was 73 years ago. I had been in France only three weeks, and I was asleep in a trench. My friend Malthouse was beside me. In the middle of the night there was a terrible explosion. One of our own naval shells had gone off. Malthouse was blown into 20 pieces, each about the size of a joint of lamb. I was completely unscathed. I gathered up the bits and put them in a small sandbag. I buried him within the hour. He never had a proper grave."
In common with all the other veterans, Doc Wilson is offhand about the gruesome nature of trench warfare. David Watson, who fought at the Somme, Arras, Passchendaele and Ypres in 1918, has an equanimity disturbed only by one memory. In July 1916 he was with B Company, the 9th Royal Scots, for the attack on High Wood in the battle of the Somme.
"Of the 232 of us who went up, only 11 came back. I was the ninth of those 11. The wood was lined with German machineguns. It took us until 9 September and the arrival of the tanks to take it. In the meantime we were losing 1,000 men a day. Yes, I suppose I do feel bitter about that."
On Thursday the party set out to see some old battlegrounds. First stop was at Richebourg l'Avoué, where Gunner Norman Tennant, aged 92, visited the site of his observation post. "It was by that cottage, about ten yards away. I was blown through the door and put my hand to my head. It was covered in blood. But we had no thoughts of Blighty. We didn't want to go back, we'd only just come."
The fields around are filled with chewed mud, slashed and turned by the plough. The ground was too waterlogged for proper trenches; the troops filled sandbags to make shallow protective breastworks. The land is crossed with long, damp ditches all the way to the village of Neuve-Chapelle, on which the British launched their first genuine offensive of the war in 1915. It is hard to imagine that this dull landscape with its concrete telephone poles, rickety modern houses and their leek-filled gardens, was the site of savage fighting as the British inched forward after the 35-minute opening bombardment. Initially successful, they had to halt their advance and dig in just beyond the village after the ammunition ran out.
Nearby is the cemetery of Le Touret, and a memorial to the missing of 1914-15. Some headstones bear messages paid for by relatives at a shilling a word: "I have fought a good fight. I have kept the faith." Next to the grave of a 16-year-old boy was that of 21-year-old Rifleman S Leeder: "We would have kept him, but God knew best."
Ralph Langley, a 91-year-old who served in the 16th Battalion King's Royal Rifle Brigade, said: "You remember the boys that you knew, and you're young again. It's as though you've not grown old. I can't really explain it." As they left the cemetery, Doc Wilson, who had been scanning the names of the dead, said wistfully: "No sign of my friend Malthouse."
It is strange how recently most of the veterans have started to return. "In the 1920s and 1930s, I didn't think about it," said Ralph Langley. "Now I think about it. Just over the last few years." David Watson, who had seen almost all the worst episodes of the war, said: "It was another world within you. I didn't come back till 1983. I never discussed it with anyone from 1918 until 1979. It was useless to tell people at home. They couldn't understand."
The next stop was alongside Aubers Ridge, a gentle slope that leads to the plain of Douai and on to the then German-held city of Lille. Here it was that Doc Wilson found his best friend Malthouse blown to pieces beside him. He could locate the spot in the turned mud to within 50 yards.
At the Fauquissart Military Cemetery outside Neuve Chapelle, the veterans left their coach again. A broken-roofed farm building abutted the cemetery wall, and a storm-damaged tree looked as though a German shell had just blackened and torn it. As Doc Wilson was wheeled past the headstones of several Royal Berkshires and the grave of "a Soldier of the Great War known unto God", he gave a start. He was face to face with the grave of John Walter Malthouse, West Yorkshire Regiment, 9 May 1915.
He permitted himself a short exclamation of joy. "Oh, I say, look at that." Then he returned to the logistical problem of the burial. "I put the sack within 25 yards of our trench. I wonder how they found it." Pressed for his reaction, he eventually conceded: "I think it's wonderful."
This strange meeting had been contrived by Lyn Macdonald, a historian who is compiling a vernacular history of the First World War from letters, pictures and interviews. She frequently accompanies parties of veterans and had been anxious to reunite Doc Wilson with his friend.
The sang-froid of Wilson's response was typical of the veterans. "You were not frightened going forward," said Ralph Langley, "it was when you stopped. But you were afraid to show fear. It's difficult to explain how hard you became." David Watson said he came across one shellshocked man in a shellhole half full of water. "Poor lad, he didn't know what he was doing. I couldn't get any sense out of him. He was taken to hospital. But they understood. Shellshock was a serious business." On the question of fear, Doc Wilson said he found the battle of the Somme "rather trying".
The veterans took lunch in a restaurant at La Vassée. A degree of friendly rivalry still existed between the infantry and the gunners – known to the infantry as the "Drop 'em Shorts", since the British foot soldiers were often on the receiving end when the gunners let rip with the really big salvoes.
One injury was sustained during lunch, when Vic Simpson, a 91-year-old who had served with the Duke of Wellington's Regiment, walked into a plate-glass door. Simpson, who comes from Skipton in Yorkshire, commented: "It's the first time I've ever been wounded." There was an animated discussion about whether the small cut on the bridge of his nose, would entitle him to a pension.
The food – steak and chips with cheese or fruit salad to follow – was a considerable improvement on trench fare, it was agreed. Doc Wilson seemed to have had the best deal in 1915: "My sister used to send me the most marvellous parcels. A brace of roasted grouse, pork pies and bunches of grapes from the greenhouse. I shared them out. Popular? Yes, I suppose it did make me rather popular."
Doc Wilson seems to have enjoyed himself at times. "I have no grievance or grudge. The Germans were not bad chaps at all. The Prussian guards were magnificent troops. You took no liberties with them." He was blown up in no man's land and the doctor at the field station said he was too badly hurt to be operated on. He was given a shot of morphine and put under a hedge for the night. "When I got to hospital I knew I was in trouble. The doctor's face was covered by a mask and hat, but I heard him say to the anaesthetist, 'Pour on the dope, George.' I met that doctor on a train in 1922. I recognised him by his voice."
Ralph Langley was shot in the arm and wheeled on a GS wagon with solid tyres while the bones in his arm rubbed together. He was wounded and returned twice before catching trench fever. "What's that like? It's like having toothache in every bone of your body."
Although this part of Flanders was not the area of deep trenches, many of the veterans had had experience of them elsewhere. A great deal depended on the weather. "After rain," said David Watson, "you were up to your knees in mud. But we had some fun with rats. We'd put a lump of cheese on the point of a bayonet. It wouldn't be long before a rat would have a nibble. Then you'd pull the trigger."
Ablutions depended on the Germans. Buckets could normally be emptied at night, provided there was not too much shelling. On the march from St Omer to Aubers, the 5th West Yorkshire Regiment had to use makeshift open-air latrines while a group of 30 French girls, aged 16 to 18, looked on in amazement.
After lunch, the veterans inspected the sturdy German pillboxes and observation towers on Aubers Ridge. It became clear how this gentle undulation had given the Germans such a crucial advantage over the troops slogging through the flat fields below. "Mind you," remarked one old soldier, "if they were so bloody well built, how come we won?"
At the cemetery for the Royal Irish Rifles, a wreath was laid on the grave of Rifleman Bert Bailey by his great-nephew Bob Fawcett. In her book, 1914-18: Voices and Images of the Great War (Michael Joseph), Lyn Macdonald reproduces Bert Bailey's letter to his wife of 27 October 1915. It reads in part:
My Darling Wife: Another night has passed and another morning come, and I am still in trenches and in good health... we were employed all the morning and afternoon in putting down boards along the trenches. As I stopped to rest awhile I could not help being struck by the exceptional beauty of the moon as the clouds kept flitting past. The moon was nearly full, partially obscured by thin fleecy clouds, but these soon passed by, and after a spell of clear shining the great black billows slowly closed in until it could only be seen shining dimly... Let us hope that this time in our lives is like that, a great dark cloud which passes away, so that afterwards the light is brighter than before.
That night Bert Bailey went on a party to mend the wire of the trenches. A German patrol surprised them, and Bailey was hit in the head by fire bombs.
When his great-nephew laid his wreath on Friday, it was the first family visit to his grave since 1924. The veterans stood by, twisting their caps in their hands. Three or four French workmen stood idle in the corner of the cemetery, and some rooks cawed above the strip of elms nearby.
It was not a grand reparation, not quite the burst of light and peace that Bert Bailey had hoped for. But as a cockerel crowed self-importantly in the farmyard across the road, the wreath seemed to be at least an effort at reconciliation, fragile and 70 years late, but given with respect and illuminated by a strange and unexpected November sun.
Sebastian Faulks: I'll never forget how my personal Birdsong saga began
Join our new commenting forum
Join thought-provoking conversations, follow other Independent readers and see their replies