What happens after you win The Apprentice? Past protégés describe the unique experience of working for Lord Sugar
An tribunal has heard that winning the TV reality show may not be all its cracked up to be. Tom Peck speaks to past victors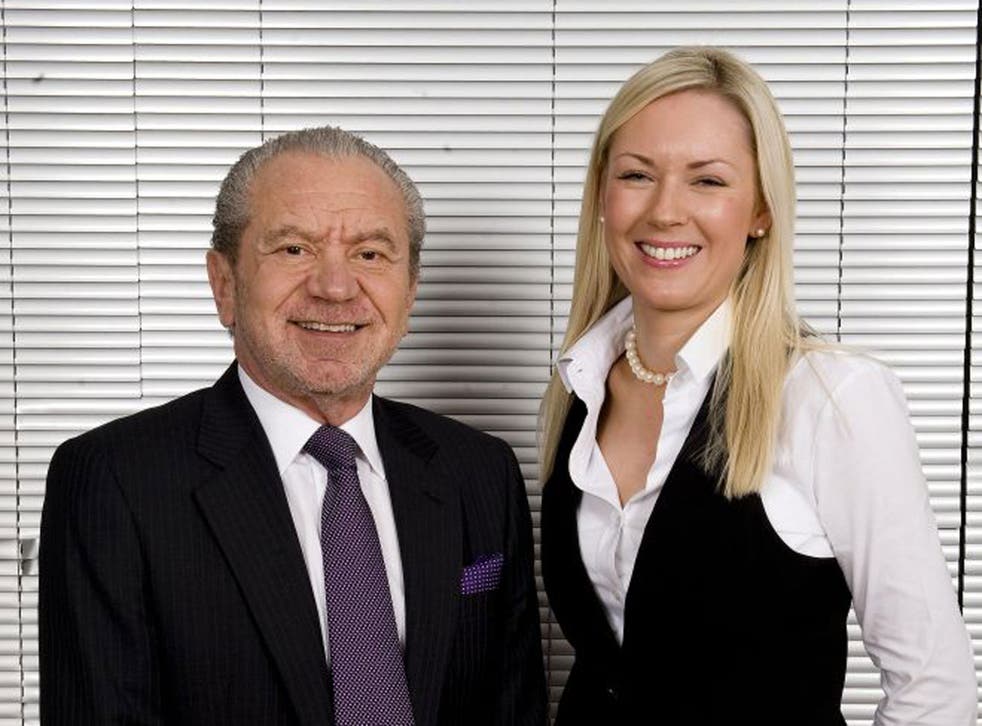 For those present at the employment tribunal involving Lord Sugar and his former apprentice, Stella English there was an unnerving sense of déjà vu.
The brutality, wild disagreement, accusation and counter accusation were pure apprentice boardroom stuff, recognisable to anyone who has watched the BBC reality show.
It is perhaps fitting that one of Lord Sugar's protégés, who all go through are an arduous, humiliating, and highly public recruitment process, should depart in such theatrical fashion. But the most crucial phase in the "journey" of any Apprentice winner is that which takes place when the cameras stop rolling, and work begins.
Ms English, 34, claims she was treated like "an overpaid lackey", given only menial tasks, and was on the receiving end of foul-mouthed tirades, which, she claims, amounted to "constructive dismissal". Lord Sugar, who paid her a £100,000 salary for more than a year, denies the claims and described her as an "untrusting suspicious person" full of "conspiracy theories".
Interestingly, none of the first six winners of The Apprentice, which began in 2004 are still working for Lord Sugar. Only the two most recent winners, who won after the rules were changed and a salaried job was no longer the prize, are still in his employment. Several past apprentices interviewed by The Independent described their victory as an eye-opening experience.
"It is a unique situation," said Simon Ambrose, the Cambridge graduate who won the series in 2007. "You walk in. Everyone knows who you are. Everyone knows your salary. You're being paid more than your colleagues. Every apprentice will have sensed that to different degrees. It's an induction of fire.
"In any new job, the new boy is treated with suspicion by colleagues. In this case, you've been picked from a TV show. Everyone knows everything about you." Mr Ambrose, who worked in Lord Sugar's rather unglamorous offices, then in Brentwood, Essex, doesn't recognise the expletive-strewn tirades described by Ms English.
"I was very lucky, I was working directly alongside him. My desk was yards from his office. What you see with him is what you get. He is exactly like he is on the television show. I liked working alongside someone that interesting and that dynamic. He's a very interesting individual. Some people say streetsmart... I would say highly intelligent."
Mr Ambrose left after three years in 2010. "I wanted to be my own boss again," he said. "But I got a lesson from him in how decision making should be undertaken. Quickly, with full confidence in the decision that you make."
Access unlimited streaming of movies and TV shows with Amazon Prime Video Sign up now for a 30-day free trial
Sign up
For Yasmina Siadatan, a restaurateur who won the series in 2009, her experiences on day one in Debden were rather different. "I walked in expecting people to look up from their desks, and actually no one gave a monkeys. I was quite disappointed. It was the only place it'd happened. I'd just won The Apprentice, people were looking at me everywhere I went. His office was the only place no one cared. His colleagues have been with him for years... They'd seen bigger things than me."
Ms Yiadatan, now 31, had two children not long after joining the company, and when she was four months pregnant and with a nine-month-old baby, decided to leave. She now works with James Caan, of Dragon's Den fame, running communications for Start-Up Loans, the government initiative for young business people.
London boy Lee McQueen, now 35, won the series the following year, narrowly squeaking through after it transpired that a number of claims on his CV were false. For him, it was not so much the pressure of recognition that put the frighteners on him, but the cash. "It's not about sitting in the corner waiting for direction. You are getting paid a hundred grand. That is some serious wedge. If I hired someone and paid someone that I'd expect their proverbials on a plate. Certain Apprentice winners haven't grasped the opportunity with both hands. It looks like they've waited to be fed work. You don't wait to be fed if you're on a hundred grand.
"I won the apprentice on the Monday night. Tuesday morning I was in his office in Brentwood at 8 o'clock. I couldn't even have a drink."
Mr McQueen also left for the lure of running his own company. The Raw Talent Academy claims to find talented sales people for companies, by putting candidates through Apprentice-style tasks.
Not everyone though is so fulsome in their praise. Michelle Dewberry, from Hull, won the second series but walked away after less than a year complaining that the job "wasn't what it said on the tin".
Ms English's tribunal is likely to reach a decision in the coming weeks. Alas, no one will be getting fired. Ms English has long since left the company and Lord Sugar is going nowhere. But the public fall from the Lord's grace for one of the show's most popular winners is likely to give pause for reflection to the next band of world beaters clamouring to make fools of themselves.
Where are they now? The winners
Tim Campbell: Secured Lord Sugar's investment in the first series in 2005 and worked in the Amstrad office for two years. In 2007, he founded a social enterprise, Bright Ideas Trust, and was appointed MBE in 2012 for services to enterprise culture.
Michelle Dewberry: Was victorious in the 2006 series, and is the only contestant apart from Stella English to have resigned from her post before her year-long contract had expired. She now has roles as a motivational speaker, TV pundit and a columnist.
Simon Ambrose: Was hired in 2007 and became one of the longest serving graduates of The Apprentice. Mr Ambrose has built up a wide-ranging portfolio, from property development, to investing in restaurants and art galleries.
Lee McQueen: Emerged as the winning candidate in the 2008 series. After working under Lord Sugar's son Simon Sugar at Amscreen for two years he set up a training and recruitment company.
Yasmina Siadatan: Won the 2009 series. Her business acumen means she has been headhunted several times, including being offered a job by James Caan of Dragon's Den notoriety. She currently works for Mr Caan's private equity firm, Hamilton Bradshaw.
Stella English: Winner in the 2010 series. Resigned from her post at Viglen this year, claiming that she was just an "overpaid lackey" for Lord Sugar's firm.
Thomas Pellereau: Victorious in 2011, when he was notable for becoming the first candidate to be given £250,000. Among his most famous inventions are the Stylfile (a curved nail file) and the Babisil brand of baby and toddler products.
Ricky Martin: The winning contestant in 2012 opened Hyper Recruitment Solutions for business in October, after his pitch to launch a recruitment company saw off stiff competition.
Alex Jackson
Join our new commenting forum
Join thought-provoking conversations, follow other Independent readers and see their replies